Pandemic dominates debate during Saskatchewan legislature spring sitting
Posted on 3 June 2021 by Matthew Liebenberg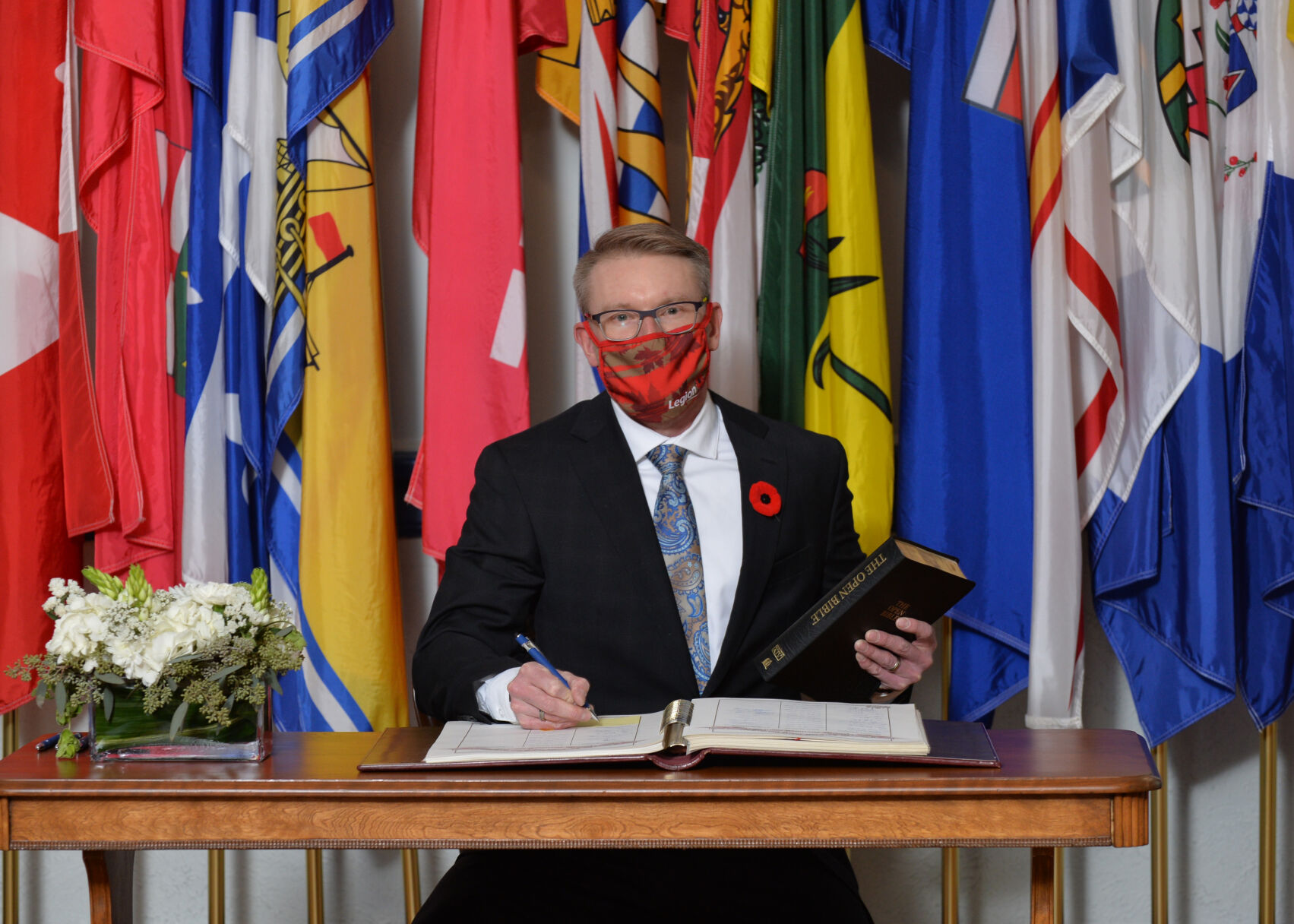 Swift Current MLA Everett Hindley during the swearing-in ceremony for new cabinet members at Government House in Regina, Nov. 9.
Provincial politicians were mostly talking about the COVID-19 pandemic during the six-week sitting of the Saskatchewan legislature.
The spring session of the Saskatchewan Legislative Assembly took place from April 6 to May 14. It included the delivery of the 2021-22 budget, but the pandemic provided the framework for almost all facets of discussion and disagreement between the Saskatchewan Party and the NDP.
"This was an important session to get through," Swift Current MLA Everett Hindley told the Prairie Post. "The budget was tabled and passed, and has a number of significant measures in it provincially in terms of where we're going for the foreseeable future as a government. Of course, the focus as with so much over the last 14 or so months have been COVID-19 and keeping our healthcare system running, and also focusing really heavily on our vaccination strategy across the province."
This legislative sitting took place while the pandemic's third wave was hitting the province, and travel restrictions for the Regina area meant MLAs had to stay in the capital city for the duration of the session. Hindley, who serves as minister for mental health, addictions, seniors and rural and remote health in the provincial government, said this arrangement made for a different kind of spring sitting that was shorter than usual, but they were able to squeeze in just as much work.
"Which made for some interesting days, sitting on a Saturday and having committee meetings on the weekends as well, things we typically don't do, but got a lot of work done," he said.
Saskatchewan NDP leader Ryan Meili felt the spring sitting was a "pretty intense session" during which the opposition's goal was to hold the government accountable with regard to its record on COVID-19 and on job creation.
"We've got over 13,000 people out of work, we've also lost 500 people to COVID-19 and thousands more have been or are sick," he said. "We've got a government who has downplayed this at every turn and did so throughout the session. We focused on their failure to get the second and third wave under control, their failures to protect long-term care and they didn't have any answers."
The NDP therefore felt there was a need for a public inquiry into the provincial government's handling of the pandemic.
"At the end of the session we were asking for a public inquiry into COVID-19, because it's clear that we can ask Scott Moe questions all day long, we'll never going to get a straight answer," Meili said. "We need a proper inquiry to get to the bottom of why things have gone so badly under his leadership."
According to Hindley the NDP's call for a public inquiry into the pandemic was not unexpected, but the government felt confident about the provincial COVID-19 response.
"I don't think it's surprising that the NDP would ask for that," he said. "They have by and large criticized pretty much all the decisions all along. It's frustrating, because I sat there in question period for six weeks and answered some of these questions, as did the premier and other cabinet ministers. But you have on one hand where the opposition is asking for more restrictions and more things to be shut down, and on the other hand they're saying we're not doing enough to help support the economy and support businesses to allow them to operate. So it's kind of coming from both ends and it doesn't add up at the end of the day."
Hindley added the government has been working closely with Saskatchewan's Chief Medical Health Officer Dr. Saqib Shahab and the goal is to follow a balanced approach using available information.
"Governments across this nation and across the world are trying to deal with this as best as they can and making the best decisions they can with the information they have available, and that goes for us here in Saskatchewan," Hindley said. "We rely very heavily and work very closely with Dr. Shahab and his team to provide us with advice. They're experts in the field and we try to balance it out with what's happening out there out in our constituencies across the province and what people are looking for and what they expect."
The NDP criticized the government for not taking action against the organizers of anti-mask rallies that contravened public health orders. The opposition suggested amendments to Bill No. 23 — The Emergency Planning Amendment Act to increase fines for those not following public health measures, but it was defeated.
"We've got these events with Maxime Bernier and others that aren't just potential super spreaders of virus, they're super spreaders of misinformation, spreading anti-mask and anti-vaccine information, which is exactly the opposite of what we need," Meili said. "I'm extremely disappointed of how much Scott Moe, just out of fear of his Buffalo wing of his party, has been reluctant to take any leadership against anti-mask protests."
Hindley said the government's position was that there are significant fines in place and authorities have discretion to issue fines, but most Saskatchewan residents have been following the public health guidelines.
"We're not the type of government that wants to be running around with cops running up and down the streets policing people and firing out tickets right, left and centre, but that being said, if a particular individual or group is just flagrantly disobeying the guidelines and the restrictions and the rules, then action has to be taken," he noted. "It's a fine balance there about how you do that, because if you're not careful with it, I think it can also lead to some fairly significant public pushback and you've seen that in other provinces, and that's the tricky part of all of it."
He felt a highlight of the spring session was the government's announcement of a re-opening roadmap to gradually lift public health restrictions as certain vaccination targets are reached.
"We are the first province to come out with a re-opening roadmap, a three-step roadmap that paints it out pretty clearly for people where we're going to get to and how we can achieve those steps," he said. "For some folks there's some disagreement, they don't think it's fast enough, but there's the other side where people might think it's moving too quickly. So I think we've struck a good balance that way. Our vaccine deployment is going very well."
The NDP welcomed the benchmarks in the re-opening roadmap, but according to Meili there are other indicators in addition to vaccination levels that need to be considered during the implementation of this plan.
"I'll be watching very closely what's happening not only with vaccination rates, as important as those are and as encouraged as we are to see so many Saskatchewan people getting vaccinated," he said. "We'll also be watching closely what's happening with case counts and hospitalizations, because what really matters is are we taking the steps that we need to keep people safe so that when we reopen, we stay open."
Meili felt the Saskatchewan economy suffered due to lockdowns that were required when the government was slow to respond decisively to outbreaks, which caused COVID-19 cases to increase at a rapid rate.
"As we look to reopen, we're really going to need to have a focus on jobs," he said. "That means having a jobs plan, something that the Sask. Party has never introduced. We have called for and outlined what would be in our jobs plan, which includes investments in new industries, renewable energy, bringing back the film industry, more value added, both in agriculture as well as in oil and gas, and also making sure that along with having jobs, they're good jobs."
The government and opposition disagreed about most things during the spring session, but were able to find common ground to approve a private members' bill on a provincial suicide prevention strategy, which was introduced by NDP MLA Doyle Vermette.
According to Meili the approval of this bill was a ground-breaking moment and the NDP's focus will now be to ensure the government provides sufficient resources to realize the intention of this legislation.
"We know there's a lot more work to be done in mental health, both in addictions with harm reduction support to prevent overdose death," he said. "We know we've had nearly as many people die from overdoses as we have from COVID-19 since the beginning of the pandemic. That's work that has to be greatly improved and as well as making sure that we have those emergency services available for people when they are in a moment of crisis."
Hindley will be responsible for this bill as part of his ministerial duties, and he felt the government already made a good start when it introduced the Pillars for Life suicide prevention strategy about a year ago.
"I think what Mr. Vermette's suicide prevention bill does is it helps formalize what we're doing with respect to suicide prevention so that it outlives government," Hindley said. "That this is something that carries on regardless of who is in power and it ensures that we make sure we do regular consultations and continue that. That's been happening, but we're going to continue to do those consultations with various stakeholders across the province. It ensures that there's regular reporting on this in terms of whether we're able to meet some of our objectives as we try to tackle this issue."
From Hindley's perspective as cabinet minister, he considered the government's investment of $458 million in the 2021-22 budget towards mental health and addictions programs and services to be a highlight of the spring session.
"We've had consecutive record investments into mental health and addictions over the last number of years, and that will continue in the years ahead," he said. "It's unfortunately one of these areas where we don't see things getting better and hopefully they will after we work our way through this pandemic. There's no doubt that it's created some new and unique challenges that we've never seen before and that makes things much more challenging for people that are facing some of these. I think we're going to continue to see those sorts of investments."
Swift Current MLA Everett Hindley during the swearing-in ceremony for new cabinet members at Government House in Regina, Nov. 9.