New CMHA building in Swift Current closer to reality after provincial funding
Posted on 20 May 2021 by Matthew Liebenberg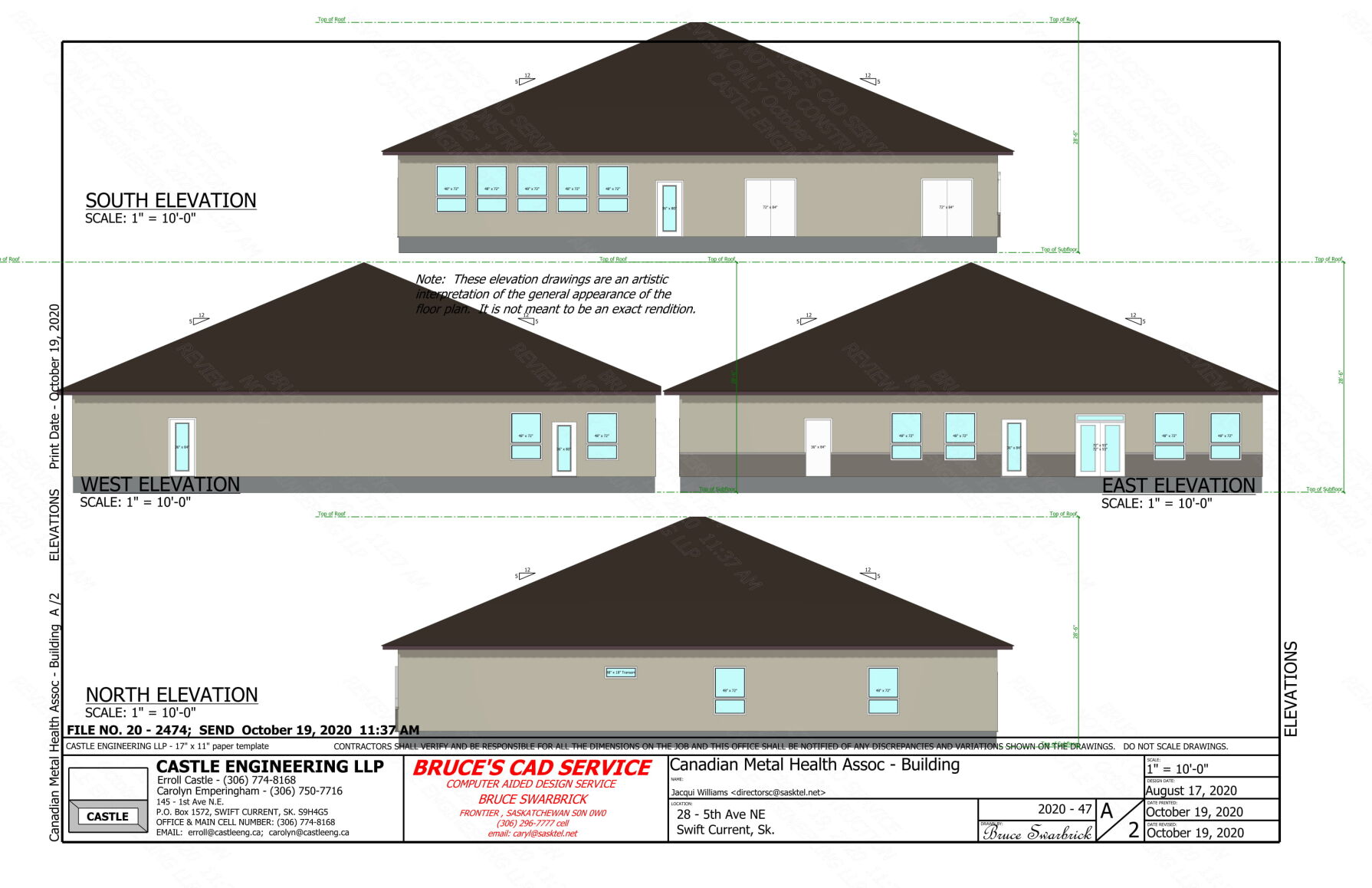 CMHA building main floor plan draft: A concept drawing of the exterior of the new building for CMHA Swift Current.
The construction of a new building for the Canadian Mental Health Association (CMHA) Swift Current branch is set to become a reality due to provincial funding.
CMHA Swift Current has received a one-time funding allocation of $200,000 from the Saskatchewan Health Authority for a facility upgrade.
It is an exciting moment for CMHA Swift Current Executive Director Jacqui Williams and she is grateful for the support of the provincial government towards this capital replacement project.
"I was pretty excited," she said. "You could have knocked me over with a feather, because I really wasn't expecting it."
She had been communicating with the Saskatchewan Health Authority for several years about the possibility of provincial funding support for the project, and she also reached out to Swift Current MLA Everett Hindley, but she was realistic that government funding is limited and there are specific parameters to be met.
The government announcement of funding for three CMHA branch offices for facility and equipment upgrades was made on May 7 by Hindley in his role as minister for mental health and addictions, seniors and rural and remote health. He indicated in the media release that it is vitally important that key community organizations are well equipped to provide mental health services to residents.
Williams felt the progress and success of the CMHA Swift Current building campaign played a role in the government decision to provide this funding allocation to the project.
"We had come pretty far along in our fundraising and efforts towards that new building," she noted. "So I guess the further along we got the more attractive our proposals were looking. … We've been providing service for over 40 years in this community. We had a fair bit of money that we had come up with on our own, we own our land for our new building, and have shown a commitment to making it a priority here."
This initiative to construct a larger, more accessible building started about four years ago. Swift Current CMHA was able to purchase a double lot in August 2020, which is located at 28 5th Ave. NE. The funding support from the provincial government will make it possible to take an important step.
"We're far enough into this process that we are looking at bids from contractors, which is much further along than we have been previously," she said.
Concept plans were drawn up last year for the new building to assist with fundraising efforts and to provide a sense of what the new building will look like. It will have improved access, because it will be located on a single level. It will be just over 5,000 square feet in size with more room to accommodate the variety of programs and activities provided by CMHA Swift Current.
"There's a much larger dining area, a commercial kitchen, a gaming room, and there's a library, where we're hoping to have some computers and internet access, if we have members who are trying to apply for work or looking to access their e-mail," she said. "We'll still have a main room for most of our programming. We'll have a nice big work office area for our vocational program. It's just lovely, and that piece of land is so large, we'll still have a nice big back yard. It's really going to come together very nicely."
CMHA Swift Current has been serving the community for the past 24 years from the current building located at 176 4th Ave. NW. It has simply become too small for the needs of the organization, and the COVID-19 pandemic has actually highlighted the need for a new building.
Since the start of the pandemic there is only a to-go meal program, because there is not sufficient space in the current building to serve meals under current public health regulations.
"We didn't have the space to distance, we don't have barriers, we can't move tables around," she said. "So we had to do it as a to-go service."
Program activities have also been restricted due to the pandemic. There were times when they could not offer any programs and times when we could only have five people for an activity.
"If we have had the newer building already, we still would have had to make a lot of changes and make a lot of adjustments, but we would have had more space," she said. "So you could have had smaller groups going on in different rooms and we would have had more space to distance for our meal program."
CMHA Swift Current experienced a growth in membership over the last few years that also made a new building a necessity.
"We pretty consistently now have 60 plus members, but a few years back we probably had around that 40 to 45 number," she said. "So we are seeing an increase in need for service."
According to Williams the new building might attract additional attention that can result in increased membership. The new and larger areas in the building will make it possible to expand program activities beyond what can currently be offered through the existing clubhouse model.
"In our floor plans we have a gaming room, we have an area for music, we have an area for educational programming," she said. "So we're hoping eventually to have a recovery college model and that would mean courses offered in the public, and in our board room we would have the space to do that. So I think the new building will also increase our membership, because you'll see that people will come for the wider variety of service that we'll be able to provide. … The sky is kind of the limit when it comes to this new building and what it could mean to changes in programming and services offered to the community at large."
CMHA building main floor plan draft: A concept drawing of the exterior of the new building for CMHA Swift Current.