Traffic closures in downtown Swift Current – 1st Avenue NW and Chaplin St.
Posted on 6 May 2021 by Contributed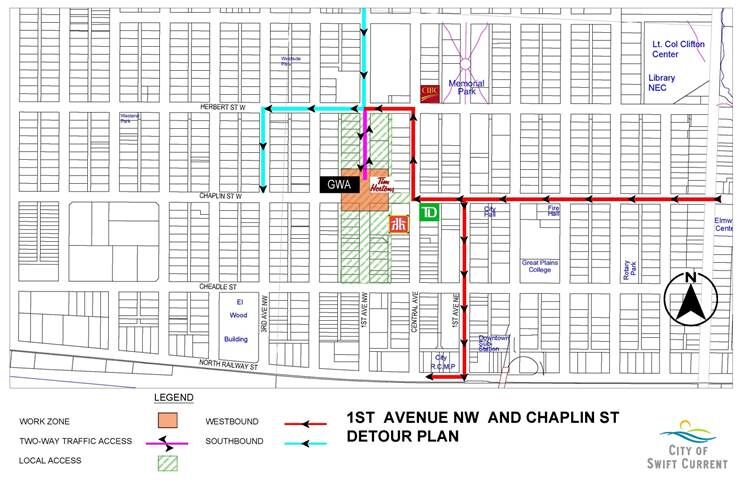 Map of area affected and the detours to be followed May 11
The City of Swift Current wishes to provide information to residents and motorists about the construction taking place on the intersection of Chaplin Street West and 1st Avenue Northwest, resulting in a closure beginning Tuesday May 11.  
The objectives of this project are the installation of new sewer and water mains, and the installation of new traffic structures and electrical components to match the other completed downtown intersections.
During this project, the area properties and motorists will be subject to the following:
 •No traffic will be permitted through the intersection of 1st Avenue Northwest and Chaplin Street West.
•Westbound traffic on Chaplin Street will encounter a closure and detours directed to either North or South.
•Southbound traffic on 1st Avenue Northwest will encounter a closure and detours at Herbert Street West directed either to East or West.
•200 block of 1st Avenue Northwest will be temporarily changed to 2-way traffic, to maintain access to local businesses.
•Street parking on 1st Avenue Northwest will be reduced.
•Access to specific properties may be limited or altered.
 Work is anticipated to be completed within 6 to 8 weeks, depending on weather conditions.
"We recognize that construction season causes unwelcome interruptions, especially when the project is downtown," explains Mitch Minken, General Manager of Infrastructure and Operations, "but the necessary upgrades to the deep utilities are coinciding with traffic light upgrades to minimize disruptions to the business community and the public."
 Motorists should exercise caution, follow detours (attached), or plan an alternate route during this time.
The City thanks its residents and all motorists in advance for their patience and cooperation.
Map of area affected and the detours to be followed May 11