SwiftConnect to launch Monday, March 29th
Posted on 26 March 2021 by Contributed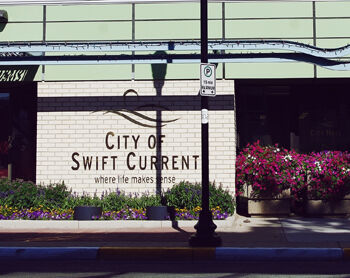 SwiftConnect launches march 29
The City of Swift Current is pleased to announce that citizens will be able to access SwiftConnect — its new, online customer portal — beginning Monday, March 29th.
SwiftConnect links the City's existing Community Services Online Portal with the new Property Tax & Utilities Online Portal, allowing utility and property tax customers to go paperless, view and pay bills online and see historical utility consumption.
"This new, online service is something we know our citizens want, as it allows them to conduct much of their City business at their convenience," said Mayor Al Bridal. "Citizens who choose to 'go paperless' will be notified when their bills are ready to view and be able to view and pay them at their leisure." 
Citizens who wish to sign up for paperless billing are reminded that they will need the Secret PIN and Account Code that was mailed to them beginning the week of March 15th in order to get set up with SwiftConnect for the first time. This security feature was established to ensure that only the account owner can access their account online.
"Along with the personal security information that was mailed to citizens, we've included information to help with initial set-up," said Kari Cobler, the City's General Manager of Corporate Services. "Customers who wish to access SwiftConnect will also find a number of tutorial videos and FAQs on the site that will assist them as they navigate the portal."
To access SwiftConnect: 
1. To get started, visit http://www.swiftconnect.live (available as of 9:00 AM, March 29); 
2. To set up your account for the first time, click CREATE AN ACCOUNT;
3. Have your Secret PIN and Account Code handy to link your account and complete setup;
4. Follow authentication steps and add personal information to complete the process.
Keep in mind: If you're already using the Community Services Online Portal, you'll have to log in from http://www.swiftconnect.live beginning March 29th, and you'll have to create a SwiftConnect account to continue accessing your Community Services account.
Please note: You do not have to set up a Property Tax & Utilities online account to create a Community Services online account, or vice-versa…you can choose both, one or neither.
"We'd like to advise customers that if they choose to receive paperless billing, they will no longer receive their utility bills in the mail," said Cobler. "Customers can opt out of paperless billing at any time and switch back to mailed bills. The choice is truly in the customers' hands." 
"SwiftConnect is of great benefit to our citizens, as it couples convenience with a reduced environmental impact," said Mayor Bridal. "Additionally, by moving to paperless billing, the City will realize reduced operational costs that will ultimately be passed on to our taxpayers."
 We're here to support you…
 Navigating a new, online environment can be challenging, but our Customer Support Team is standing by, ready to assist you throughout the process. The SwiftConnect interface features a full library of FAQs and Tutorial Videos to help you get set up and comfortable with our online services. In addition, customers can contact Support at 306.778.0066 or use the Online Support Form available at http://www.swiftconnect.live for assistance.
Customer Support is available:
• Weekdays from 8:00 AM — 9:00 PM
• Weekends from 1:00 — 6:00 PM
SwiftConnect launches march 29