Swift Current RCMP will continue to focus on three policing priorities
Posted on 18 March 2021 by Matthew Liebenberg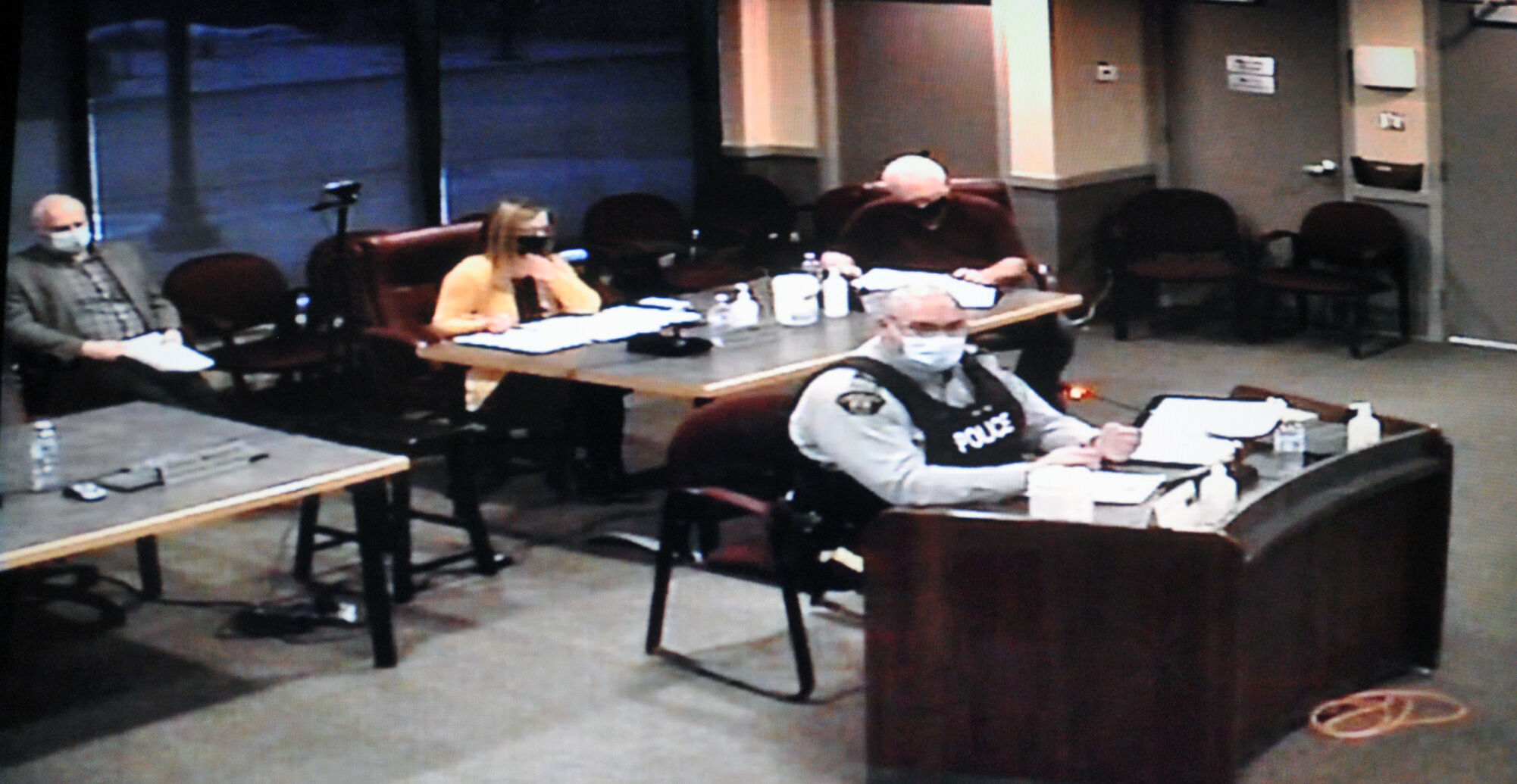 <p>Sgt. Kelly Guider presents the Swift Current RCMP detachment's community policing report during a regular council meeting, March 8.</p>
The RCMP detachment in Swift Current will continue to focus on three policing priorities during the new fiscal year after a review of its annual performance plan in consultation with City council.
Sgt. Kelly Guider met with council members a few weeks ago about the detachment's annual performance plan and he confirmed the ongoing focus on three existing priorities during the presentation of the community policing report at a regular council meeting, March 8.
The detachment's focus will continue to be on the areas of crime and drug reduction, traffic safety with an emphasis on impaired and distracted driving, and the prevention and reduction of crime involving youth.
"We're prepared to move ahead and still focus on these three main priorities," he told the meeting. "Now, that doesn't mean that any other types of crime are not on our radar or that they're not important. What this means for the detachment is we will now plan initiatives moving forward to try and address these three priorities, and the initiatives are basically going to be work plans, what are we going to do to help identify or work towards reducing crime."
The goal of the detachment's crime and drug reduction strategies will be to get drugs off the streets through the identification of individuals responsible for supplying and distributing drugs in the community.
"The work plans involve making sure that we have good intelligence coming in from the community that we can then utilize in obtaining judicial authorizations, which mean if we know and we gather enough evidence on who's dealing drugs, who's bringing drugs into the community that we can arrest them," he said. "We can search and seize from their house, their vehicle, and move ahead with charges and prosecute these individuals and hold them accountable for their behaviour."
The detachment is already having success with compliance checks on individuals who have to follow court orders after their release and that will continue to be a key part of the crime reduction strategy.
"An important part of that work plan is compliance checks, because if we know who the drug dealers are and we've worked so hard to get the charges on them, whether they're just on release conditions or on their conviction conditions, we should be checking them," he said. "We should be following up, we should ensure that they're not continuing down that path."
Traffic safety enforcement will give attention to impaired and distracted driving, which are significant contributing factors to fatal collisions.
"These two elements are causing way too many fatalities and injuries in collisions all over the province," he said. "Luckily in the city, we tend not to get a whole lot of serious collisions that involve injury, but it's still heart wrenching to arrive and see somebody who's needlessly injured and being send to the hospital by ambulance, even if it's for minor injuries, because somebody wasn't paying attention or because they were drinking."
The presence of officers in the community to enforce traffic safety will also be a potential opportunity to gather information about other criminal activities.
"A lot of our drug charges come out of these traffic stops," he noted. "So don't forget how it's correlated, and if we have individuals from other communities that are bringing substances into the community, one of the best ways to catch them is to be out on the road, watching for them. So they do go hand in hand."
The detachment's efforts to address youth crime in the city had been very successful, but he felt it is important to have an ongoing focus on this issue.
"Our victory is that we keep that level as low as possible," he said. "So moving ahead, I'm glad that's still in the priorities and we will still come up with initiatives for the work plan to address that. I'm hoping that we don't see a rise. I think things will be opening up, at least I'm hopeful through the spring here, and our goal would still be to keep that zero rate for youth crime. It takes a lot of work and it's hard to measure, but rest assure my staff will be doing it."
Sgt. Guider provided an overview of offences in different categories during the presentation of the community policing report for the three-month period ending February. He highlighted the significant increase in traffic enforcement over the past few months. There were 425 provincial traffic offences in February 2021 compared to 188 during the same month in 2020.
"Part of the reason for that is our staffing numbers are excellent," he said. "Officers are actually able to get out on the street a little bit more and I'm sure you as councillors have heard from the community that Traffic Services has spent a considerable amount of time over the last few months in the city, increasing traffic safety as well."
The number of impaired driving offences were lower than for the same month in previous years. There were two impaired driving charges in February compared to 15 such offences last year. He felt several factors played a role in this success.
"The traffic enforcement has been tremendously increased and perhaps that's one of the causes for the number of impaired drivers and complaints of impaired driving going down," he said. "Another would obviously be the COVID restrictions. We see bars and lounges that are closing early. We definitely have a lower amount of traffic at night, and those are definitely factors in those statistics as well."
There were more charges in the category of other criminal code offences due to increased efforts to check on individuals who are on court-imposed conditions after their release from custody. There were 32 such offences in February 2021 compared to 25 for the same month in 2020.
He felt the fewer drug offences were related to these efforts by officers to monitor compliance with court release conditions. For example, the number of drug enforcement offences dropped from 12 in February 2020 to six for the same month in 2021.
"We've seen a reduction in the amount of drug charges that were laid, but I truly believe part of that reason is because of the diligent work that's been done by the constables in addressing these people who are already known offenders that are back in the community," he said. "It could be because of a sentence or perhaps they're still waiting for their sentence and they're just on conditions during their release, but if we're checking them, hopefully the message is getting across that we're going to be watching."
The detachment carried out several search warrants for residences, vehicles and cell phone records during the three-month period, and as a result a significant amount of drugs as well as weapons, cash and drug paraphernalia were seized on Jan. 8 and 22.
"The individuals responsible are still in custody, they're not back into the community on conditions, but I really feel those two incidents had a significant impact on the drugs that are being traded in the community," he said. "We're not fools. We realize that where there's a need people will be able to fill that need, there will be other drugs coming in, but these individuals at least are behind bars for now."
There were 19 calls related to the COVID-19 public health regulations during the three-month period from December to February. There were complaints about individuals not wearing masks in public places and officers also checked if people who returned from travel were isolating for the required period.
"We have now laid one charge in this time period under the Health Act for somebody who was repeatedly refusing to wear a mask while they're out in public," he mentioned. "That is the city's first charge and that came just last month."
Councillors expressed appreciation towards Sgt. Guider for the work done by the detachment to keep the community safe.
"I'm very pleased to see that what I see is more preventative and proactive policing in our community, and I think we're seeing the benefits of that in the stats, and so I commend you, because I can sense your commitment to that and it's great to see," Councillor Pat Friesen said. "I think if we can stop some of these things before they happen, it's better for everyone. So thanks to you and all the members for being as proactive and trying to educate us all so that we can stop the crime."
Sgt. Kelly Guider presents the Swift Current RCMP detachment's community policing report during a regular council meeting, March 8.