Benesh the new Director of Education for Chinook School Division
Posted on 17 March 2021 by Contributed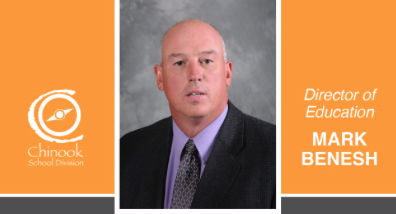 New leadership for Chinook schools
The Chinook School Division released a statement in regards to a new Director of Education:
"The Chinook Board of Trustees is pleased to announce the new Director of Education, Mark Benesh.
The Board selected Mark Benesh because of his caring and positive approach to leadership. In their experience working with Mark in his recent role as Acting Director, the trustees acknowledged his professionalism, his abilities to support and lead staff, and put students first, particularly in these challenging times during a pandemic. Mr. Benesh has extensive educational and administrative experience, including a vast portfolio of responsibilities in his previous 10 years in leadership with the division.
"Our extensive provincial and national recruitment efforts resulted in impressive applications and Mr. Benesh was selected from a field of outstanding candidates," stated Chinook Board Chair, Kim Pridmore. "We believe that Mark's values and professional leadership style, along with his ability to foster respectful school and work environments, will help move Chinook School Division forward as we continue our focus on diversity and inclusion. We are confident that, in his role as Director, Mark will support our commitment to ensuring that Chinook continues to be a great place to go to school and go to work." 
Mark has over 30 years of educational and administrative experience and has been in the Acting Director position since October 2020. He has spent his career with Chinook School Division in the following roles:
Three years as Principal at Val Marie School (K-12)
One year as a Teacher at Shaunavon High School 
17 years as Principal at Shaunavon High School
Two years as Hutterian Coordinator
Seven years as Superintendent
Mark completed his post-secondary education at the University of Regina, including a Bachelor of Education and a Masters of Education Degree. He has taken on a wide range of initiatives and programs in his career with Chinook, one of the most notable being his efforts in nurturing a positive relationship with the Hutterian Brethren, built on respect and support of their culture. Mark has also led the division's work with School Community Councils, Driver Training, English as an Additional Language, Attendance Initiative, the South West Athletic Conference, and he also served on the provincial Graduation Rate Committee leading the division in that area as well.  
Mark is excited for the opportunities that will come with this leadership role and commented, "I'm looking forward to continuing the great work that we've been doing and the support that our teachers, support staff and all of our Chinook staff across the division provide on a daily basis for students. Their passion and dedication to support the learning needs and mental well-being of all students is outstanding, especially in these very trying COVID times." 
Mark has also been involved with sports and various other community organizations and activities. This includes most recently as Co-chair of the 2019 Western Canada Summer Games, President and Vice President of Basketball Saskatchewan, Councillor for the Town of Shaunavon for multiple terms, and basketball coach for Great Plains College mens' and womens' teams (PAC) and at the provincial and high school level. 
Mark and his wife Mary Jane reside in Swift Current and have three grown children that they are very proud of: Samantha, Sierra and Matthew. 
Mark will officially be in the role of Director of Education for Chinook School Division on April 1, 2021."
New leadership for Chinook schools