Invasive wild pigs a major issue for agriculture industry in Sask. and Alberta
Posted on 10 March 2021 by Ryan Dahlman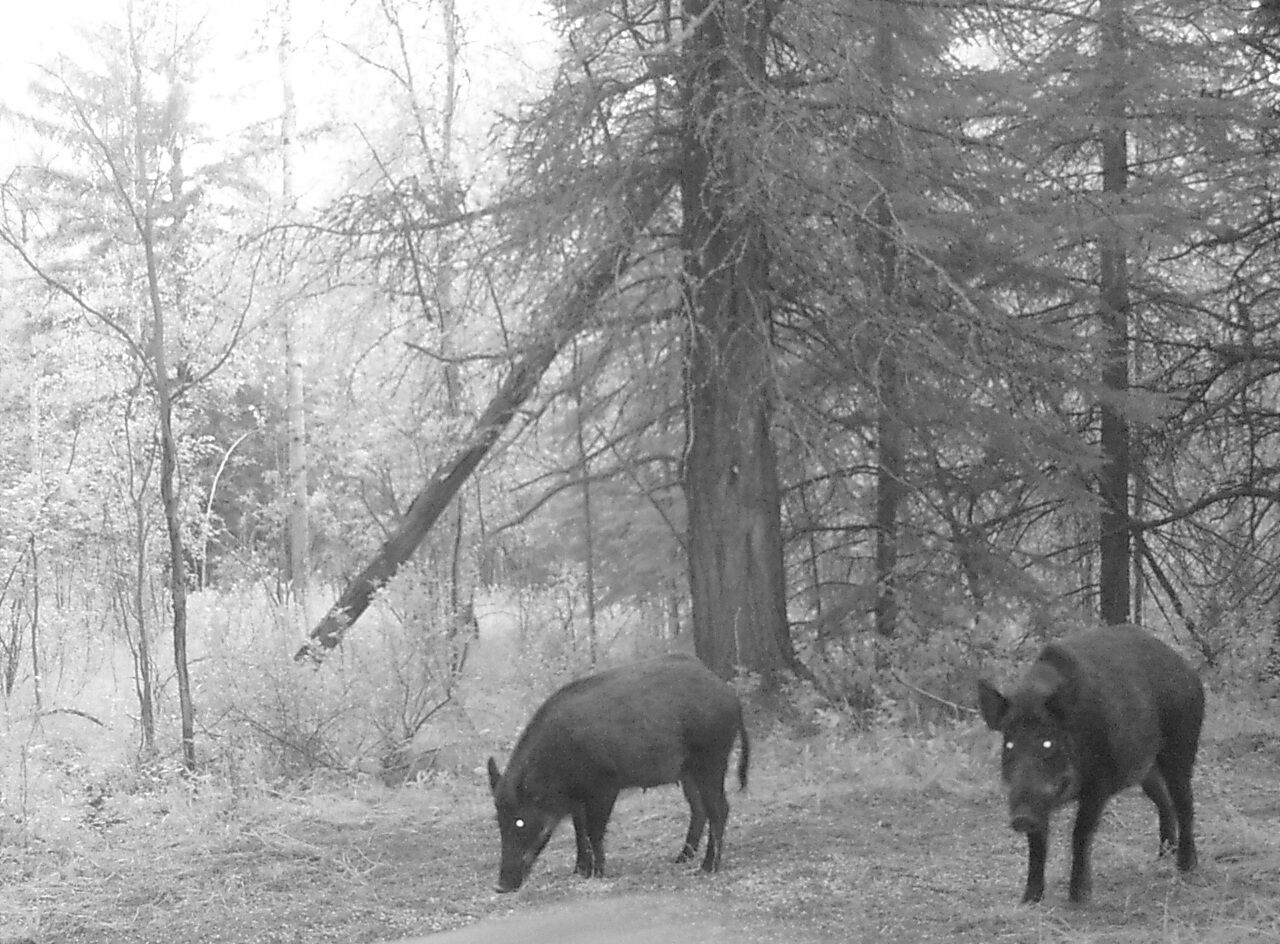 Invasive pigs becoming an issue in pockets of the prairies
A University of Saskatchewan professor says Western Canada, especially Saskatchewan and Alberta, has a growing problem which is literally running rampant. 
Invasive wild pigs, sometimes referred to a wild boars, have been a growing problem for over a decade now. Dr. Ryan Brook has devoted a lot of time and energy to research and monitoring these invasive wild pigs. 
He is says it is a problem for the agriculture community which is already steadily getting worse.
"Invasive wild pigs are significant threat to agriculture due to widespread crop damage, harassment of livestock, potential depredation on livestock, particularly lambs and kids, impacts due to contaminated water, and destruction of native ecosystems — of particular concern is the potential for invasive wild pigs to host and spread disease," explains Brook. "My team's role hasn't changed over the last 11 years. We continue to study and publish our research on wild pigs, especially their reproductive ecology, habitat use and selection and particularly how wild pigs select for a wide range of agricultural crops. Our most important contribution so far has been mapping the distribution and spread of wild pigs in Canada. To my knowledge there is no other organization collecting, validating, and mapping wild pig occurrences in Canada and making these maps available to farmers, ranchers, governments, and the general public."
Brook explains there is at least one major 'stronghold' for wild pigs in each of Alberta, Saskatchewan, and Manitoba where there is a notable high concentration of wild pigs. All of these and all other wild pigs in Canada, are the result of escapes and releases of animals from domestic wild boar meat farms and high fence shoot farms. 
"The strongholds are all areas where there were a large number of domestic farms and lots of leakage," adds Brook. "We have not been able to find any evidence of much in the way of serious follow-up action after escapes and releases have occurred. These strongholds are also associated with relatively low human density, large patches of forest cover-as well as agricultural crops..they also require access to water and have a strong affinity to wetlands."
These invasive wild pigs are different from a normal pig in that they have a grey to dark brown fur and have longer legs than a normal pig. Invasive wild pigs can weigh as much as 90-120 kg and have tusks anywhere from five to 15 cm. This is where they do damage as they rip up the land eat crops and attack livestock. Feral boars can also carry viral and bacterial diseases such foot and mouth disease, e.coli and bovine tuberculosis.  
It wasn't as much of a problem when they were first released but now, there are thousands of them roaming because they multiply so fast. The have six piglets at a time and rate high in the level reproduction rates of mammals in the world. 
"Unfortunately, the incredibly rapid rate of invasive wild pig expansion is exactly what I've been predicting for a decade now. This is typical of wild pigs globally and is 100% consistent with what we expect from what we know about their high reproductive rates, high mobility, diverse diet where they will eat almost anything, and high intelligence," explains Brook. "So wild pigs in Canada continue to do what wild pigs always do. That said, the 2017 map of wild pigs in Canada was expected but still very jarring and the 2020 update is alarming in the extreme. It is more disappointing than surprising knowing that a lot of this could have been prevented without much actual effort or cost."
According to the University of Saskatchewan's website, Brook is the theme leader for Aboriginal Peoples and the Environment in the Indigenous Land Management Institute, and Assistant Professor in the Department of Animal and Poultry Science, Indigenous Land Management Institute. Brook started research on invasive wild pigs in Canada in 2010 right after he was hired to work at the University of Saskatchewan and has continued his efforts. He indicates he is the only scientist in Canada studying wild pig ecology, movements, impacts, and habitat use. He has two of his graduate students Ruth Aschim (PhD student) and Corey Kramer (Masters student) working alongside him. 
"When I started my faculty position at the University of Saskatchewan my background had been studying the wildlife-agriculture interface and there were many people already studying many aspects of this, but no one was working on wild pigs," he explains. "There were a few anecdotes around, but no studies of any kind in Canada to understand how serious this issue was/is, but information from the United States was really highlighting the massive problem that wild pigs can be by harassing livestock, feeding on all types of agricultural crops, potential disease transmission to livestock/wildlife/humans/pets, and intensive damage to native habitats and wildlife. 
"This was very clearly going to become an issue across many areas of Canada, especially the Prairie Provinces of Alberta, Saskatchewan, and Manitoba. The very first work we did was to put out trail cameras in 2010 using the start-up grant I was given by the University of Saskatchewan. I've been raising concerns about the spread and impacts of wild pigs for 11 years now and counting."
The group actively communicates about their research including doing many hundreds of various media interviews and have a very active Facebook page which is there to inform those concerned.
He recently posted maps for each of Alberta, Saskatchewan, and Manitoba as regular maps that users can download and look at but also most recently as Google Earth files so anyone can download the small file off of their Facebook page (https://www.facebook.com/WildPigResearch) after they have installed Google Earth on their phone, tablet, or computer. This allows the viewer to  move around the map to look at any areas of interest. Click on any county or Rural Municipality and it will tell you the name of it and how many wild pig occurrences there are (those with zero are not mapped and are left blank). Anyone can search any town, city, county, or rural municipality name the viewer likes and can turn the wild pig layer on and off as needed.
Brook developed the website technology and he and his team input the data. The Google Earth files were developed using a map of counties in Alberta and the Rural Municipalities. Brook used computer mapping to count the number of invasive wild pig occurrences within each county or rural municipality and then exported the layers as Google Earth files. 
He says the real hard work has been collecting and constantly updating our database of wild pig occurrences. This was all started by his PhD student Ruth Aschim. Brook acknowledges she put in years of her life collecting data. They have collected data from ten different sources: (1) they have trail cameras; (2) the team has obtained thousands of trail camera photos of invasive wild pigs from hunters and landowners; (3) collected interviews with conservation officers, biologists, agriculture extension experts; (4) interviews with hunters and landowners at all manner of wildlife meetings; (5) a national telephone survey across Canada; (6) searching local and regional newspaper stories; (7) GPS satellite collars on wild  pigs in Saskatchewan and Manitoba; (8) observations and photos shared to our Facebook page; (9) occurrences shared by provincial governments, and (10) observations during flights in helicopters and planes. Brook has also spent thousands of hours collecting and validating all data. 
There is a big push to do as much as possible as soon as possible. Kramer will be done next month and Aschim will likely be done later this year. 
Aschim has been focused on wild pig mapping and is applying these maps to understand spatial overlap of wild pigs and domestic pigs, risks to species at risk such as Piping Plover, and how pig distribution varies with respect to different land uses like national and provincial parks. She also has been using the GPS collar data to look at habitat selection during the day and night and how wild pigs use agricultural crops, as well as developing a predictive model of wild pig spread in western North America. 
Brook acknowledges the assistance of various collaborators across Canada and the U.S. In particular they have a strong partnership with a group of cattle producers in SE Saskatchewan called the Moose Mountain Eradication team. 
While this appears to be a major issue, they have not received the financial support from north of the border. The team got a grant initially but since then, they have relied on the vast majority of their funding from the United States Department of Agriculture.
 This is because, according to Brook, the Americans have serious and legitimate concerns about wild pigs in Canada expanding and moving into northern U.S. states. Most of the northern US states have few if any wild pigs and want to become/stay wild pigs. The federal US  agriculture department is also interested in understanding the movements, spread, and ecology of wild pigs in northern areas to better understand how wild pigs are likely to respond in northern US states like Montana and North Dakota. 
"In 2014 I was ready to quit wild pigs altogether as we had zero funding and really no interest from any sector of Canada; no one wanted to even talk about wild pigs. It just wasn't on anyone's radar," recalls Brook. "There was a major release of domestic wild boar in 2014 in southeastern Saskatchewan of over 300 animals. Shortly after that a USDA biologist phoned inquiring about where a bunch of wild pigs that just showed up in NW North Dakota may have come from. 
"I shared my knowledge of the big release and how that could likely be the source. As a result he invited me to a wild pig conference in Alabama. There we talked research and USDA agreed to a major contribution that kickstarted a serious multi-year research effort that included GPS collaring wild pigs, national scale mapping, telephone survey, and more. They have been amazing collaborators and strong supporters."
 It is frustrating for him to have little funding support in that it is an important topic and what they are doing at this point is just continuously monitoring the on-going spread of the invasive wild pigs across Canada, especially the Prairie Provinces. 
"I have received a few small grants in Canada but it is quite limiting to what we can do," explains Brook. "It's been frustrating and exhausting watching wild pigs expand out of control, especially in Saskatchewan and Manitoba where the majority of wild pigs are found. Response from government have varied a lot. I've had a great relationship with Ontario, Montana, BC, and Alberta- these four governments have taken a strong science-based approach and are doing many things right. 
"Amazingly, so far, only Alberta has an actual strategy for wild pigs that I'm aware of- this is really important. For provinces that have established wild pigs there is no path to success without a proper strategy in place."
Invasive pigs becoming an issue in pockets of the prairies