Pandemic had impact on Swift Current Fire Department activities in 2020
Posted on 25 February 2021 by Matthew Liebenberg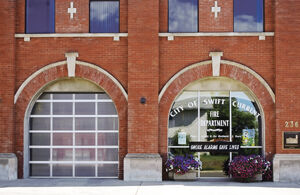 Covid doused fire department activities
There were fewer calls for service to the Swift Current Fire Department in 2020 due to the COVID-19 situation, but the pandemic also created new challenges for the organization.
There was a total of 565 calls in 2020. In comparison, there were 708 calls in 2019 and 672 calls in 2018.
"When I look at the overall call volume from 2019 to 2020, the big thing that's easy to put a finger on is COVID," Deputy Fire Chief Pete L'Heureux said. "We had the community slowdown, we had the shortening of work hours, we had the closing of facilities, we had people staying home."
The call volume reflects the changing pandemic situation during the year, with the initial implementation of restrictions in March, the gradual reopening that happened a few months later, and then the implementation of additional public health restrictions late in the year.
There were 128 calls for service in the first quarter and 120 calls in the second quarter. The call volume increased to 153 calls in the third quarter and 164 calls in the fourth quarter.
"We had kind of this gradual arc of things slowing down and then picking back up again," he said.
The call volume in some categories was similar to those in the previous year. The Swift Current Fire Department received 99 fire calls in 2020 compared to 93 calls in 2019. There were 19 calls in the hazardous conditions category compared to 24 in 2019.
There were 49 calls for motor vehicle collisions in 2020, compared to 61 in 2019. There were only four rescue calls in 2020, which was a noticeable change to the 16 rescue calls in 2019. Medical calls were also lower at 270 in 2020, compared to 361 in 2019. There was a total of 123 other calls in 2020, which was lower than the 147 in the same category for 2019.
L'Heureux felt the lower call volumes in different categories can be correlated to the pandemic situation, because people were staying home, they travelled less, and things were just generally quieter.
The number of medical calls tend to fluctuate, but the lower call volume in 2020 might reflect people's concern about COVID. There were 91 fewer medical calls in 2020, and he felt the initial uncertainty about the pandemic had an influence on call volume.
There were 72 medical calls in the first quarter and then it dropped to 48 calls in the second quarter. Thereafter the number of medical calls increased to 58 in the third quarter and continued to increase to 92 calls in the fourth quarter of the year.
"People at the beginning were very concerned about contagion in the hospital system and once they learned that wasn't as much the case or as possible, there was less concern with that, but I think at the beginning for sure there was some slowdown in our medical call volume based on COVID," he said.
The pandemic and the lower call volume for 2020 did not mean the fire department staff had fewer things to do. They still had a busy schedule of activities and daily routines, and it also included the revision of procedures to incorporate additional precautionary measures due to COVID-19.
"Our work hasn't changed," he said. "There's still skills maintenance, there's still equipment maintenance, there's still training and public education activities, inspections et cetera going on. For us, that's booked 365 days a year and the calls that we receive are just inserted into that and we shuffle all the other things around then."
Visitor restrictions have been implemented at the fire hall and there are additional cleaning protocols due to COVID-19. Firefighters are wearing additional personal protective equipment (PPE) during calls for medical emergencies and emergency response. They were therefore doing additional training to ensure they get familiar with correctly fitting and wearing the additional equipment.
"And as well, we needed a location that if we did go to a confirmed COVID case, that we have somewhere other than the fire hall to send our staff to," he noted. "So we've created a separate emergency location that they could shelter at and be maintained while they were going through their isolation period and testing period."
Only one staff member contracted COVID during the past year, but he was not infected while carrying out official duties.
"It was through an extra-curricular activity and as soon as he found out, there was an isolation period before testing and an isolation period after," L'Heureux said.
Training is an essential part of the routine of firefighters and the hours dedicated to training are not captured in the data for annual service calls.
"There's a lot of courses, qualifications, and training," he said. "They need to know how to run equipment and each piece of equipment requires training and certification. Our ladder truck and each of the skills, for instance hazardous materials or vehicle extrication or rope rescue, all of those are very specialized skills that require certified training, ongoing education and ongoing skills maintenance."
The inspection and education activities of the fire department are also not reflected in the data for annual call volume.
Building inspections are important to identify code deficiencies and other safety issues that can lead to potential risks of fire, injuries or other hazardous situations. The pandemic had an impact on these inspection activities during 2020 and for some time they were unable to carry out visits to buildings.
"When the restrictions lifted and we were able to start going back out in the community, our crews worked very hard to backfill most of those inspections," he said. "There are a few exceptions, but most of our crews got all of their back inspections completed."
Fire department members carried out 823 inspections in 2020, which were actually more than the 809 inspections completed in 2019. There were some adjustments to procedures to make it possible to carry out video inspections.
"They could walk us through their facility and we would watch through video," he said. "We did a few of those. We would also do a first inspection in person and then we were able to allow correction by photo. They could send us photos of the corrections, things that we could see as definitely their facility."
Education and awareness activities continued during 2020, but there was a greater focus on virtual presentations due to the limitations on public events and restrictions on visitors at various facilities. These virtual presentations were done to classroom groups in schools and to other organizations such as the Southwest Newcomer Welcome Centre.
"They could ask questions and we've had some really good experience with that," he said about the virtual format. "So that's something that we could move forward with, depending on COVID and restrictions."
There are currently four administrative staff, 16 full-time firefighters and 20 auxiliary firefighters at the Swift Current Fire Department.
"We have to maintain a minimum level of staffing to meet the community needs, which we do, and then we are trying to run the most efficient, cost effective system that we can," he said. "The 16 full-time firefighters meet the provincial standards for minimum requirements. The 20 auxiliary positions are assisting positions for major incidents and our call back system for our full-time and auxiliary staff assist in the really big incidents where we need assistance and multiple hands and multiple trucks."
The fire department's goal during 2021 will again be to respond to the needs of the community in different ways.
"So that's prevention, that's public education, that's responding to emergencies when they arise, and training our staff to be prepared for any of the responses and services that we provide," he said. "That takes a lot of time, that takes a lot of ongoing hours to maintain, to do the public education, to do the inspection components, the safety components, and the emergency response as well as the training for each of those skills."
Covid doused fire department activities