City of Swift Current wins Community Achievement Award
Posted on 9 February 2021 by Contributed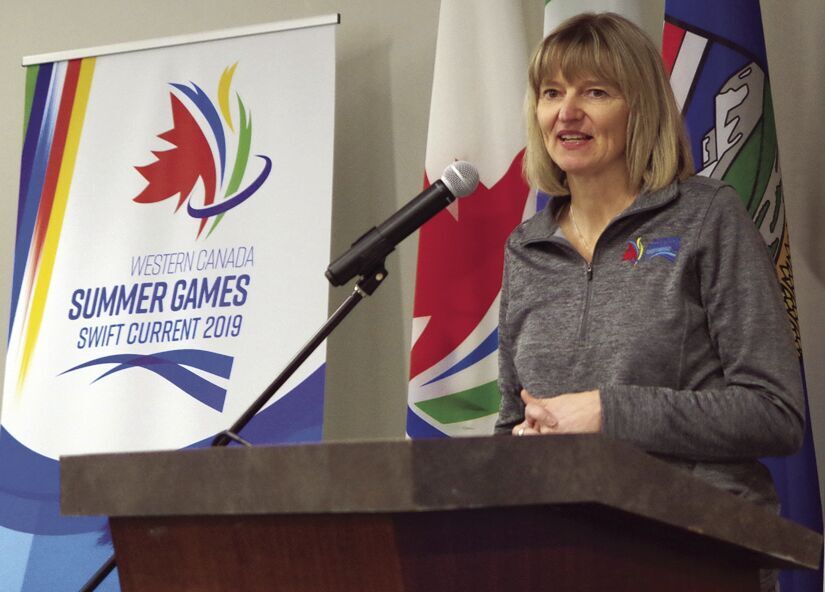 <p>Games Manager Denise Barbier speaks at the launch event</p>
The City of Swift Current is pleased to announce that is has received the Saskatchewan Parks and Recreation Association (SPRA) Community Achievement Award, recognizing the four major events that were held in the City in 2019.
The SPRA Community Achievement Award is presented to a municipality for substantial cooperative community effort, with a large volunteer component, in the development of a recreation program, event, project or park that has or will enhance the quality of life within the community.
2019 was an extraordinary year in Swift Current, with the community and region coming together for four major events:
•Scotiabank Hockey Day in Canada (February 2019)
•Western Canada Summer Games (August 2019)
•Canadian Cowboys Association Finals Rodeo (October 2019)
•World Under-17 Hockey Challenge (November 2019)
In addition, Swift Current resident Rosalie Flynn has been named the recipient of the SPRA Volunteer of the Year Award. This award is presented to a volunteer to recognize outstanding achievements in the improvement of recreation/leisure opportunities at the local level, including, but not limited to, volunteer efforts taking place in Saskatchewan in the last 12 months.
Rosalie has been an instrumental volunteer within the community, as well as throughout the province, over the past 30 years, with recent, significant volunteer contributions including a key role in the 2016 Ford World Women's Curling Championships, leadership in the Forever…in motion community program and a vital role in the Western Canada Summer Games in 2019.
"This is a significant honour for the City of Swift Current and the many local volunteers and sponsors who made these events possible," said Swift Current Mayor Al Bridal. "On behalf of Swift Current City Council and the City of Swift Current, I would like to congratulate our entire community for this award, which celebrates the incredible work of so many to deliver an unforgettable 2019. In addition, I would like to thank former Mayor Denis Perrault and our previous City Council for their exceptional efforts in bringing these events to our City in 2019. And last but certainly not least, I would also like to congratulate Rosalie Flynn for being recognized as Volunteer of the Year. It is always a treat to see local individuals receive accolades for their tremendous accomplishments, and the community certainly appreciates Rosalie's efforts."
Jim Jones, the City's General Manager of Community Services, said: "2019 was an incredible year in our City, one we will surely not forget, and this Award is recognition of the thousands who dedicated their time, energy and community spirit to what was a remarkable calendar of events. I don't think we can thank our volunteers and sponsors enough for their efforts, not only in 2019, but always. Take a bow, Swift Current."
As a result of gathering restrictions related to COVID-19, these awards were presented in a small ceremony at the Innovation Credit Union i-Plex.
"Unfortunately, there was no opportunity for a traditional Awards Ceremony," said Mayor Bridal. "With that being said, we have plans to share this award throughout the community in the coming weeks, and I encourage citizens to stay tuned for details in the near future."
Games Manager Denise Barbier speaks at the launch event