Construction slated for 1st Avenue Northwest and Cheadle Street in SC
Posted on 18 August 2023 by Ryan Dahlman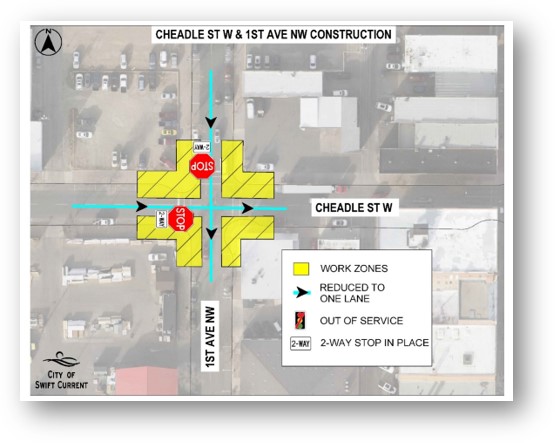 The City of Swift Current would like to inform the public of a construction project beginning Monday, August 21, in the intersection of 1st Avenue Northwest and Cheadle Street.
The work planned is the installation of new traffic structures at the intersection. As part of this work, the sidewalk curb will be realigned on the south corners to accommodate the larger structures and to provide more of a "bulb" surface which will enhance pedestrian safety. New concrete piles will be installed for the traffic structures to stand on. The structures will be the same as the ones already installed in recent years at downtown intersections.
During construction, existing traffic structures will be removed, and stop signs will be put in place temporarily to make this intersection a 2-way stop. Traffic will be reduced to one lane in each direction to ensure a safe working space for contractors.