Swift Current paper mache artist receives recognition for his creative passion
Posted on 26 July 2023 by Matthew Liebenberg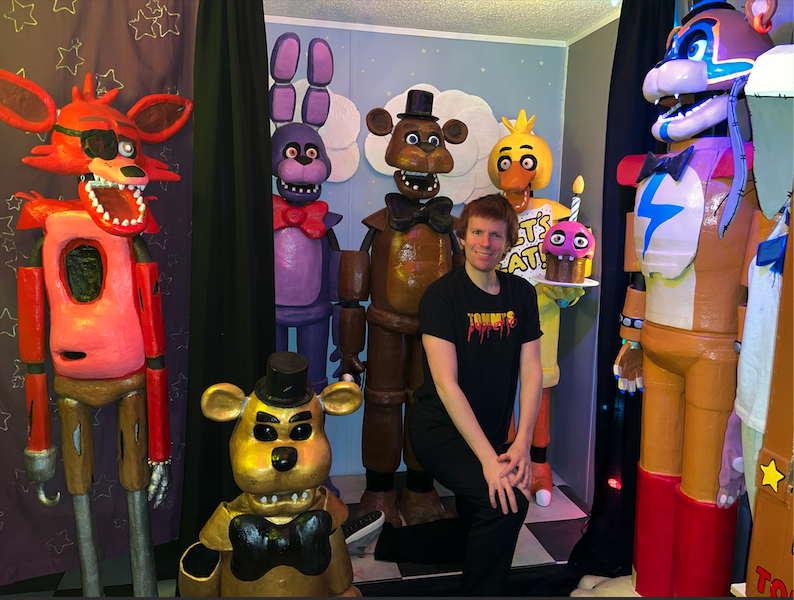 By Matthew Liebenberg
Swift Current artist Tommy Kirk is receiving wider recognition through an initiative by SK Arts to highlight the work of emerging artists.
He was nominated for the SK Arts We Celebrate You 75th anniversary year project, which aims to honour the thriving arts community in Saskatchewan.
SK Arts, formerly known as the Saskatchewan Arts Board, asked 75 established artists to nominate an emerging artist, arts program or arts training opportunity that signifies the exciting future of the arts in the province.
Each of the 75 nominees receives a $750 grant and is featured on the different SK Arts media channels, including its website, mail list and social media. SK Arts also hosted a 75th anniversary gala at the MacKenzie Art Gallery in Regina on May 12, which Kirk attended.
"It feels kind of surreal," he said about the nomination. "I've been doing paper mache for almost nine years now and it just feels like I've reached a really big milestone and accomplishment for something I've worked so long and hard. I was just ecstatic over the fact that I was one of the 75 artists in Saskatchewan who were nominated for that."
He combines an interest in puppets, fan art, scary things and paper mache art to apply his creative energy in a unique way.
"I do feel that this will strengthen my resume and this will help me establish my credibility as an artist," he said. "I'm looking forward to sharing my art with the rest of the province, I've only shown it in Swift Current and I feel that this nomination is really going to help me."
His interest in puppets started at a young age, when he made and played with finger puppets. He also realized at a young age that he has a talent for ventriloquism. He became interested in the art of magic and performed as a stage magician during his elementary and high school years.
He has always been good at working with his hands and his first paper mache project was a balloon pinata in Grade 1.
"The nicest thing about paper mache is that it's very accessible and it's stuff that you can find around the house," he said. "A few years later I got inspired by a show called Art Attack that explained how paper mache was done, and then I met a Welsh artist on Deviant Arts."
He added that paper mache is easy to use and he can therefore apply a really-hands-on approach during the creative process.
"I guess you can say it's renewing, because paper mache is very easy to fix," he said. "You can rework the same project over and over. With other mediums, you don't really have that much freedom."
He also attaches an additional meaning to the renewal aspect of using paper mache to create his puppets, which is related to the material's origin.
"We're taking something that was once living, which is trees, and then we're giving it a new life form," he said. "So a once living tree has become a puppet, it can be brought to life again and can be engaged with."
He uses a feather logo on his website and videos that refers to the phoenix, a mythical bird from ancient Greek and Egyptian mythology that symbolizes rebirth and new beginnings. This is what he does through his art by using paper mache to create something new.
He has made a variety of useable puppets with moving body parts as well as ventriloquist dummies, masks and some props.
His fan art puppets are based on different online cartoon and game characters, for example Pokémon and Digimon puppets as well as human-sized puppets representing characters from the horror-themed video game Five Nights at Freddy's. He also began making his own original puppet characters.
These puppets have been featured on his YouTube channel, Tommy's Puppet Lab. It currently has 459,000 subscribers and his most popular video, Bendy's Nightmare Escape Room, has received 25 million views.
He continues to expand his art practice through new initiatives. He began another YouTube channel, Puppet's Guild. It focuses on horror videos with a storyline and a plot.
"It's all based on interactive videos," he said. "I just feel that this is a really good way to give my fans the chance to interact with my art and my puppets."
He created an online course, the Puppet Master Academy, for those interested in learning to create their own puppets. There are different enrolment options and students can learn at their own pace.
"This was a pandemic project," he said. "It took me about a year and a half to build all that and now it's an ongoing thing. I sometimes have student calls where they can ask me any questions or show off their work. So it's something that I really want to help my students to be able to understand paper mache better."
He felt there is an interest in creating puppets, because it can be a personalized design and it is more satisfying than buying one.
"I find that paper mache can be very meditating," he noted. "It's a good way to just relax and to focus too. And I just think that art has a lot of benefits to developing minds and to explore their own creativity."
His most recent YouTube channel, Charity Guild, was created in early 2023. It continues a similar initiative that he already began eight years ago through DeviantArt. He organizes online art collaborations that give artists an opportunity to participate in a digital art project and he then donates money to different charities.
Kim Houghtaling, who retired as the director and curator of the Art Gallery of Swift Current in 2021, nominated Kirk for the SK Arts We Celebrate You 75th anniversary project.
Kirk's work has been part of several group exhibitions in Swift Current and he also had a solo exhibition of 14 puppets at the Lyric Theatre in 2019.
"The Art Gallery at Swift Current has been very good," he said. "I've always been very impressed with how they set up the displays and they've also helped me out as an artist. So I'm really happy to be part of the art community here in Swift Current."
His advice to young artists is to do what they enjoy doing most and to be consistent with it. He noted that grants are offered to artists, for example by SK Arts.
"There is help out there from art galleries," he said. "There are lots of professionals out there, even just asking people at the art gallery. It's really good to make connections if you're looking to get noticed."
For more details about the artists and groups nominated through the SK Arts 75th anniversary year celebration, go to the SK Arts website at http://www.sk-arts.ca