Prairie Quills Writers' Group receives recognition through SK Arts project
Posted on 26 July 2023 by Matthew Liebenberg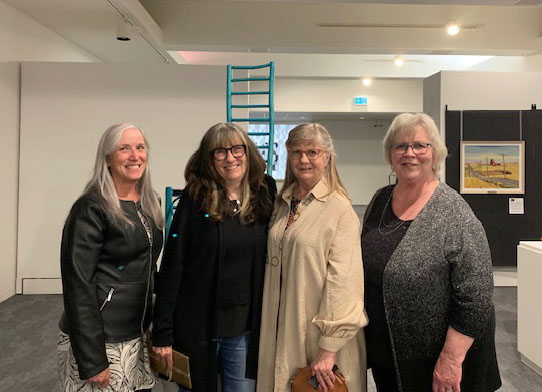 Prairie Quills Writer's Group members had an opportunity to meet author Dianne Warren, who nominated the group, at the SK Arts We Celebrate You 75th anniversary gala in Regina, May 12. From left to right, Tina-Marie Letwiniuk, Dianne Warren, Dianne Miller and Peggy Worrell.
By Matthew Liebenberg
The role of the Prairie Quills Writer's Group in providing creative writing opportunities and support for aspiring and active writers has been recognized through a unique provincial initiative.
The Swift Current and area writing group received a nomination as part of the SK Arts We Celebrate You 75th anniversary year project, during which the organization is giving recognition to the province's vibrant arts community.
"It's a huge honour and a surprise, and very much appreciated," Prairie Quills President Peggy Worrell said.
Prairie Quills received a $750 anniversary grant from SK Arts and information about the group was shared through SK Arts media channels, including its website, mail list and social media.
Three Prairie Quills members also attended a 75th anniversary gala at the MacKenzie Art Gallery in Regina, May 12.
SK Arts, formerly known as the Saskatchewan Arts Board, was established in 1948. It is the oldest public arts funder in North America, according to the organization's website. It supports arts development in the province through the provision of grants, programs and services to individuals and groups.
The format of the SK Arts We Celebrate You 75th anniversary initiative will give recognition to both the 75 nominated artists, groups or programs and the 75 established artists who were asked to make the nominations.
The Prairie Quills Writer's Group was nominated by Regina-based author Dianne Warren, winner of the 2010 Governor General's Award for English-language fiction for her novel Cool Water and a multiple Saskatchewan Book Award winner.
Worrell said a highlight of the 75th anniversary gala was the opportunity to meet Warren, who lived in Swift Current during her childhood.
"She was in attendance and we thanked her, of course, for nominating us," Worrell said. "We asked her why and she talked about the benefits she has experienced as a result of being a member of a writer's group. So, she wanted to recognize the influence that writer's groups have, particularly when we're emerging artists."
The information about the Prairie Quills nomination on the SK Arts website indicates that Warren was welcomed into a Regina writing group called the Bombay Bicycle Club when she was just starting to publish her work.
"It can be difficult for emerging writers to find like mind," Warren wrote in her nomination submission. "Writers' groups can provide a peer group and affirm that a career as a writer is possible. Since Swift Current is my hometown, Prairie Quills is my nominee."
The Prairie Quills Writers' Group celebrated its 20th anniversary in 2021. Worrell felt the group has certainly been supporting writers in the community through various activities for members and non-members.
"There's the influence we've had on our members and then the influence we've had outside of our organization, because we are outward looking," she said. "For our members, clearly there's encouragement being part of a group of writers who are growing and learning together, supporting new members and celebrating successes such as having one's work published or receiving an award or receiving a grant. We cheer each other on."
The group had to switch from in-person to virtual meetings during the COVID-19 pandemic. They now have hybrid meetings to offer a choice of being present in Swift Current or attend virtually.
"So we actually have members participating from Ravenscrag, Eastend, Shaunavon, Frontier and Saskatchewan Landing," she noted. "That's been a real boost to our membership and obviously we've welcomed writers from locations where they wouldn't be able to attend the meeting once a month in Swift Current."
The group has various ongoing initiatives to engage with the wider community, ranging from workshops that are open to anyone interested in creative writing to public readings.
They host a monthly reading event for members of the Canadian Mental Health Association Swift Current branch. Participants are encouraged to write about the particular theme for a month and they have an opportunity to share their work during the meeting.
Prairie Quills members will also do readings at seniors' apartments, care facilities and other locations, such as public library branches.
The Prairie Quills decided to use the $750 anniversary grant from SK Arts to cover expenses for their annual retreat this summer as well as for next year's retreat.
"We try to have one every year," Worrell said. "It's a weekend retreat. … It's an intensive concentrated period of time to write, talk about writing and learn about writing. Many of us find that more productive than either working independently or just meeting for a couple of hours every so often."
For more details about the artists and groups nominated through the SK Arts 75th anniversary year celebration, go to the SK Arts website at http://www.sk-arts.ca