New Métis programming office opens in Swift Current
Posted on 5 July 2023 by Matthew Liebenberg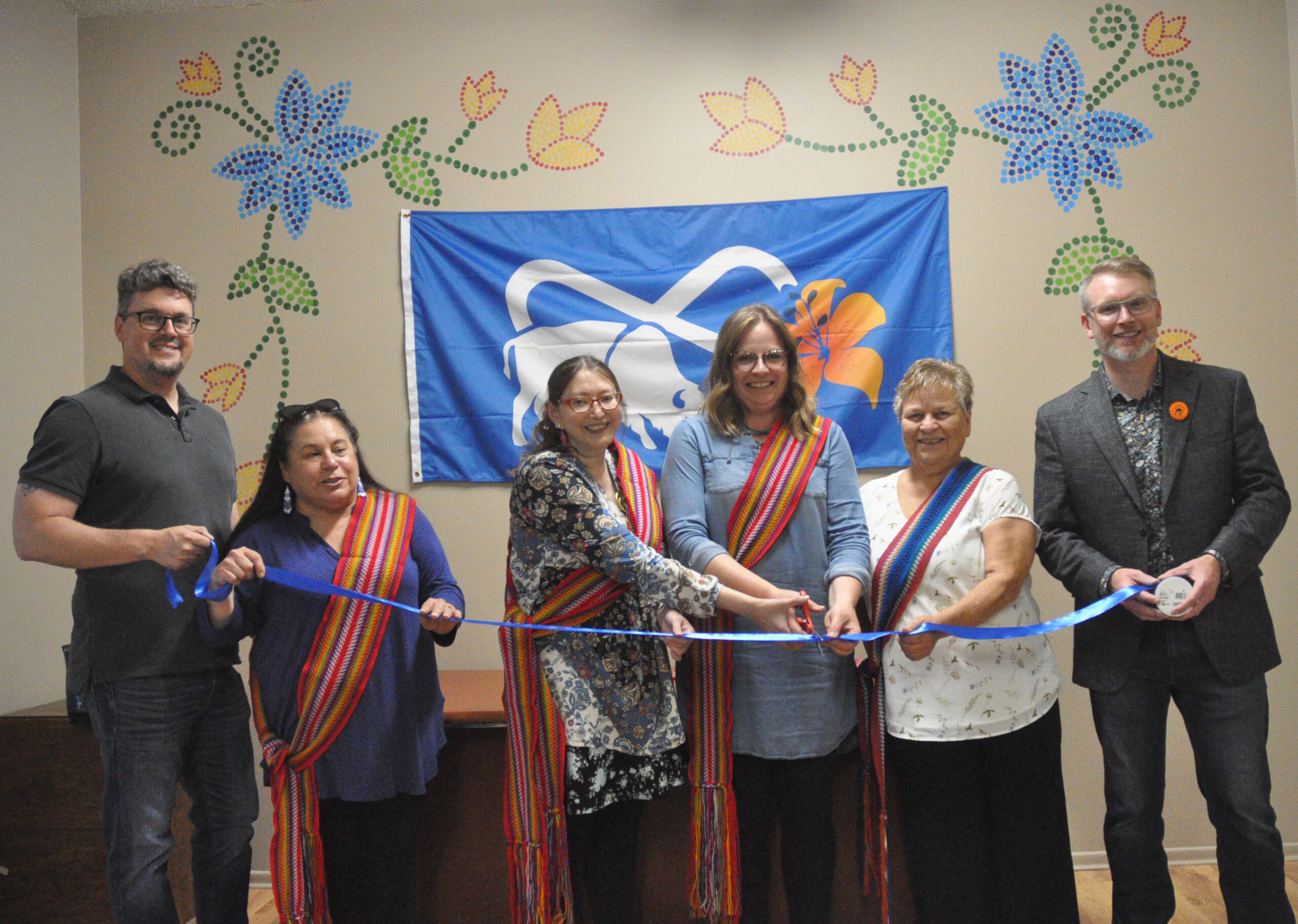 Dignitaries participate in the ribbon cutting during the programming office grand opening, June 21. From left to right, Swift Current Deputy Mayor Ryan Switzer, Métis Nation - Saskatchewan Western Region 3 Regional Representative Wendy Gervais, Lii Bufloo Métis Local #35 members Tekeyla Friday, Rebecca Anderson and Barb Parchman, and Swift Current MLA Everett Hindley.
By Matthew Liebenberg
The opening of the first ever programming office for the Métis community in the Swift Current area provides opportunities to connect and engage.
The grand opening ceremony for the new programming office of the Lii Bufloo Métis Local #35 in downtown Swift Current took place on National Indigenous Peoples Day, June 21.
Rebecca Anderson, the president of Lii Bufloo Métis Local #35, said it was an important moment for the community.
"It's exciting and just a little overwhelmed to see how much support we've had," she mentioned. "It's a really big day for us. The Local never had a space in Swift Current for programming. So it's a pretty big deal."
The opening of the programming office happened as part of the recent reincorporation and renaming of the Métis Local for the Swift Current area, formerly known as Swift Current Métis Local #35.
"It had gone inactive and we reincorporated, because the incorporation wasn't active," she explained. "We decided to reincorporate under a Michif name. The Lii Bufloo is Michif for the buffalo. And we chose that, because we're the plains Métis over here. So this is the area where a lot of our ancestors would have hunted buffalo and traded buffalo."
The reincorporation and opening of a programming office are the results of efforts by a group of Métis citizens who came together last year to plan for the future.
"We were just saying the other day, it feels like we're taking baby steps, but then we look at where we are," she said. "Last October we met as a group and knew this is the direction we wanted to go. We're newly incorporated, we have a Facebook page going, we're building a website and we have a space to be able to have our meetings and do programming. So we've come a long way in those months. We still have a lot of goals and ambitions on where we want to go and how big we want this Métis community to become. But we're well on our way now."
The opening of a programming office will make a real difference in providing a location to meet and have activities. The first program in the new space was a Métis beadwork session. The availability of this space will be a big change from the past, when meetings took place around kitchen tables, in restaurants, at parks or wherever they found a place to get together.
"I think that having a space that is designated for our Métis Local is going to feel like a safer place for anyone to be able to come," she said. "If our Métis Local is meeting at somebody's house or at a restaurant, it's just a very different dynamic than it is to come and have our own space to be in."
Another important benefit of the programming office is that it formalizes the presence of Lii Bufloo Métis Local #35 within the community.
"It gives us a bit of a presence and visibility within the community that can have a ripple effect to organizations wanting to come to us for that education piece or for some guidance, and for citizens to become aware that there is this presence in the community," she said.
Wendy Gervais, the regional representative of Métis Nation – Saskatchewan Western Region 3 attended the grand opening ceremony. There are nine Métis Locals in this region, including Lii Bufloo Métis Local #35.
"The Locals are really the community base for our citizens to connect with and to not only connect, but reconnect when it comes to culture, because without culture and without language we lose our identity," she said.
The opening of the programming office in Swift Current is therefore important for the creation of this connection.
"I can't even speak to how wonderful this feels today in Swift Current, with the opening of an office and a physical space that our citizens can come to work together, whether it's having meetings or whether it's cultural events," she said.
She noted that historical events such as the 1885 resistance and the execution of Métis leader Louis Riel cast a long shadow over people of Métis descent, and many have been reluctant to reveal or talk about their heritage.
"It was not because they were ashamed of themselves or their identity, but they were fearful for the potential of discrimination," she said. "And that meant then denying who you were. … It's only been recently that our Métis citizens are feeling safe to come out of that space and to come into the space of today. A lot of our younger generations are coming forward to really start to reclaim their identity and reconnect with the community."
They are doing it through applying for citizenship with Métis Nation – Saskatchewan and by looking for ways to connect with their culture and the Métis community.
"That's why it's so important having a safe space that our citizens in Swift Current and surrounding area can come into for cultural experiences, whether it's beading, jigging, Michif lessons or just coming to have a social," Gervais said.
Anderson felt there is still a lot of Métis citizens in the Swift Current area who have a disconnect from their culture.
"My own personal story is very much like that," she said. "I didn't grow up learning that culture and that's the story of a lot of the citizens that I'm meeting in the community. We want to learn that culture to be able to learn our own self-identity. … As we do more programming and we're visible and people see that we've got a community here and that we're sharing that culture in a positive way, we're hoping to draw more people in."
The programming office in downtown Swift Current is inside The Block business centre (the former Carmel Mall). The street address is Unit #204, 234 1st Avenue NE. Information about activities will be posted on the Lii Bufloo Métis Local #35 Facebook page.