Gordon McCall leaving his position as Lyric Theatre artistic and executive director
Posted on 29 June 2023 by Matthew Liebenberg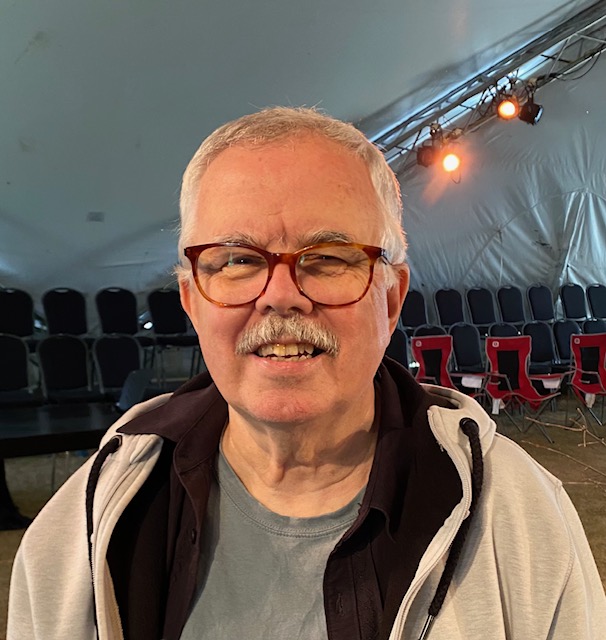 By Matthew Liebenberg
When the Lyric Theatre reopens later this year after the completion of essential upgrades, it will be without the presence of current artistic and executive director Gordon McCall.
He is leaving the position at the end of July due to the sudden and critical illness of his wife Eloise. They will remain in Swift Current, but his time will be devoted to her care.
"It's been a very important and passionate part of my professional life," he said about working at the theatre. "I love the Lyric and I think that what we've done in my five-year tenure is significant and appreciated by the community, and it makes me feel fulfilled and proud of what we've accomplished."
This decision to leave was unforeseen and before the end of his current contract, but he nevertheless feels a sense of completion.
"I might not have had that reflection unless these personal circumstances happened, but I naturally looked around and I'm very proud of our work and what we've done," he said.
He joined the organization in March 2018 as the theatre's first artistic director and in October 2019 he also took on the duties of executive director. He brought a wealth of experience to these roles from a career as an actor, director, playwright, producer and educator.
He was the founder or first artistic director of four Canadian professional theatre companies, including the Nightcap Productions Shakespeare on the Saskatchewan Festival in Saskatoon. He directed productions in the United States, Ireland, Australia and at theatres throughout Canada. He taught acting and directing at various universities in Canada as well as the United States and Australia.
It was therefore no surprise that he received some curious questions after his arrival in Swift Current about why someone with his background joined the Lyric Theatre.
"I would always say I don't even think about it that way," he recalled. "I don't think about it as a small place or a big place. I'm not looking for an upward trajectory, a sideways trajectory. I'm looking to land and create something on this spot. I'll just bring my little box of tools and share them."
He had no problem to settle in a smaller community and he actually considered that to be an attraction, because he grew up in a small town in Ontario.
"So I feel very comfortable in a small community," he said. "That didn't deter me at all. I have always had this belief that great things can come out of small places. When we look around Saskatchewan that's pretty evident, but I don't think we always recognize it."
McCall was living in Detroit when he applied for the position of artistic director at the Lyric Theatre, and he was glad to return to Saskatchewan.
"Saskatchewan to me is a very special place, because of our history," he said. "We brought our sons up in Saskatoon. Their formative years were there."
Both sons have studied elsewhere and travelled to different parts of the world, but came back to Saskatchewan. One lives in Saskatoon and the other in Prince Albert.
"I also felt coming here it's an opportunity to put down roots," he said about living in Swift Current. "We bought a house a couple of years ago and this is home now. The determining factor as to when you leave a community is never the same. It could be for any number of reasons. Right now, we don't have any desire to leave the community."
The opportunity to work at the Lyric Theatre was an appealing thought to him, because he already knew it is an iconic theatre.
"I thought that I could contribute to installing some additional notions," he said. "I'm a real believer in this: Do not throw out the baby with the bathwater. I didn't come here to change and get rid of all the programming and do something. I wanted to add to it and the adding was to add theatre and on a regular basis."
He began the Sparks in the Dark theatre series that launched with a very successful performance of the play Mary's Wedding, which he directed. He increased youth programming with several initiatives. The Munsch series of Christmas shows brought to life the stories of popular children's author Robert Munsch. Both the previous Fairy Tale Factory and the current Shakespeare Day Camp for Youth provide opportunities for youth to learn about and participate in the performing arts.
He began the Great Southwest Shakespeare Festival in 2019, which won a 2021 Lieutenant Governor of Saskatchewan Heritage Award in the category for community development. He viewed the festival as an opportunity to expand the activities of the Lyric Theatre beyond the actual building.
He considered it a highlight to direct the world launch of the play Burn Rubber, Dolly! by Swift Current playwright Wendy Lockman in April 2023 after the original performance in 2020 had to be cancelled due to the COVID-19 pandemic.
McCall is pleased with the way the Lyric Theatre navigated the very challenging period of the pandemic, which started with the difficult decision to cancel in-person activities early on.
"I'm really proud of that, because we not only led, but I think saved some people's health by doing that," he said. "Then part of that was how do we manage during what we don't know how long is this going to be. So I started Lyric Digital Stage, which was putting our core programs online in videos and that turned out to be very positive. We didn't lose touch with the community."
An outcome of this digital programming was that he was able to receive a $100,000 Canada Council grant for a Lyric Theatre project to product a truth and reconciliation video series, called The Ghost of Rita Joe. It is based on a play produced by McCall in 1982, which had the distinction of being the first Canadian production to use Indigenous actors to play all nine Indigenous roles.
"I'm in the middle of editing it now," he said about the video series. "I'll continue to work on it, even after I'm done here, if need be, but it's going to be completed. It will go to air in the fall at some point and it'll be a Lyric Theatre presentation."
One of his goals throughout his time with the Lyric Theatre was to present and develop local talent. He mentored several actors in the community and they also performed in theatre productions.
His role as artistic and executive director required dedication and long hours to take care of a multitude of task, of which some was not really part of his role, but there was nobody else to do it. He felt the biggest challenge during his time at the Lyric Theatre has been the lack of full-time technical staff.
"We had the best volunteers I've ever had the privilege of sharing the journey with, the most dedicated staff when they were in position and board members over the years who should be celebrated for their dedication and volunteer contribution to the theatre," he said. "We also had some of the most dedicated and talented actors, musicians, and technicians who always went beyond the call of duty. Unfortunately, what we didn't have was a full complement of staff members."
He noted that the various boards of directors over the years shared his view on this matter and saw the need for a full complement of staffing, but the organization simply was unable to afford it.
"We were lucky to secure the services of quality technical staff on a part-time basis," he said. "However, in order to increase theatre bookings for touring musicians, a variety of possible private rentals, specialty events, weddings and more, thereby increasing the bottom line, I believe the theatre needs a full-time technical director to meet the potential demand. If it's on a part-time basis, you can't maximize the rental potential."
Despite these challenges, the enduring memory of his time with the Lyric Theatre will be the diversity of entertainment and activities hosted there. He therefore expressed deep gratitude to all the board of director members, staff, volunteers, actors, stage crews, technicians and the great audiences over the years of his tenure.
"Being a part of a multifaceted organization in terms of events always was a positive experience," he said. "It's quite a rush to have a magician on stage one day and next we have an author and then we have these wonderful bands. Blenders brings in artists and we have the Youth Talent nights, which is fantastic, and Open Stage, which brings in the whole community. Just those programs alone and then all the things we brought in, that'll just stay as a high, not anyone specifically, just the environment."