Community events in Swift Current honour National Indigenous Peoples Day
Posted on 28 June 2023 by Matthew Liebenberg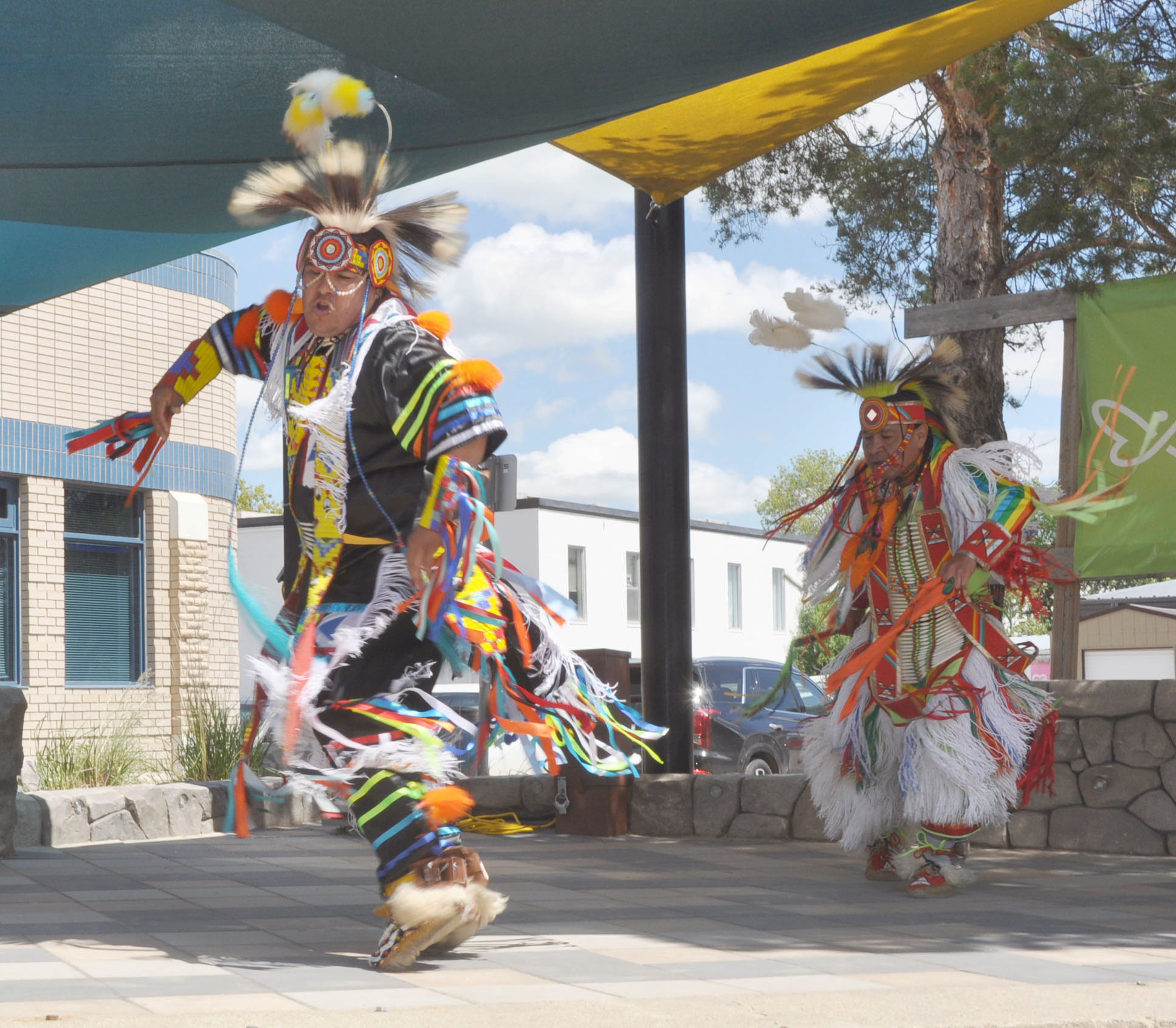 Charles Goforth (at front) and Delvin Stanley perform the men's grass dance during the National Indigenous Peoples Day celebration, June 21.
By Matthew Liebenberg
Two community events took place in Swift Current to honour National Indigenous Peoples Day through reflection on reconciliation and a celebration of Indigenous culture.
National Indigenous Peoples Day takes place annually in Canada on June 21 to recognize and celebrate the history, heritage, resilience and diversity of First Nations, Inuit and Métis.
The two events in Swift Current were organized by the Truth and Reconciliation Committee of Swift Current and Area in association with several partner organizations, including the City of Swift Current, Great Plains College and the Southwest Multicultural Association.
The initial event on June 20 at the Living Sky Casino Event Centre was a community conversation on reconciliation. The June 21 event was a flag raising and cultural program on Market Square in downtown Swift Current.
Bula Ghosh of the Truth and Reconciliation Committee of Swift Current and Area felt both events were a success and achieved different goals.
"Today was a celebration of Indigenous culture and our neighbours, Nekaneet First Nation," she said about the June 21 event. "We wanted the people of Nekaneet First Nation to come and be with us on this very special day. So a very good representation from them."
Annual events have been taking place in Swift Current since 2017 to promote reconciliation. The Truth and Reconciliation Committee of Swift Current and Area therefore felt there was a need to arrange an event to reflect on activities and the way forward. The June 20 community consultation was arranged for that purpose.
"Members of the committee said that it's time to look at what's happening in our surroundings," she said. "We have been doing, but we don't know what is happening. So let's do a check. So let's invite people from the community and talk to them and find out what's going on in their world and learn from that. … We don't want to do more of the same, but we want to do something that will be meaningful and that is going to have an impact."
The intention of the community consultation was to have an intimate discussion. It was attended by 45 people, which was slightly more than initially planned for, but it was a good conversation. Participants reflected on reconciliation from a personal and broader perspective.
"We had a question for everybody to see how they can find resolution in their lives because of something that happened that was wrong to them or to somebody else," Ghosh said. "We wanted to bring that concept of something that happened that was wrong to a group of people. So for people to understand from their own perspective. Then we took it from what are they doing in the field of reconciliation today and so people talked about it and then how we see moving ahead."
She felt this community consultation was part of the process of taking steps to move forward on the road towards reconciliation.
"What came out as the biggest things for all the discussions that happened was people were talking about building relationships, friendships, giving more education," she said. "This was the priority. Understanding each other's culture, exchange and all that became the priority. So we are going to get it all transcribed and then we're going to look at what do we glean from here as our next step forward."
The June 21 celebration on Market Square was an opportunity for the community to gather in a celebration of National Indigenous Peoples Day. Attendees included Grade 7 students from Central School.
Alvin Francis, a knowledge keeper from Nekaneet First Nation, shared a message of reconciliation. Swift Current Mayor Al Bridal brought greetings on behalf of the City. Both Bridal and Francis then participated in a flag raising ceremony.
The special guest at the event was Carol Rose GoldenEagle, who is the current Poet Laureate of Saskatchewan. She sang while playing her hand drum, and then made a presentation. She is a Sixties Scoop survivor and only learned about her culture as an adult.
"I was displaced and put into a little town just outside of Regina where I grew up as a foster kid," she said. "It was not a good way to grow up, but I managed to survive."
She noted the need to acknowledge the things that happened in the past, but she emphasized the need to move on.
"We have to move forward," she said. "That's why I'm really happy everybody is here today. I think it's beautiful that you're sharing our culture and that you're interested in working together with Indigenous peoples to move forward."
Her presentation was followed by a cultural demonstration by residents from Nekaneet First Nation. Charles Goforth provided an explanation of the meaning of the different dances and he also performed the grass dance with Delvin Stanley. The other dancers were Yvette Duquette, Tienna Lewis and Skyla Stanley. The celebration concluded with a round dance involving all event attendees.