Swift Current Lions Club partners with Welcome Centre to host event for newcomers
Posted on 20 June 2023 by Ryan Dahlman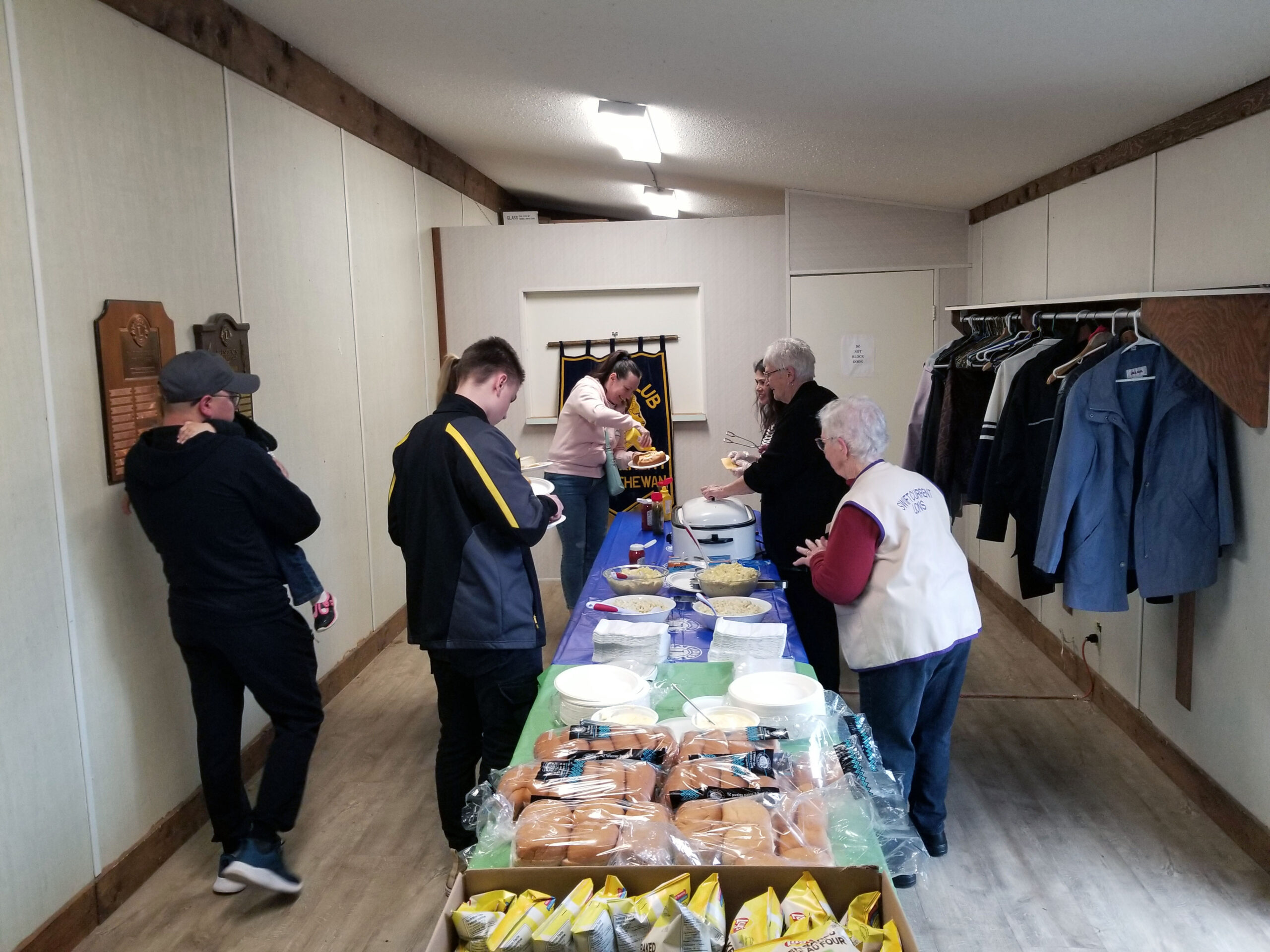 Food is served during the barbecue supper hosted by the Swift Current Lions Club, May 25.
By Matthew Liebenberg
A Swift Current service club created an opportunity for Ukrainian families in the area to come together for a social gathering.
The Swift Current Lions Club hosted the barbecue supper at the organization's clubhouse, May 25. It was attended by around 50 Ukrainian guests as well as club members and staff from the Southwest Newcomer Welcome Centre.
Swift Current Lions Club President Jim Parsons said the club felt a need to do something in support of Ukrainians who came to the city and surrounding area as a result of the war in their country. It therefore approached the Southwest Newcomer Welcome Centre and discussions resulted in a decision to use the Lions clubhouse as a venue for a social event.
"This helps to bring them together and relax, and just visit with each other and mix with a few people from here," he said.
To play host to a group of newcomers in the Swift Current area was something new for the Lions Club, which in the past held events to raise funds for club projects.
"This is a little different," he said. "We've had pitchfork steak fondues and stuff where we sell tickets to use as a fundraiser, but this is the first time we've really ventured forth with something like this. It's a way to show people that you care about them. … The Lions Club has the building and that makes it pretty easy for us. And we've got a big barbecue at the back."
Rebecca Anderson, the community connections worker at the Southwest Newcomer Welcome Centre, said the offer from the Lions Club made it possible to have an event similar to those held last year for individuals and families from Ukraine.
"Together with Ukraine is the name of the events we offered twice last summer," she mentioned. "We had different sponsors for that and it just brought together all of the clients from Ukraine that were arriving here. So they had that connection amongst each other and different community groups coming into those and just making them aware of the services that are available within the community and supports. We hadn't done any since last summer."
The Southwest Newcomer Welcome Centre has registered 110 adults from Ukraine since Feb. 24, 2022, when the country was invaded by Russia.
"That number does not include children that would be with those adults," she noted. "We immediately had a lot of community partners and organizations contacting us on how to help. It was a bit overwhelming at how much support was given for Ukrainian clients, which is wonderful. So everyone has really stepped up, but I also want to say that a lot of these organizations are helpful to us and partner with us to support all the clients that are arriving here, because we have clients arriving all the time from countries all over the world."
One of those organizations is the Great Plains College, which the Newcomer Welcome Centre will continuously work with to offer language classes for newcomers.
"What we saw with our Ukrainian clients arriving is they weren't prepared to be leaving their country and going to a country where English is the main language," she said. "So language skills is something that the majority of our Ukrainian clients were needing some support with."
She noted that the Newcomer Welcome Centre serves the entire southwest and those 110 arrivals from Ukraine are therefore not only for Swift Current. Some of these clients are living in small communities throughout the region.
"The Welcome Centre is constantly helping new arrivals from a variety of countries," she added. "We always accept donations for example of furnishings, large furniture, couches, beds, dressers. So when someone arrives and they need all of this within the place that they're living, we can help them out with that."
She added that Welcome Centre staff are passionate about assisting newcomers through programming and support activities.
"So whether that's helping someone with employment, whether that's helping a family with the school system or helping someone through a traumatic event," she said. "All areas of life we are able to help and support and if we don't do it, we have the community partnerships and connections to be able to refer on."
An important part of the Welcome Centre's activities and a key part of Anderson's role is to create connections between newcomers and the community, because then they will stay in the area.
"The flip side of my role is getting newcomers involved in different community groups and organizations and helping the community and the public in general see our newcomer clients and the contributions that they are making to our community," she said.
There are various ways to support the work of the Newcomer Welcome Centre. It can vary from donating furniture to making a financial donation or volunteering at an event. They have many events scheduled over the next months that will need volunteers.
The Newcomer Welcome Centre's annual lunch fundraiser will take place on June 27, which is Canadian Multiculturalism Day. It happens at Market Square from 11:30 a.m. to 1:30 p.m. Lunch costs $15.00 per plate, while quantities last, and will feature a variety of foods from five different cultures.