Elvis tribute artist Rory Allen performing at Swift Current fundraiser for wheelchair access van
Posted on 6 June 2023 by Ryan Dahlman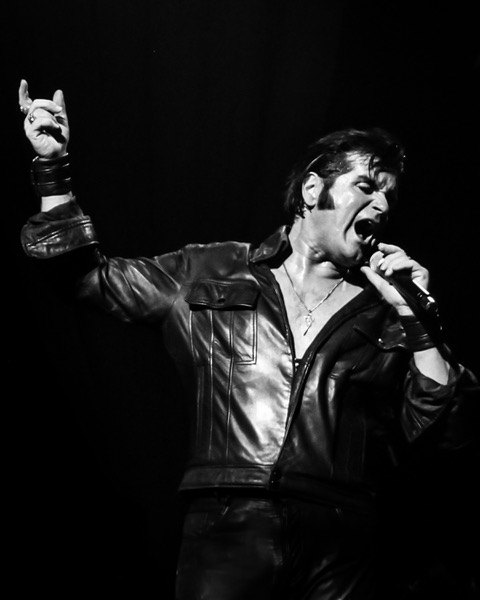 By Matthew Liebenberg
Elvis Presley fans will have an opportunity to enjoy his music and help raise funds for a wheelchair accessible vehicle for The Meadows residents during a concert in Swift Current.
Acclaimed Elvis tribute artist Rory Allen will perform at the June 17 concert, which is the first major fundraising event hosted by Silver Wings Access Van Inc (SWAVI) and The Meadows Auxiliary.
"Rory has been a very popular artist in Saskatchewan for over 20 years," SWAVI Co-chair Tracey Schlamp said. "He has a big draw and we know that he's going to bring in a lot of interest to our community. He appeals to everybody."
Allen is a Saskatchewan entertainer who developed a successful professional music career through a combination of his powerful voice, stunning costumes and rapport with audiences. His show of Elvis hits include rock and roll classics, ballads and gospel songs.
He has performed in concert with two legendary quartets, the Jordanaires and Imperials, as well as the Regina Symphony Orchestra and the 1950's vocal group Danny and the Juniors.
His upcoming performance in Swift Current will be an afternoon concert held in the École Centennial School gymnasium. Doors will open at 1 p.m. and the concert starts at 2 p.m.
Schlamp noted the time and location of the concert will make it possible for The Meadows residents to attend the event.
"We could have chosen a different venue within the city, but realistically our residents could not attend that event, because there isn't the access for all styles and sizes of wheelchairs and having to transport many people all at once would be very challenging," she said. "So, we chose to partner with École Centennial School right across the street from The Meadows. This way we can assist our residents and porter them across to the event. And having it in the afternoon means that more of our folks can really enjoy this concert."
The practical challenge of wheelchair accessible transport to support the freedom of movement of long-term care residents at The Meadows was the motivation for the creation of SWAVI. It is a registered, non-profit corporation that was established through the efforts of a group of concerned family members, residents and caregivers.
A van specifically designed for the needs of The Meadows residents will overcome various existing transport barriers. The Access Transit bus service in Swift Current cannot accommodate all wheelchairs, because some are too large to fit through the bus doors. The hours of operation of the service can also be a barrier.
"So if somebody needs to go to the dentist or to an eye doctor appointment and other specialty medical appointments or their daughter's wedding, sometimes because of time of day or the style of their wheelchair, they just have absolutely no access," she said.
It is not in the mandate of the Saskatchewan Health Authority and The Meadows long-term care facility to purchase such a vehicle. The funds must therefore be raised independently, which resulted in the creation of SWAVI. The initial meeting for this initiative took place in November 2022.
"We had to ensure that our Silver Wings Access Van Inc. was registered as a non-profit organization and having the partnership with the Meadows Auxiliary as a registered charity just made sense," she said. "The Auxiliary takes in any funding and any donations that we get and they are doing a wonderful job. Our committee members are out pounding the pavement, reaching out to companies and businesses and doing mail outs."
A lot of research went into determining the requirements of a suitable vehicle to accommodate different wheelchair sizes and with a suitable lifting capacity. The fundraising goal is $140,148. This amount includes the purchase cost of a nine-passenger van as well as initial registration, insurance and other costs.
The intention is to make the van available to family members, friends and volunteers to transport residents to various events or activities. Anyone who wants to drive the vehicle will have to provide a clean driver abstract and complete a van safety training session.
Initial fundraising efforts have already resulted in some progress and just over $16,000 have been received so far.
"We've had some community folks reach out and offered to do different fundraisers for us," Schlamp noted. "We had one of our folks reach out and do a Pampered Chef fundraiser. We had another person did custom painted rocks for another fundraiser. We are looking into another one. So we will have those small fundraisers going on."
An ongoing initiative was started by a resident at The Meadows to assist with the fundraising effort. She is very passionate about this project and all proceeds from her hand-made keychains are donated to the van fund. SWAVI members will also be at Market Square in downtown Swift Current on Saturdays during the summer to raise awareness about the van project.
There will be raffle tables at the Rory Allen concert with a variety of items. Donations of raffle items will be accepted until June 14.
Concert attendees will have an opportunity to look at raffle items when the doors open at 1 p.m. on June 17 and during the intermission. Allen will perform two musical sets with an intermission in between for a costume change.
Concert tickets are $35 each and available at Pharmasave in Swift Current as well as from SWAVI committee members. Information about this fundraising initiative is available on the SWAVI website at http://www.silverwingsaccessvaninc.com and updates on activities will be provided on the Facebook page. For enquiries, send an e-mail to The Meadows Auxiliary at meadowsauxiliary@sasktel.net or to Schlamp at rtschlamp@shaw.ca