Religion, science making a riveting mix for book filled with pain and overcoming the odds
Posted on 1 June 2023 by Ryan Dahlman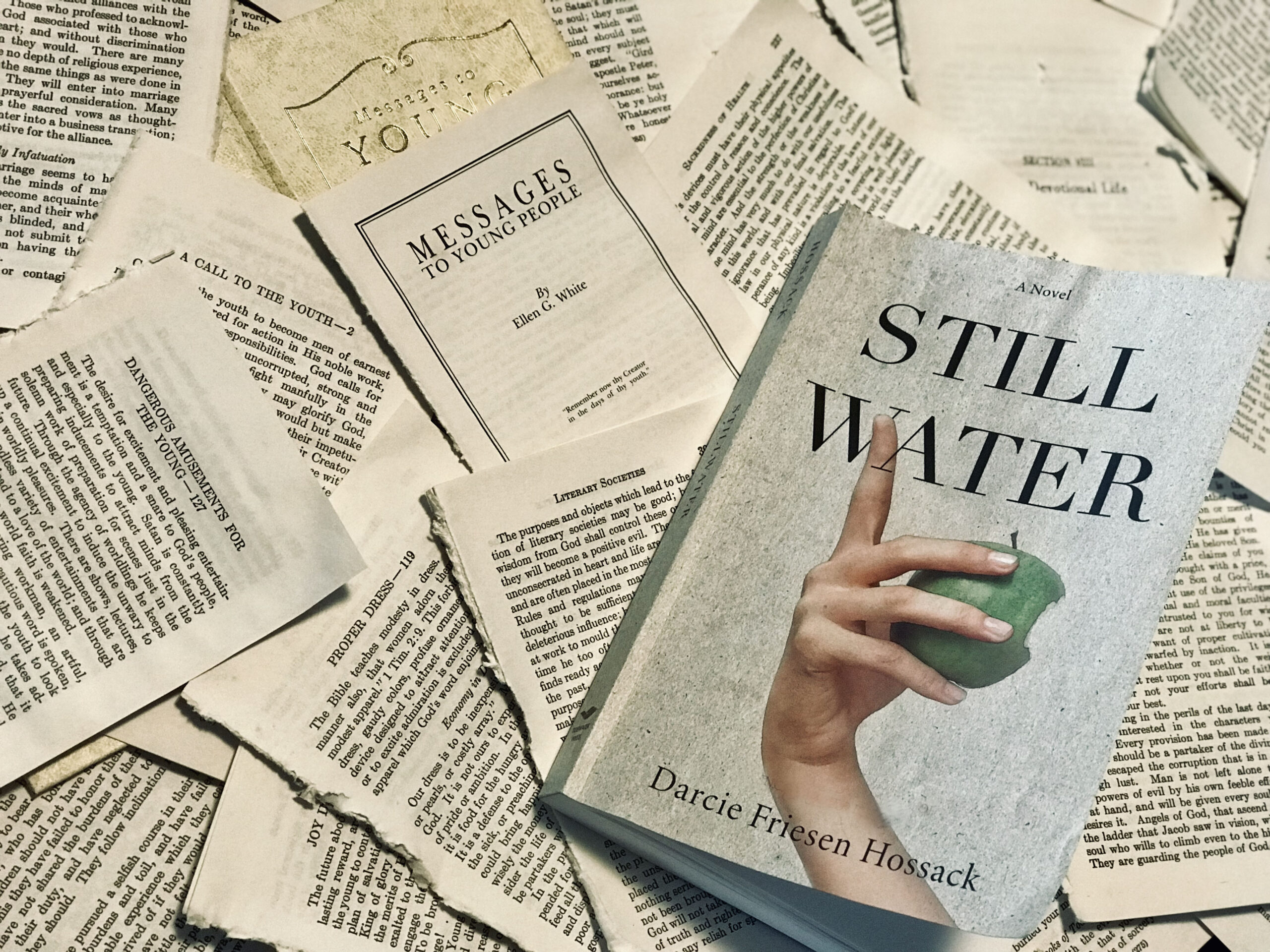 By Ryan Dahlman
Author Darcie Friesen-Hossack is a fearless person who as a gifted author hasn't been afraid to explain concepts, ideas and facts.
She can adeptly explain her fascinating background and culture in a way that is not only riveting, entertaining but if anyone has read her columns before (they were in Prairie Post for many years), you come away having learned something without it feeling like a lecture. It was more like having coffee with a friend.
Friesen-Hossack has crisscrossed the country, as her spouse affectionately known as ChefHusband has moved for work. Now settled down in western Alberta, Friesen-Hossack is releasing her latest book, Stillwater. Unlike her last work, this is fiction.
"Stillwater is the story of 16 year-old Lizzie her seventh day. Adventists father and Mennonite mother, Lizzie also has a younger brother to escape a vaccine mandate," explains Friesen-Hossack. "Lizzie's father moves the family to an SDA (Seventh Day Adventist) commune in the north Okanagan, where the food is vegan and beige and women are expected to stand at the table until all the men have taken their seats. Lizzie is a budding scientist."
The official explanation of the book says, "As Covid-19 upends society, sixteen-year-old Lizzy finds herself trapped between her passion for science and the teachings of her Seventh-day Adventist father and Mennonite mother. But she isn't the only one with problems: her mother, Marie, is increasingly reliant on prescription medication to recover from a car accident that might—or might not—have been deliberately caused by her husband, Daniel.
"Professionally frustrated and increasingly isolated because of his opposition to vaccinations, Daniel, a nurse, moves the family to an Adventist commune in BC's Okanagan Valley, where he looks forward to becoming a respected Elder. At Stillwater, Lizzy meets Joel, another recent arrival with secrets of his own. When Joel helps her establish a clandestine connection to the outside world, Lizzy hopes it will help curb her tongue and retain her sanity long enough to finish high school. Her plans change when her younger brother, Zach, is threatened, forcing Lizzy and Zach to flee to Marie's childhood home with their reluctant mother in tow. When Daniel arrives to take his family back to Stillwater, old resentments collide with new, forcing everyone to face a day of judgement."
The book is full of rich detail and is timely, considering the non-medical battle during the pandemic. With relationships severed between friends and even family members during a "pro vs. against" debate on vaccines or whether the pandemic was even real. The fascinating thing is that when she was writing it it was a decade before the debate had started. Then she dealt with personal crisis and then the pandemic. A lot happened from start to finish.
"It is fiction as it is a novel, but I'm plumbing a lot from what I've experienced obviously. The earlier drafts were like not even the one that existed at the beginning of COVID. I wasn't thinking of this as a novel that would include that. So, the novel was actually set more in the 90s or early 2000s. I wasn't really set on where it was going to when it was going to be so you know the process was kind of similar to Mennonites Don't Dance and then I brought it forward into present times and that's something that I did with the help of my publisher. "
She had started to write this novel about the time her well known Mennonites Don't Dance book came out. Initially she had some ideas that was going into a short story. 
"Then it started to grow. I thought, Oh, damn. It's a novel and I didn't feel ready to write a novel. I wanted to do another collection of short stories," explained Friesen-Hossack who kept on writing but then had to stop because she had to promote Mennonites Don't Dance.
Then as fate would have it, she severely injured her back and she said had to stop. It was excruciating pain.
"I was mostly dead for a good five years and so that novel just kind of sat in a file," she explained. "I would come to my computer and try to open it up, but I was so drugged and in so much pain, I remember I spent two years when I could, working on one chapter that isn't even in the novel because didn't make it. It was just my young character at the top of the stairs and I never let her down to the bottom of the stairs. She was a stuck as I was have finally got a diagnosis and treatment which required a move to the (west) coast. So after about five years of this, I was well enough to be able to sit at my computer and I had my mind back, I had tapered off all of these drugs including (prescribed) fentanyl, and, and I could not remember who I was, and how to go about writing."
Hossack got back into writing to her capabilities by getting a re-set through her a writing mentorship through her idol and two-time Giller finalist Gail Anderson.
"She helped me remember who I am as a writer. So I spent maybe a year and a half going through the manuscript with her complete rewrite. And by the end, I had something I could work with. I moved from Kelowna to Pemberton to Jasper, at that point, wrote another draft during COVID. And all this time I was grafting my my own experience into fiction. You know, with the drugs and malpractice and imaginary character who had died in the original drafts had to be resurrected. She had to stay and she's the one who became injured and experienced.
Friesen-Hossack then moved to Ontario and finally finished the final drafts. Before the final cut she finished them back in Hinton where she and her husband finally settled.
"This book, now it's finally ready," says Friesen-Hossack. "So now it's Mennonites, Adventists. malpractice, the opioid crisis, and in the final drafts we grafted in COVID, as well, so it kind of has this entire decade of experience. And well, it's fiction, so much of what I experienced and what the entire world experienced made it into the manuscripts. So I'm pleased that it didn't get published as I imagined it years ago. But I can't say I would ever want to go through any of that again."
Now she goes into the unknown as this is a different type of book and into a realm not ventured into very much. It is always a little on the edge when you delve into religion, especially when it is a denomination not in the limelight very much.
"Seventh Day Adventists have never been featured in literature's so far as I can find. They're not the kind of people who really like to have a mirror held up to show them who they are," noted Friesen-Hossack. "And because that's where I went to church, and that's where I went to high school. It's where I met my husband in Seventh Day Adventist Academy and was married by his Seventh Day Adventist pastor-father. I'm no longer part of that church in that community and I'm a little bit worried about the reaction."
Writing from past experiences is something Friesen-Hossack is known for and this one isn't different. Southwest Sask and recipes are featured in the book, something she knows and remembers vividly.
She noted the third third act of the novel is set near Maple Creek… my Seventh Day Adventist grandparents, farmed. They're kind of between Maple Creek and Fox Valley, that's a place when I would when I would go visit my dad on long weekends I would take the Greyhound bus from Swift Current to Maple Creek and spend a long weekend. My dad would come from Calgary. We'd spend the weekend on the farm there so it's a place I remember. You know, I get dragged to the SDA church and Maple Creek on the weekend and you know, that's where we experienced Adventist food for the very first time and all the advantages to food. Each chapter has a recipe at the end."
The book will be available at bookstores and online and is through Tidewater Press.