Eliza Mary Doyle album release show taking place in Swift Current
Posted on 1 June 2023 by Ryan Dahlman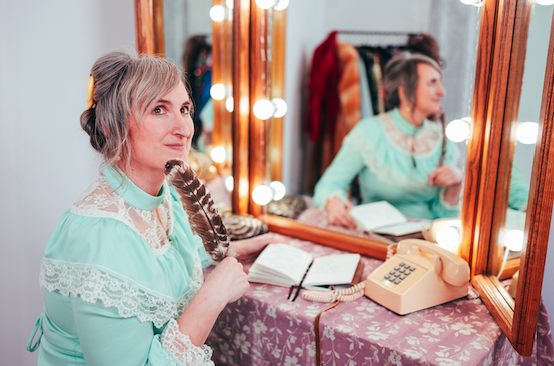 Eliza Mary Doyle will have an album release show in Swift Current on June 10.
By Matthew Liebenberg
Award-winning Saskatchewan banjo player and singer-songwriter Eliza Mary Doyle will be performing in Swift Current on June 10 as part of several shows in the province for her new album Pretty Strange.
She just completed a 20-show tour in the United States that started in Ohio in late March and concluded with performances in California and Montana during May.
"The U.S. tour was amazing," she said. "We went all over the place. It was really great to be able to share my music with everybody and just to see how people from different states and different places react to my music. You can play in your hometown and everybody can love you, which is wonderful, but to see how you're receive outside of the province and outside of your community is really fantastic."
She toured with a full band and they performed at a variety of venues during the different shows. Some were house concerts and listening clubs, while others were bar venues and theatre settings.
"It was fun to have a variety," she mentioned. "They all offered something so unique. I like a variety."
She felt the tour was a good opportunity to explore the U.S. music scene and to build on her existing connections.
"I've been traveling there on and off for the last seven years," she said. "That's where I wrote a lot of the album and that's where I recorded the album. So, I had connections down there and to really test the waters in the U.S. market is something that I'm interested in."
Those U.S. connections were very helpful during the planning of the tour and the next thing she will be working on is a Canadian tour with the assistance of a booking agent. But her immediate focus is on the Saskatchewan performances and to be back in the province during the summer, when she will also put on youth music programming in northern Saskatchewan as part of her non-profit initiative, the Community Arts Mentorship Program (CAMP).
"I'm super excited," she said. "I'll be happy to be with my band, Paula [McGuigan] and Liza [Holder]. I haven't seen or played with them for a while. And I'm adding electric guitar, pedal steel, and drums into the show. So, I'm really excited to tour with this whole band and to present new songs is one of the things I'm most excited about."
Swift Current will be one of five tour stops in Saskatchewan. Others performances include the Saskatchewan Jazz Festival and the Ness Creek Music Festival.
She is a versatile musician and skilful banjo player who has been recorded on 24 albums during her 20-year musical career. Pretty Strange is her second album as a solo artist. The songwriting took place in Saskatchewan and Nashville between January and May 2022.
"A lot of the songs I write and the perspectives that I'm coming from, I'm always looking to engage people in connecting with empathy for other people on this earth so that we don't have to be so divisive," she said. "That's one of the things that music and art do ideally, that it affects people in a way that it moves them for feeling something towards the people in the world."
The 10 songs were recorded live during a 10-hour session at Sidekick Studios in Nashville, which was a new and significant experience for her.
"I've never done an album completely live, from vocals to instrumentation," she said. "Everything was just live off the floor."
Those familiar with her debut solo album will find the new album both familiar and with some surprises. A significant difference is the level of musicianship.
"The instrumentation is just top notch," she said. "I find that beautiful. And when I was first showing my friends some of the songs off the album, they didn't even recognize that it was my voice, because of some of the more Americana kind of rootsy stuff I'm doing. So, I think people will be pleasantly surprised."
Doyle has a teaching background with an ongoing passion for education. She was the winner of the 2021 Saskatchewan Music Award for Industry Achievement for the non-profit CAMP initiative, which brings music programming to remote and underserved Indigenous communities in the province.
She continues to work with CAMP as the organization's executive director and she feels it helps to keep her balanced while she pursues her musical career. Her next album will be a collaboration with fellow musician Kiera Dall'Osto, who co-wrote some song on the Pretty Strange album.
"I've never written an album intentionally with a theme that's cohesive in all of the writing," Doyle said. "That's what I'm going to be attempting to do with the next album and it's about trying to get some different perspectives for social change."
Her show in Swift Current will in some ways be a homecoming, because she graduated at the high school, taught at Maverick School and family members still live in the city.
"I'm looking forward to seeing everybody and sharing some of my road stories, and introducing my new album to them," she said.
The show will feature an opening performance by the Waverley Pickers, a new musical project fronted by Kacy Anderson from the acclaimed Saskatoon folk/roots duo Kacy & Clayton.
The June 10 show in Swift Current takes place at Kinetic Park Barn #4. Doors open at 8 p.m. and tickets will be sold at the door only on a $10-$20 sliding scale.