Dedicated volunteers offer support to crime victims in southwest Saskatchewan
Posted on 23 May 2023 by Matthew Liebenberg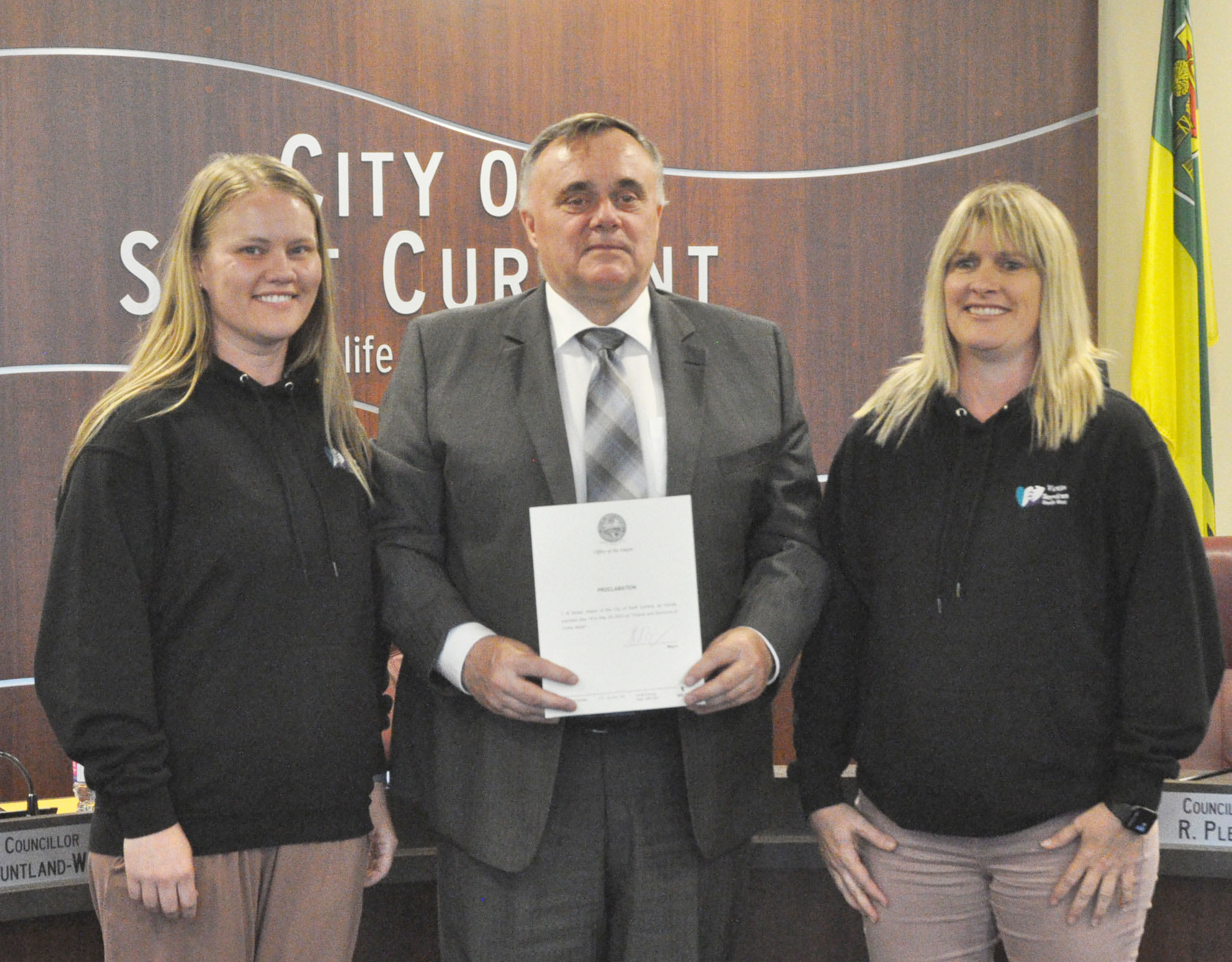 The City of Swift Current proclaimed May 14-20 as Victims and Survivors of Crime Week at a regular council meeting, May 15. Pictured, from left to right, Brittni Ford (Victim Services Southwest assistant coordinator), Mayor Al Bridal and Carrie Davis (Victim Services Southwest program coordinator).
By Matthew Liebenberg
The provision of support services to victims of crime or tragedy can make an important difference in reducing the harmful effects of such experiences.
Volunteer support workers from Victim Services Southwest are available to offer assistance to victims and their families in southwest Saskatchewan.
The importance of victim services across Canada is highlighted annually during Victims and Survivors of Crime Week from May 14-20. The event was recognized by the City of Swift Current, which officially proclaimed this week during a regular council meeting, May 15.
Victim Services Southwest Program Coordinator Carrie Davis and Assistant Coordinator Brittni Ford attended the council meeting to speak in support of the official proclamation and to provide more details about the organization's activities.
Davis noted that the program includes a board of directors, an administrative assistant and a wonderful team of volunteer support workers all over the southwest.
"We are a non-profit organization with the Government of Saskatchewan and the Ministry of Justice," she explained. "Our role is to provide support and information to victims of crime and traumatic events. We have to be available 24 hours a day, 365 days of the year. We assist victims and witnesses by providing crisis intervention, information, support and referrals, such as assisting with victim statements, restitution and compensation forms. Giving victims a voice when they feel theirs hasn't been heard."
She shared some statistical data from the past 12 months to indicate the impact of their work in the region.
"Last year we provided services to 346 individuals, ranging from adults to youth to children," she said. "Our referrals mainly come from the RCMP. However, we do accept self referrals as well as community referrals from other agencies."
Volunteer support workers provided assistance to victims after 161 incidents of crimes against persons such as assaults, threats and criminal harassment. They aided those affected by 14 incidents of property crimes, including break and enters, theft and fraud.
Volunteers from Victim Services Southwest provided support to those affected by the trauma of motor vehicle accidents. They were called to assist after 42 sudden deaths.
"With these incidents we assist individuals with self referrals to any agency or community resources that may help them, such as mental health, crisis services, hotline, shelters, counselling and family services," she said. "In the last year we made 331 outside referrals."
Another large part of their role is to provide court information, which includes court orders, updates, accompaniment to court and court orientation.
"This is a very overwhelming process to victims if you're not familiar with the justice system," she said. "Our total stats there for the year was 260."
Davis noted the organization only has two full-time staff members and it therefore relies on volunteers.
"If a coordinator receives a call from RCMP requesting Victim Services at an emergency, but they live an hour away, we would call a volunteer close," she said. "They can't wait for help. They need help asap."
The organization currently has 16 volunteers across the region and it can certainly use more. A person needs to receive RCMP security clearance and completes detailed training to become a volunteer.
"Volunteering for Victim Services isn't what people think, where you just get a regular criminal code record check and then you can come and volunteer," she said. "It's a pretty lengthy training process, because we deal with serious confidential cases, but if you have the time and the dedication and you could give a couple of hours here and there of the month, we'd love to have you."
Anyone interested in becoming a volunteer for Victim Services Southwest can contact Davis at 306-778-4898.