Household Hazardous Waste Day set for Swift Current
Posted on 17 May 2023 by Prairie Post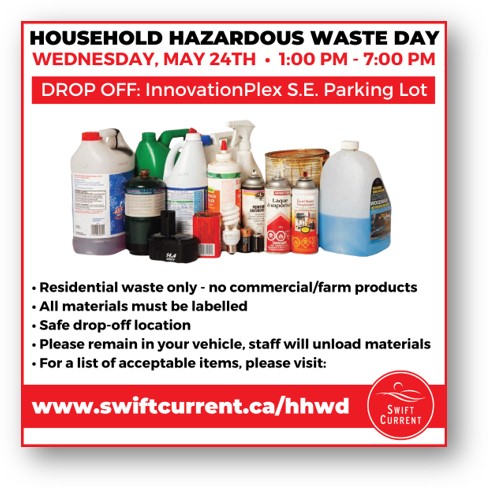 Contributed
The City of Swift Current is pleased to announce the first of this year's Household Hazardous Waste Collection Days at the InnovationPlex on Wednesday, May 24, from 1-7 p.m.
Collection will take place at the InnovationPlex in the southeast corner of the lower parking lot. Residents are asked to stay in their vehicle and wait for an attendant to unload the items for collection.
All materials must be labelled. A complete list of acceptable hazardous household items is provided on the City website at http://www.swiftcurrent.ca/hhwd which include:
Chemicals, cleaners
Solvents, corrosives, oxidizers
Aerosol containers
Pesticides, herbicides
Fluorescent light bulbs
Propane cylinders
Batteries (also accepted at the City Recycle Depot)
Paint (also accepted at SARCAN)
Automotive materials (oil, antifreeze, filters, and containers also accepted at Tune-A-Matic)
Pharmaceuticals (also accepted at local pharmacies)
To find out where to drop off items that are not hazardous, please visit http://www.saskwastereduction.ca
The Household Hazardous Waste Day (HHWD) is open to materials from households only. Commercial and agricultural materials will not be accepted with this program. The next HHWD event is scheduled to take place in the fall; more information will become available as the date approaches.