Coffeehouse and art auction fundraiser creates sense of community at Maverick School
Posted on 16 May 2023 by Matthew Liebenberg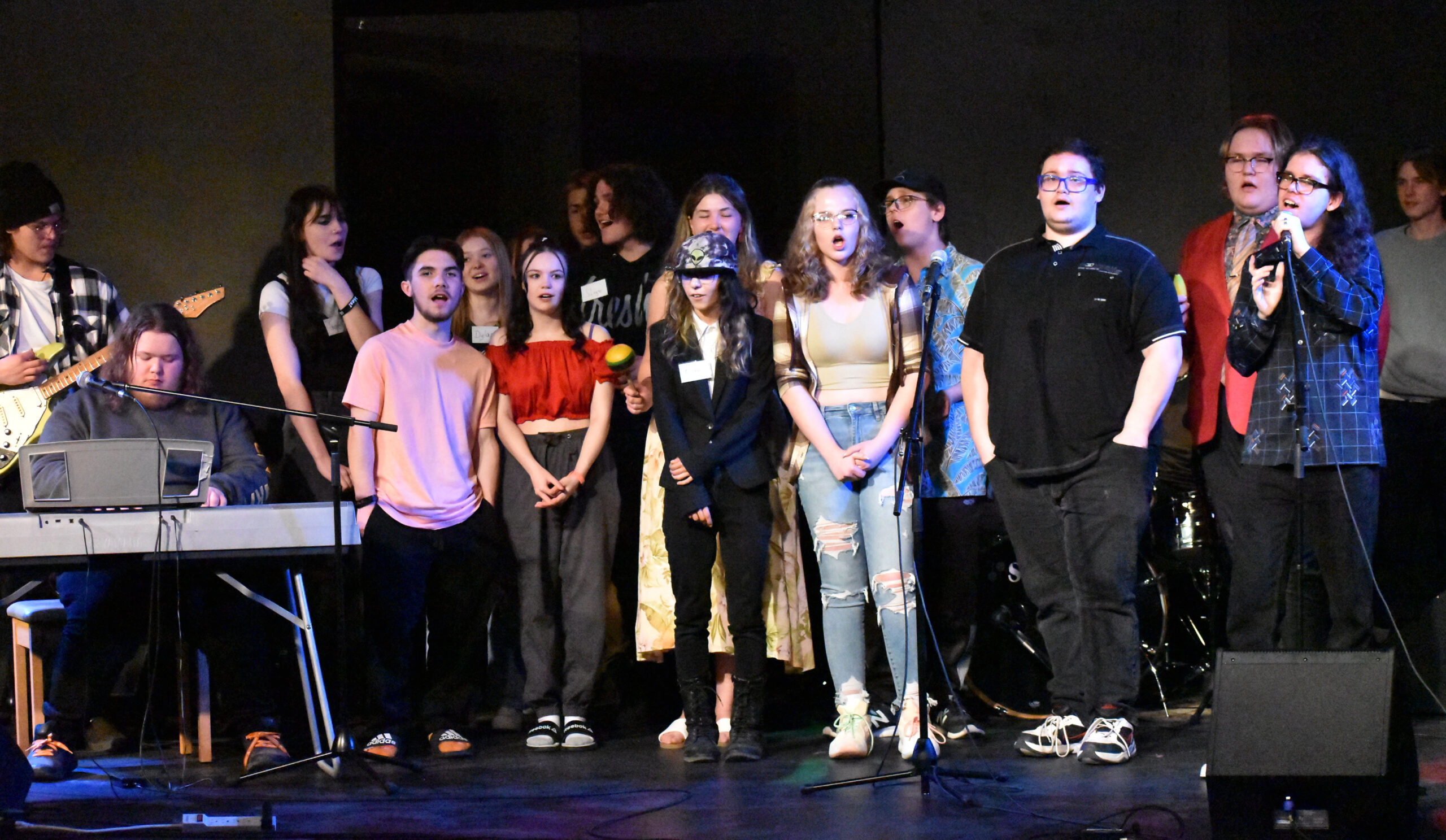 Students perform the Maverick song at the end of the coffeehouse evening, May 3. Matthew Liebenberg/Prairie Post
By Matthew Liebenberg
A showcase of the musical and artistic talents of students at Maverick High School's coffeehouse and art auction raised funds for two important school programs.
The two-night event took place at the Lyric Theatre in Swift Current, May 3 and 4. It featured 16 students in 15 performances as well as a live and silent auction of artworks.
This was the first time since 2019 that the Through Our Eyes coffeehouse and art auction was held in person. Both nights were sold out and over $23,000 was raised for the school's outdoor education and visual arts programs.
"It was a fabulous response from the community and I'm just extremely proud of all our students, whether they were performing or serving or greeting or ushering," Maverick Principal Jayne Nicholson said. "They all just really stepped up and did a fantastic job. It was absolutely wonderful."
This event had a virtual format for the past two years due to the COVID-19 pandemic and there was a lot of excitement about the return to live performances and the actual display of the artworks.
"It was a wonderful thing, just seeing the Lyric buzzing the way it was and the energy in the room," she said. "And for all the students to feel that too and to know these people came there because they really want to support our school."
Some students were involved with the previous virtual events, but this was their first experience of a live coffeehouse and art auction.
"It's wonderful," Grade 12 student Ashton Giesbrecht said after his debut performance on the first night. "I just said hi to like 10 people back there that I didn't even know and it's really bringing the Maverick family together. I'm just very glad to be a part of it."
He is a big Beatles fan and performed the Ringo Starr song It Don't Come Easy. Thereafter he played drums in one of the bands and performed a hip-hop song with three other students.
"It was very nerve-racking," he said about initially going on stage to sing. "I went up there, my palms were sweaty, knees weak, arms were heavy, and I'm just glad that I was able to work up the confidence and get up there and sing my heart out."
Third year Maverick student Aradyn Norman felt it was a great experience for students to share their talent with the community and to make good memories. She participated in last year's virtual coffeehouse and singing on stage was different from creating a video performance.
"It's a lot better being in front of an audience, because you can't nitpick every single line of your song," she said "You perform it as is and you hope it all goes well. There's a little bit more nerves with that, but I think it's also more rewarding to hear your applause."
She performed her own song, titled Black Wave, which she wrote for a friend who passed away in a car accident.
"That's the first time I shared it with the world," she noted. "It's a lot harder sharing the song live than it is just with my classmates with dress rehearsal yesterday."
Grade 11 student Jazmine Pope made her debut as a coffeehouse performer by singing the Luke Bryan song Most People are Good.
"I feel like it was a huge rush for me," she said. "I really liked the song that I picked for this and it gives a very good message."
She emceed last year's virtual concert and she enjoyed the in-person event, because it brought everyone together. She referred to the importance of the coffeehouse for Maverick School.
"It allows our school to do a lot of the things," she said. "People don't realize how big of a help this is for our school, because it allows us to do all of our outdoor ed and all the art things that we're actually auctioning off tonight."
Music instructors Glenna Switzer and Stacy Tinant were closely involved with the intense preparation for the performances.
Switzer said it is very rewarding as a music teacher to be part with this event. It is one of her favourite things about being an instructor at Maverick and she enjoys putting the bands together. She added that students will never forget their debut at coffeehouse.
"It will stay with them for the rest of their lives and not only how the performances go, but the camaraderie between the students," she said. "It's a real team effort and it's like family. Everybody cheers each other on. It's really heartwarming to see."
The experience benefits the students in various ways. Some learn to play a musical instrument and others step onto a stage for the first time to perform in front of a live audience.
"It boosts their confidence and it's so good for them," she said. "It shows them that anything is possible with hard work, determination and perseverance."
Tinant said it felt really good to be back at the Lyric Theatre for a live event after two years of virtual performances.
"We get so much out of the live coffeehouse show," he noted. "The years when we were virtual were fun and it was very rewarding in its own way, but this is what it's all about."
Preparation for the musical performances took place over months. The instructors already got a sense of the potential interest from students to perform when they were playing in the jam room during the first half of the school year. Some students had an opportunity to perform at the school's Christmas banquet.
"Typically, we start shoulder tapping and telling students to think about songs and performances around January," he said. "Then when we get back from reading week break in February all of those decisions are made, and from then on it's rehearsals until the first week of May."
He noted the intention is to get student involved in the various aspect of presenting this event to the community, whether it is the creation of artworks, the event hosting activities each night or the on-stage performances.
"We want them to get this experience of putting this show together and not only the side of it in which they're having to do work, but there's also a side of it of coming together and having an experience with the school," he said. "I just think that they remember this night more than most things from school, because it is such a big event where they put so much into it and work with all their peers."
This was the 16th time that Maverick School presented the coffeehouse and art auction to the community. Nicholson felt it boost the self esteem of student in a way that few other activities can achieve.
"This is our event where our students come together and are showcased for the community," she said. "Otherwise, there's no other real way to tell people how wonderful these students are and how talented they are."
She added that the event actually changes the school and the feeling of community at the school, because everyone comes together to create it.
"New friendships and relationships are developed," she noted. "A sense of community of working together really does carry over into the school after coffeehouse."