Storyteller Zoey Roy shares poetry and music to support a path to reconciliation
Posted on 11 May 2023 by Prairie Post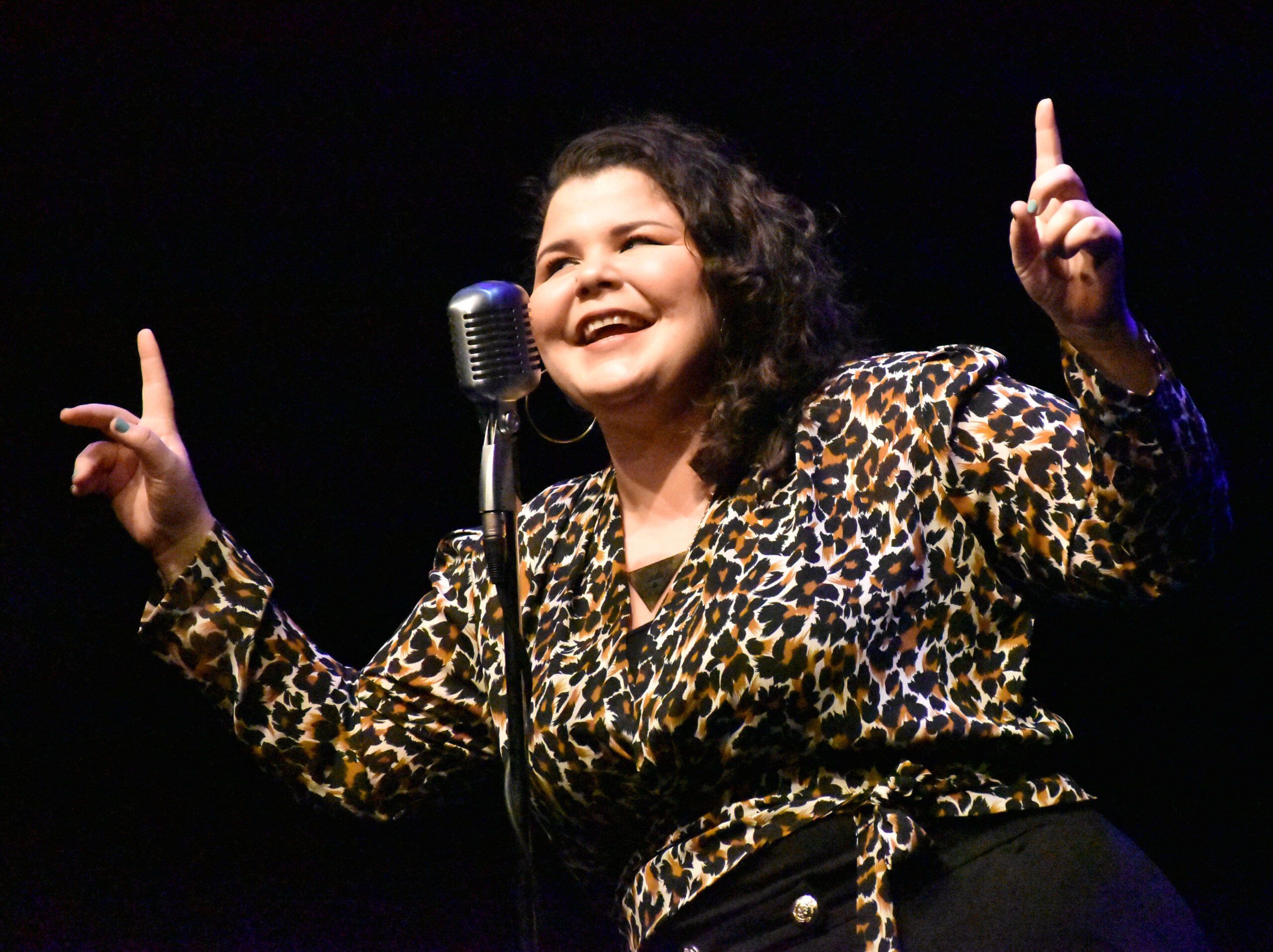 Hip-hop inspired poet Zoey Roy performs a song during the Living Sky Casino event, May 2.
By Matthew Liebenberg
Storyteller and hip-hop inspired poet Zoey Roy used her poetry and music to share a message of reconciliation during several events in southwest Saskatchewan in early May.
Her visit to the area was made possible through a partnership between several organizations, including the Southwest Multicultural Association, Southwest Truth and Reconciliation Committee, Chinook School Division and the Multicultural Council of Saskatchewan.
There was a community opportunity to hear her message during an event at the Living Sky Event Centre, May 2. This was followed by presentations at the high schools in Swift Current and Maple Creek on May 3 and 4.
"I want to illustrate pathways for what is beyond Canada's reconciliation," she said during an interview on May 2. "There's been a lot of talk about how reconciliation is dead or how we have to talk about the truth before reconciliation, but everybody has their own truths and people have multiple truths."
She uses her own experiences to talk with audiences about the way forward on the reconciliation journey.
"So I'm showing how I work through my truths, maybe stories or narratives that I once believed about myself, how I fit into society and how I've evolved through those facts and beliefs of myself," she said. "And thus, I'm enjoying my life more, because I'm able to break through old notions of what I was supposed to be or what was expected of me."
Her performance at the casino included poems and songs written during the pandemic. She used her creativity during that period to produce material for two albums, Made Up and Zoetry.
"Early in the pandemic, like everybody else, my life stopped, but my mind kept going and I needed to find a way to make sense of what was going on in my mind," she said. "This is how I made sense of it."
She felt the impact of her work does not change between the presentations through music and poetry.
"I don't think one is more powerful than the other," she said. "I'm a poet and I translate my poetry through music and through poetry. I'm a hip-hop inspired poet. I didn't have access to instrumentals when I was a youth. So I used beat poetry and now I'm able to have the luxury of beats and to me it's like beautiful to be able to do both."
Roy mentioned that she faced a lot of hardships during her childhood, but poetry and storytelling helped her to navigate through the complexities of adolescence, homelessness, racism, and of just being a Canadian trying to figure out what to make of herself.
"I'm going to be talking to high school students primarily and my hope is that I'm able to lessen the burden for them, because it's easier to want to take the world on your shoulders and to feel overly responsible for the world that you inherited," she said. "But really, the only thing you can truly do is be the best self that you can be and you can make the world a better place, and I want to show how I'm doing that through my poetry."
She uses her art and creativity to help open the path towards reconciliation, which she feels is both an individual and a collective journey.
"They say the longest road that you will travel is from your head to your heart," she said. "I know that children today are not asking us to pave the way, but they're asking that we start. And so I use poetry as a way to make that path, make that journey from my head to my heart. This is how I'm able to reconcile myself and to embody my own humanity. … In a national context, we can do this through relationship building. Good relationships will evolve into good policies, but we have to start with human interaction, having tea, visiting, eating together, making eye contact, being with each other. We are missing the art of communication and this is what I really want to foster moving forward."
Roy is a citizen of Peter Ballantyne Cree Nation in northern Saskatchewan and is currently based in Kingston, Ontario. She previously participated in reconciliation events in Swift Current and appreciated the opportunity to return to the area.
"I keep coming back here, because I've been building community here and to be invited back to a community is the best compliment," she said. "So I'm grateful to be here."
Rhonda Rosenberg, the executive director of the Multicultural Council of Saskatchewan, said during her remarks at the May 2 event that it will help to promote multiculturalism and anti-racism.
"Anti-racism work, such as done by the Truth and Reconciliation Committee here, challenges the status quo and demands that we build equity and justice in our institutions and communities. It's essential to continue with events such as tonight and over the next few days in the region."
She noted it is long-term work to create communities that are welcoming and reflective of everyone.
"It's OK to be uncomfortable, it's OK to be unsettled," she said. "And some sense of unsettling is part of our process to find our way together."
She felt it is crucial to examine the impact of racism and colonialism in small centres in rural areas, because these communities are often overlooked in discussions of systemic oppression.
"Racism and colonialism play a significant role in shaping the social, economic and political landscape in rural communities and smaller centres," she mentioned. "By acknowledging these impacts, we can work towards building more equitable and vibrant rural communities that prioritize the needs and experiences of all residents."