Initiative raising funds for wheelchair accessible van for The Meadows residents
Posted on 11 May 2023 by Ryan Dahlman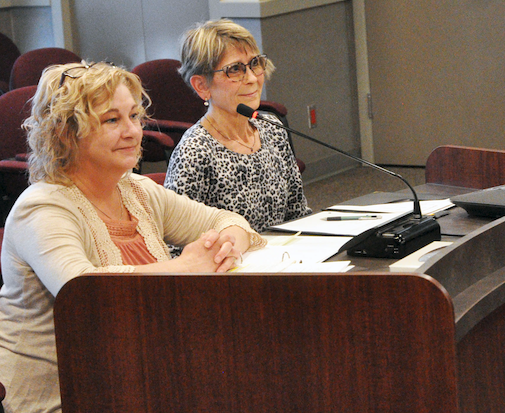 Tracey Schlamp (at front) and Eunice Morck make a presentation about the SWAVI fundraising initiative during a City of Swift Current council meeting, May 1.
By Matthew Liebenberg
A new fundraising initiative aims to support the freedom of movement of long-term care residents at The Meadows in Swift Current through the purchase of a wheelchair accessible vehicle.
Silver Wings Access Van Inc. Co-chair Tracey Schlamp and The Meadows Auxiliary President Eunice Morck provided details about the project during a presentation at a regular City of Swift Current council meeting, May 1.
"Many residents require wheelchairs for mobility and activities of daily life," Schlamp said. "The goal of Silver Wings Access Van Inc. or SWAVI is to purchase a truly accessible van for all our residents. The Meadows residents may be your parents or your grandparents, they may be friends from high school, the owner of your favourite restaurant. They were builders and supporters of our communities. It might be the neighbour on your farm, and it may be the one you loved the most."
SWAVI is a registered, non-profit corporation that was established through the efforts of a group of concerned family members, residents and caregivers.
"It was created with the intention of the inclusion and accessibility for our residents to eliminate those transportation barriers," she said.
They approached The Meadows Auxiliary to be part of the fundraising initiative. The Auxiliary is a registered charity that was created in 2017 to support the leisure and quality of life needs of residents at The Meadows.
"As a committee we've been growing since we started this, which is great," Schlamp noted. "We're happy to say that our last meeting was the biggest one ever. We had lots of folks coming out, not only family and residents, but other people that have heard about us."
The committee's initial meeting took place in November 2022. They have recently created a Facebook page and website to generate awareness for the campaign and they have already been doing some fundraising. They have raised $9,842.92 up to May 1 towards their goal of $140,148 to purchase a wheelchair accessible van.
"So we do have a ways to go," Morck said. "We are applying for all the grants that we possibly can apply for. We have a dynamic group with us and a lot of people are just throwing all sort of ideas out at us, and we're going to do everything we possibly can to make this a reality."
She emphasized it is not in the mandate of The Meadows long-term care facility to purchase such a vehicle. The funds must therefore be raised independently and the Saskatchewan Health Authority has no affiliation with this initiative.
A dedicated wheelchair accessible vehicle for The Meadows residents is needed for several reasons.
"Currently not every resident has access to our community activities because of the size or style of their wheelchair as well barriers within the accessible transportation offered within the city," Schlamp said.
The Access Transit bus service in Swift Current cannot accommodate all wheelchairs, because some are too large to fit through the bus doors. The hours of operation of the service can also be a barrier.
"This means that access to transport folks in wheelchairs in the evening and out of city limits is simply unavailable, so putting family activities and social events out of reach for many of our residents," she explained. "By purchasing a customized accessible van, all of our residents would have that opportunity to attend recreational therapy activities offered outside of our building or any community event day or night."
Morck emphasized that Access Transit offers a valuable service and they certainly appreciate the benefits it provides to the community.
"We do just want to say that we truly believe that the City of Swift Current's transit system is doing the best they can, but there's so much of a demand for that Access bus and we'll maybe take a little of the wait lines off when we get a van," she said.
The intention is to make the van available to family members, friends and volunteers to transport residents to various events or activities.
"This would mean that friends and family members could bring their loved ones to family weddings, they could go for a visit to the farm, they could go to a sporting event like a Broncos game or a 57's game, they could go to the museum, art gallery, library or even just to drive in the country," Schlamp said.
Anyone who wants to drive the vehicle will have to provide a clean driver abstract and complete a van safety training session.
"There's no requirement for donation or requirement for payment other than refuelling or a special license," she noted. "This is a nine-passenger van. So it's not requiring anything other than a standard Class 5 licence."
Information about this fundraising initiative is available on the SWAVI website at http://www.silverwingsaccessvaninc.com and updates on activities will be provided on the Facebook page. For enquiries, send an e-mail to Morck at meadowsauxiliary@sasktel.net or to Schlamp at rtschlamp@shaw.ca