Swift Current AG and Ex.'s 11th Annual Discover the Farm: a farm facts experience at Kinetic Park
Posted on 4 May 2023 by Prairie Post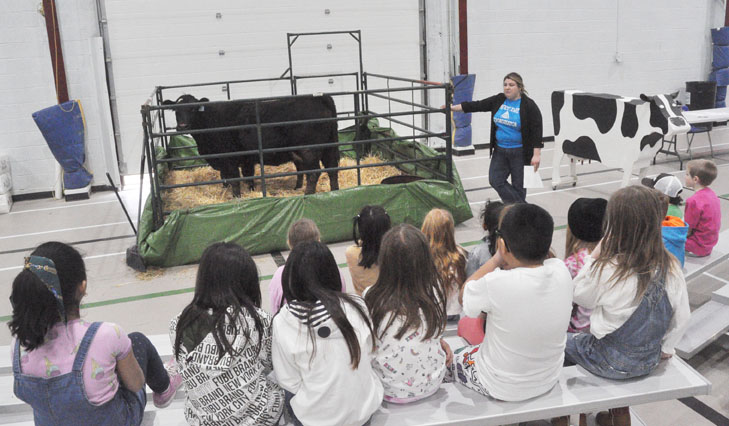 Mikayla Blaschuck speaks to Grade 3 students about large animal safety at Discover the Farm, April 27. Photo by Matthew Liebenberg
The Swift Current Agricultural and Exhibition Association hosted the 11th Annual Discover the Farm: A Farm Facts Experience & Progressive Agriculture Safety Day, in-person at Kinetic Park, on April 27 – 28.
Kinetic Park was full of excitement, learning and laughter as 739 students & 65 Teachers from across Southwest Saskatchewan learned about agriculture and safety over the two days. The Swift Current Ag & Ex is proud to provide this program to local students.
Schools that participated in the event were All Saints Catholic, Central, Ecole Centennial, Fairview, Irwin, Hazlet, Shaunavon, Stewart Valley, Success, Val Marie, Vanguard, Wymark, Downie Lake Colony, and 1 home-schooled student. The attendees of the event learned about agriculture and safety through hands-on demonstrations by presenters and interactions with farm animals. Topics covered in-person included:
• Fire Safety
• Impairment Safety
• ATV Safety
• Large Animal Safety
• Water Safety
• PTO Safety
• Seed Survivor by Ag in the Classroom
• Beekeeping
• Sask Pork
• Potash
• Sheep and Goat Farming
THANK YOU to our sponsors: Sask. Association of Agriculture Societies and Exhibitions (SAASE), Mercator Financial, SGI, Whitecap Resources, New Family Chiropractic Dr. Rhonda Corrigan, Monette Farms, Sask Lotteries, FCC, Ag in the Classroom, Swift Current Aquatic Centre, Robertson Motorsports, Viterra, G J Livestock, Muridale Shorthorns, Gramma Zoo Exotics, Cypress Hills Honey Farm, Sask Pork, RCMP Swift Current City Detachment, Mosaic, and CASA
THANK YOU to our presenters and volunteers: Dena Lamb, Ashley Holmes, Raymond Broderick, Ava Broderick, Jillian Broderick, Cst. Anthony Curti, Janelle Lansdall, Glenda Allen, Alyssa Bennett, Taylor Dickie, Meghan Chisholm, Aydynn Johnson, Grant Scheirlinck, Reise Podhordeski, Jessica Podhordeski, Glen Duck, Jocelyn Duck, Mikayla Blaschuck, Brenda Blaschuck, Leanne Chalk, Linda Weinbender, Heather Markewich, Christine Gerbrandt and Tracey Stevenson.
About the Swift Current Ag & Ex
The Swift Current Agricultural and Exhibition Association is a non-profit organization with a mandate to provide service to and enhance the life of residents in the areas of agriculture, entertainment, sport and culture to the community and the region. Through the delivery of these programs we contribute greatly to the community of Swift Current. On an annual basis we purchase over one million dollars' worth of goods and services, utilize more than 20,000 volunteer hours and attract over 200,000 people annually.
The chute is always open at http://www.swiftcurrentex.com