SaskAbilities' 34th AbilityBowl raises $66,270.97
Posted on 4 May 2023 by Prairie Post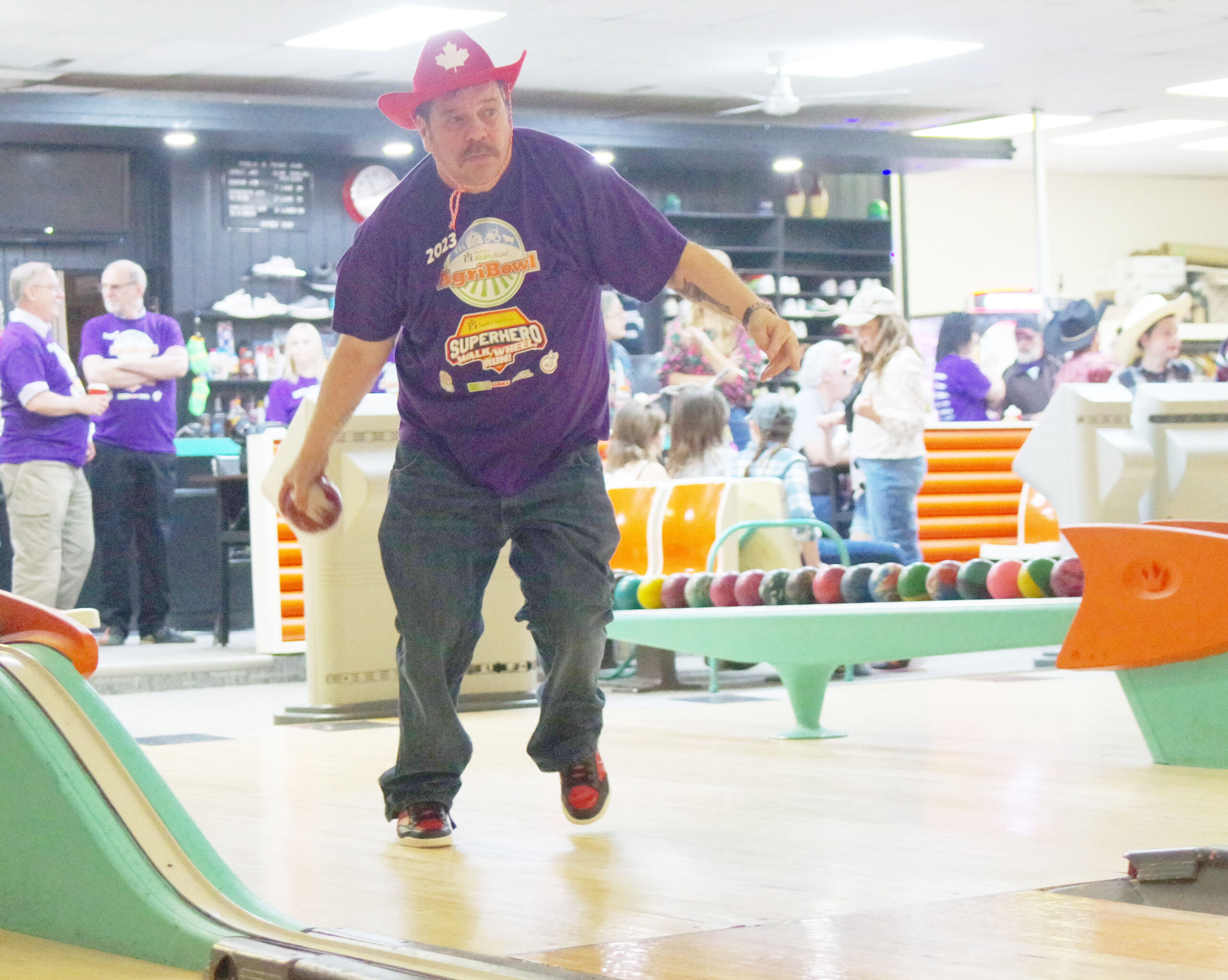 Dwight Larter from the Mental Health Moo Crew team makes a throw during the 2023 Ability Bowl in Swift Current, April 29. He was the top individual fundraiser with an amount of $2,252.50 and took home the grand prize, a 55 inch UHD 4K television.
Submitted
Riding off into the sunset is SaskAbilities SwiftCurrent's 34th annual Ability Bowl.The word bountiful comes to mind for this year's themed AgriBowl fundraiser with an event rich in participation, generosity, partnership, and a celebration of producers here in southwest Saskatchewan.
The 2023 AbilityBowl season opened with a return of Platinum $5,000 sponsors, ACTSwift and Canada West Harvest Centre, with the Saskatchewan Indian Gaming Authority (SIGA)-the parent organization of our local LivingSkyCasino – as the newest addition to these top-tier sponsors. Support for AbilityBowl throughout SwiftCurrent and the surrounding area, a tall levels of sponsorship and donation, has been abundant.
"We are extremely grateful and feeling blessed by the generosity of our business community.From our new sponsors to our long-term sponsors, to the donations of prizing that make AbilityBowl possible and by extension, directly impacting the youth programs we are able to offer, including Summer Fun, SLYP-Out, and Camp Easter Seal,"says Jenny Dyck, Community Relations Coordinator at Sask Abilities SwiftCurrent.
Events in support of AbilityBowl began with a series of 50/50draws in partnership with CIBC and Lucky Charlie's, a 50/50 at the SwiftCurrent Ag&Ex Step into Spring Tradeshow, the Gun and Hobby Show and a perogy and beverage supper in partnership with the Buffalo Brew Pub that kicked off the month of Ability Bowl in delicious style. All funds raised from these eventswent directly towards Ability Bowl fundraising totals.
April 29 marked the day of Ability Bowl, with over 100 bowlers taking to the lanes of TheSocial Bowl for friendly, accessible competition, costumes, and fun. Festivities continued into the evening with bowlers, sponsors, and volunteers enjoying a banquet, awards, and prizes at the Living Sky Casino Event Centre followed by music and entertainment provided by Bakersfield. Pledges continued to roll in throughout the event and total funds raised, including sponsorship, donations, and pledges tallied up to$66,270.97!
The grand prize winner, raising $2252.50, was Dwight Larter, who took home a 55″UHD4KTV provided by FullLineAg.There remaining top 10 individual fundraisers were: 2. Kale Pederson, raising $1,658.60, 3. Jarod Schellenberg, raising $1,080, 4. Riley Wilson, raising $955, 5.Veggie#1(ECSStudent), raising $578.24, 6.Veggie #2(ECSStudent), raising $578.24, 7. AaronMathews, raising $480, 8. Jenita Dickie, raising $460, 9.Faye Rister, raising $452, and 10. Brian Lemay, raising $435.
SaskAbilities SwiftCurrent is extremely thankful for the participating bowlers, sponsors, donors, volunteers, and community members who all came together to make AgriBowl 2023 the success it was. For more information about AbilityBowl, please contact Jenny Dyck, SaskAbilities Community Relations Coordinator, at abilitybowl@saskabilities.ca or call or text 1-306-750-7427.