Well-known Swift Current resident leaves Newcomer Welcome Centre role to pursue a dream
Posted on 3 May 2023 by Matthew Liebenberg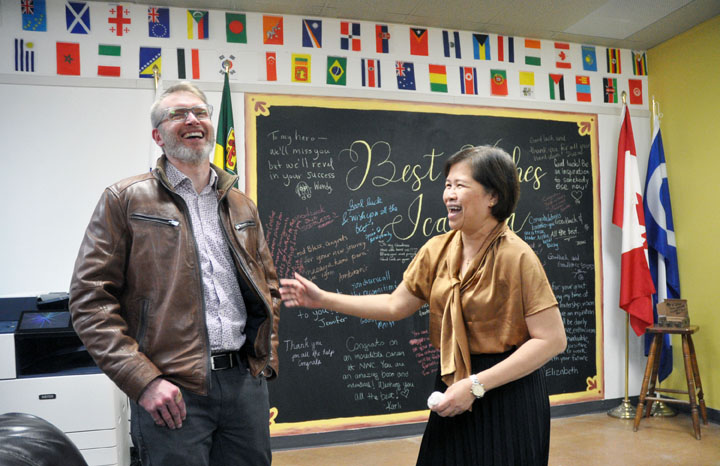 Swift Current MLA Everett Hindley shares a light-hearted moment with Icasiana de Gala during the come-and-go farewell at the Southwest Newcomer Welcome Centre, April 13.
By Matthew Liebenberg
She was the public face of the Southwest Newcomer Welcome Centre for many years in her role as executive director, but Icasiana de Gala is now pursuing her dream of returning to the legal profession.
She said goodbye to staff and partners of the organization she worked with during a come-and-go farewell at the Welcome Centre, April 13.
She initially began working at the organization as the coordinator of the Homework Club program in 2010 and became the interim executive director in 2011. That role turned into a full-time designation until she recently submitted her resignation to the Welcome Centre's board. She began working at a legal firm in Swift Current on April 17.
It was not easy to say goodbye, but it helped that she will still be staying in the familiar setting of Swift Current.
"So I feel like I'm not really saying goodbye," she told the Prairie Post. "I'm saying goodbye to the building, but not to the people, because I know I will get to see them. But it's bitter sweet in a way, because I know I won't be in this position anymore. These are great people and partners to work with. It's kind of sad, but at the same time I'm moving on to a new world. I'm also excited about that."
She guided the Welcome Centre during a period of growth and expansion of program activities. The number of staff increased from three to the current 11 full-time positions.
"When I started it was just the province that was the funder and three employees, and basically just one program," she recalled.
The organization continued to change to address the needs of newcomers and it also began to receive federal funding for different programs.
"That one program was needed at the time, but then newcomers were coming in and we got to chat with them and understand their needs," she said. "So we grew to eight programs now."
She compared the services offered at the Newcomer Welcome Centre in Swift Current to those available at Open Door Society organizations in larger urban centres.
"I always say we're like an Open Door, because we have a full circle of services," she mentioned. "So from that one service, it ballooned to so many other services and you'll get the full circle of services if you're a newcomer."
She can now reflect on the process and the commitment it took to get the different programs in place.
"First you have to identify the need, because we don't apply for funding just for the sake of funding," she said. "It's not easy to write proposals. You have to spend time, but programs that we were finally able to get are the ones that are really needed by the newcomer population. So it's just to be able to identify those needs and find ways to do it, and then money comes later."
The growth of the Welcome Centre meant her role as executive director also changed. She spent increasingly more time on issues related to finance and human resources, which left little time to interact directly with newcomers using the different services.
She enjoyed the connection with clients and to see how the work done by the Welcome Centre can have a positive impact.
"That direct connection with clients and just some of the wins that we were able to get, if we were able to challenge a policy and be able to influence something," she said. "Those are the best parts of the job. There's still some who come to me and say 'You've changed my life, you have given me so much hope.' So those things are probably the best parts of it and just being within the community. It's a huge responsibility being the face of the organization and the newcomers in general."
Swift Current MLA Everett Hindley was one of the attendees at the come-and-go farewell. He has known De Gala for quite a while in his current position and before that as a staffer for former Swift Current MLA and Premier Brad Wall.
"I'm grateful that we're not losing Icasiana from the community," he said. "She's still going to be here, but of course in a different role and something that's she's been passionate about for quite some time, even prior to her involvement here with the Newcomer Welcome Centre."
He recalled that the Swift Current MLA office used to be next door to the Welcome Centre on Central Avenue. It has become part of the Welcome Centre after his office moved to a different location on the same street.
"We were right next door and so we would often swop stories and talk about work and just life in general," he said. "And then of course to see them expand their operation and expand their staff there and all the amazing things that they've done for not just Swift Current, but for the southwest. A lot of that is as a result of Icasiana's leadership and the team that's around her."
De Gala's decision to leave was motivated by a desire to return to a former profession. She studied and practised law in the Philippines before coming to Canada.
"I don't want to think that I've lost that part of me," she said. "I don't want to feel that I've lost that forever. I wanted to rekindle that and be full again. That was one of the reasons I tried to pursue it as well as of course for the passion of being a lawyer."
She has for some time been going through the process to become an accredited lawyer in Canada.
"There were 10 courses I had to challenge in exams," she said. "I will be articling. So that's the process of becoming a lawyer. I'm not yet a lawyer."
She will be working as an articling student at the law firm in Swift Current as part of the requirements to be admitted as a lawyer in Saskatchewan.
"If you have a dream, go for it, even if you're my age," she said. "It took me a long time, because I'm working full-time, I have a family, I have a lot of activities. There's always a way."
Deanna Baje, the coordinator of the Southwest Saskatchewan Immigration Partnership program, will be the interim executive director at the Southwest Newcomer Welcome Centre until the board completes the process to make a full-time appointment.