Southwest Facility Foundation formally launches new fundraising initiative
Posted on 24 April 2023 by Matthew Liebenberg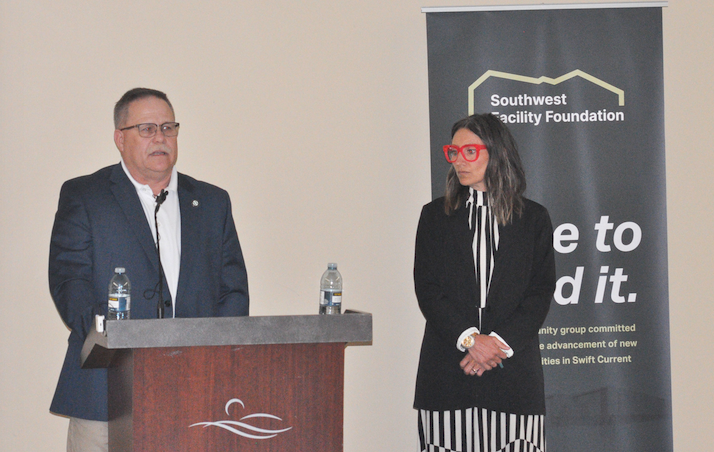 Southwest Facility Foundation formally launches new fundraising initiative By Matthew Liebenberg mliebenberg@prairiepost.com The official launch of a community group in support of the construction of new recreation facilities in Swift Current took place during an event in the InnovationPlex auditorium, April 18. The Southwest Facility Foundation is a non-profit organization that aims to raise $8 million as a contribution to the construction of new sport, leisure and recreation facilities in Swift Current. Foundation Chairperson Dr. Sasha Godenir told the Prairie Post it was an important moment for the organization to formally launch the initiative. "I feel it's overdue and I feel it needs to happen," she said. The launch and public presentation took place at an event hosted by the Swift Current & District Chamber of Commerce. "The business community that we have in Swift Current is fantastic and when you get to share great ideas with like-minded individuals, you know that you're going to get some rallying," she said. "Obviously you're going to get some questions and that's what business people do. They look at things from all angles. … They've been there before, they've done it on all levels, and just trying to rally them to get their support and trying to move this ahead with lots of excitement." The Foundation's focus will not only be the business community and the intention is to reach out to the entire southwest to support this initiative. "Businesses are typically targeted always for fundraising, but it's definitely not where we want the ball to stop," she said. "Businesses in different sectors work with very big corporations and companies, and so using the business community to connect to those corporations and those larger entities is really what we hope to see. And then also filtering that down to friends and family and everybody else. Everybody's contribution makes it a reality." The Foundation will be approaching rural municipalities in the area to have conversations about this initiative and to also ask for their financial support. "A facility like this is definitely going to encompass far and wide in and around Swift Current," she noted. "We are a community that encompasses a wide range of rural communities and to be able to ask them for a contribution is reasonable. We know that if we were to be able to be granted a facility like this, we would see people coming from far and wide and making great use of it. So to have their contribution would be wonderful and supportive of their own residents using this facility and benefitting from it." She felt it is important to focus the Foundation's fundraising efforts on reaching their target as soon as possible. "Absolutely as soon as possible, because every time we can put more money in the Foundation, we have a better chance of receiving a grant and a stronger bid against other communities interested in doing projects like this," she said. "So the stronger we can make our bid look, the better it is for our community and the sooner we have a chance to make this a reality." A key motivation for the establishment of the Southwest Facility Foundation is that when the community organizes itself independently in support of future City of Swift Current grant applications, those applications would be more successful. "Right now, the idea is that phase one is an aquatic centre and phase two is a field house, because those are the grants and the ideas at hand at the moment," she said. "If it turns out the grant is denied and there's a different grant for a different purpose for a different facility, certainly the money could be put towards that. We have the ability as a board to put the money towards the facility or the project that we see fit. This is definitely what we want to see happen and we're a group of determined people. So we don't have a plan B. We want to make plan A work and we're going to try really hard to make that work." Donors will be recognized in various ways based on the size of their donation to the Foundation. The highest level of recognition will be for a platinum level donor, which will require a donation of $1 million or more. The benefits of a platinum donation will include naming opportunities, a special event offering and a media release to highlight and publicize this level of support for the Foundation. The entry level category for formal donor recognition will require a donation of between $1,000 and $4,999. However, she emphasized that smaller donations are also welcome. "The minimum donation of $1,000 would get you recognition to some degree in the facility itself," she said. "There's talk about creating a donor wall or some kind of donor recognition, but it also comes with some public recognition, you know hosting an event, creating advertisements, social media, different things like that." Godenir's presentation referred to three successful examples in Saskatchewan where a community foundation played a role to raise funds for a recreation facility. There were such organizations in Assiniboia, Martensville and Warman to help fundraise for the municipal portion of the grant requirement. She noted that modern recreation facilities in communities have become a key factor in attracting people. "These are staples in communities now," she said. "When you're seeing people choosing communities, when you're seeing people looking for places to go, leisure centres are big on the list. These kind of things attract people. They attract people to the community and they're not just a luxury anymore." More information about the Southwest Facility Foundation is available on the organization's website at www.southwestfacilityfoundation.com
By Matthew Liebenberg
The official launch of a community group in support of the construction of new recreation facilities in Swift Current took place during an event in the InnovationPlex auditorium, April 18.
The Southwest Facility Foundation is a non-profit organization that aims to raise $8 million as a contribution to the construction of new sport, leisure and recreation facilities in Swift Current.
Foundation Chairperson Dr. Sasha Godenir told the Prairie Post it was an important moment for the organization to formally launch the initiative.
"I feel it's overdue and I feel it needs to happen," she said.
The launch and public presentation took place at an event hosted by the Swift Current & District Chamber of Commerce.
"The business community that we have in Swift Current is fantastic and when you get to share great ideas with like-minded individuals, you know that you're going to get some rallying," she said. "Obviously you're going to get some questions and that's what business people do. They look at things from all angles. … They've been there before, they've done it on all levels, and just trying to rally them to get their support and trying to move this ahead with lots of excitement."
The Foundation's focus will not only be the business community and the intention is to reach out to the entire southwest to support this initiative.
"Businesses are typically targeted always for fundraising, but it's definitely not where we want the ball to stop," she said. "Businesses in different sectors work with very big corporations and companies, and so using the business community to connect to those corporations and those larger entities is really what we hope to see. And then also filtering that down to friends and family and everybody else. Everybody's contribution makes it a reality."
The Foundation will be approaching rural municipalities in the area to have conversations about this initiative and to also ask for their financial support.
"A facility like this is definitely going to encompass far and wide in and around Swift Current," she noted. "We are a community that encompasses a wide range of rural communities and to be able to ask them for a contribution is reasonable. We know that if we were to be able to be granted a facility like this, we would see people coming from far and wide and making great use of it. So to have their contribution would be wonderful and supportive of their own residents using this facility and benefitting from it."
She felt it is important to focus the Foundation's fundraising efforts on reaching their target as soon as possible.
"Absolutely as soon as possible, because every time we can put more money in the Foundation, we have a better chance of receiving a grant and a stronger bid against other communities interested in doing projects like this," she said. "So the stronger we can make our bid look, the better it is for our community and the sooner we have a chance to make this a reality."
A key motivation for the establishment of the Southwest Facility Foundation is that when the community organizes itself independently in support of future City of Swift Current grant applications, those applications would be more successful.
"Right now, the idea is that phase one is an aquatic centre and phase two is a field house, because those are the grants and the ideas at hand at the moment," she said. "If it turns out the grant is denied and there's a different grant for a different purpose for a different facility, certainly the money could be put towards that. We have the ability as a board to put the money towards the facility or the project that we see fit. This is definitely what we want to see happen and we're a group of determined people. So we don't have a plan B. We want to make plan A work and we're going to try really hard to make that work."
Donors will be recognized in various ways based on the size of their donation to the Foundation. The highest level of recognition will be for a platinum level donor, which will require a donation of $1 million or more.
The benefits of a platinum donation will include naming opportunities, a special event offering and a media release to highlight and publicize this level of support for the Foundation. The entry level category for formal donor recognition will require a donation of between $1,000 and $4,999. However, she emphasized that smaller donations are also welcome.
"The minimum donation of $1,000 would get you recognition to some degree in the facility itself," she said. "There's talk about creating a donor wall or some kind of donor recognition, but it also comes with some public recognition, you know hosting an event, creating advertisements, social media, different things like that."
Godenir's presentation referred to three successful examples in Saskatchewan where a community foundation played a role to raise funds for a recreation facility. There were such organizations in Assiniboia, Martensville and Warman to help fundraise for the municipal portion of the grant requirement.
She noted that modern recreation facilities in communities have become a key factor in attracting people.
"These are staples in communities now," she said. "When you're seeing people choosing communities, when you're seeing people looking for places to go, leisure centres are big on the list. These kind of things attract people. They attract people to the community and they're not just a luxury anymore."
More information about the Southwest Facility Foundation is available on the organization's website at http://www.southwestfacilityfoundation.com