Swift Current Creek water levels decreasing; reduced outflow from dam
Posted on 18 April 2023 by Prairie Post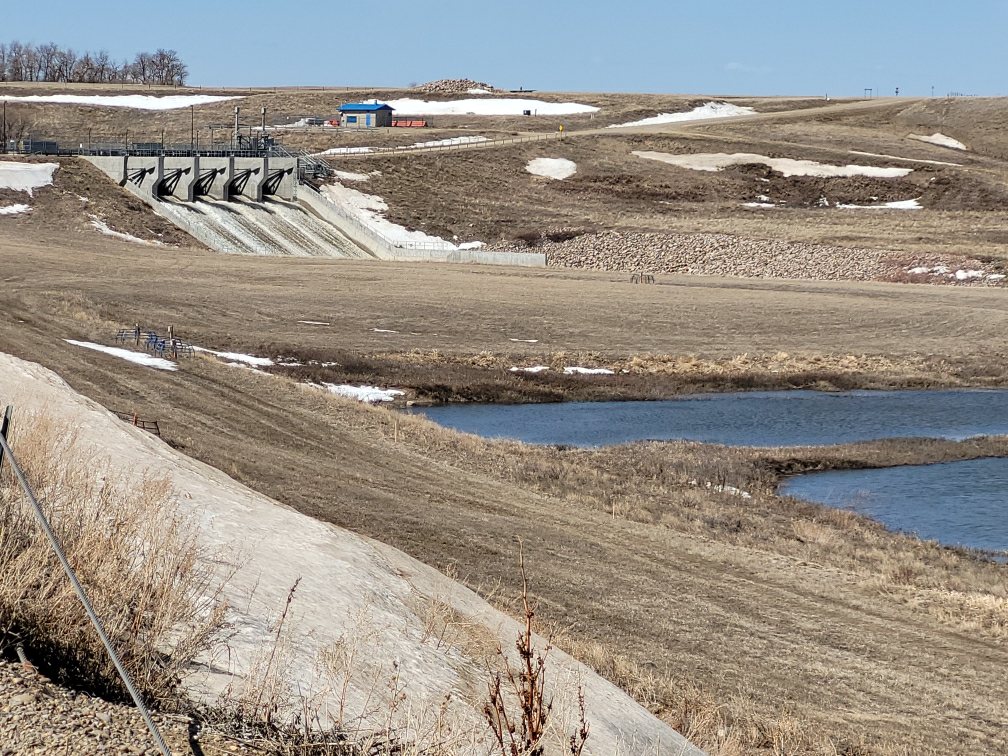 Duncairn Dam on Sunday, April 16. Photo by Dixie Green
Although the City of Swift Current remains in the State of Emergency this week, the water levels of the Swift Current Creek have recently decreased. The Water Security Agency (WSA) has the Duncairn Dam at a manageable level to receive the current precipitation, as well as the expected snowpack melt from Cypress Hills.
The WSA has reduced the outflow of water from the dam, which has resulted in this decrease to the water level of the Swift Current Creek. The water level may rise again later this week, as the WSA must balance the potential intake of water upstream with the required release of water downstream.
Residents of Swift Current are still to remain cautious around the creek, as the water is extremely cold, and the current remains very strong. The public is asked to obey the flood barriers, take extra caution, and keep children and pets away from the water or its edge.
All low-lying homes around the Swift Current Creek should be proactive in ensuring they have a 72-Hour Emergency Kit or a to-go bag ready in the event of a short-notice evacuation. Sandbags are available at the City Service Centre at 2074 South Service Road West and the Lt. Colonel Clifton Centre at 350 6th Avenue Northeast. Each resident should take the necessary steps to protect their home and property.
Please listen and watch for local updates as officials monitor the changing conditions of the Swift Current Creek.