Swift Current Creek will continue to experience high water levels…please avoid the area 
Posted on 17 April 2023 by Prairie Post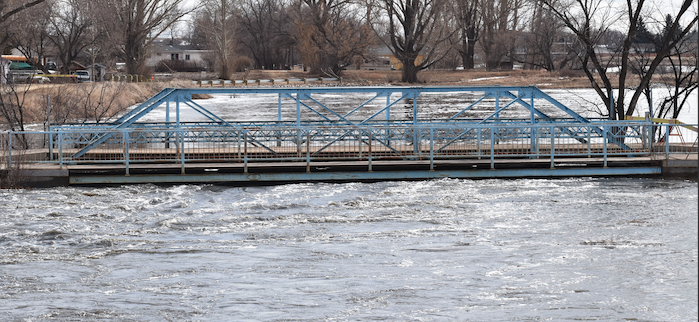 Contributed
The City of Swift Current remains in the State of Emergency as of April 15. The water levels for the Swift Current Creek will continue remain high for the next 10 – 14 days (April 25-29). However, it is anticipated that that the present creek level is what the community will experience over the next couple of days, as the Duncairn Dam will not be releasing extra water at this time.
The residents of Swift Current are still to remain cautious around the creek, as the water is extremely cold, and the current remains very strong.
"We can't emphasize this message enough," explains Chief Hunter. "Numerous children and adults have been seen playing and walking beyond the flood barriers, with some individuals right by the water's edge. The entire creek bank is soft and potentially unstable, and always has the possibility of suddenly giving away. So please take extra caution and keep children and pets away from the Swift Current Creek, as it is highly unsafe."
All low-lying homes around the Swift Current Creek should be proactive in ensuring they have a 72-Hour Emergency Kit or a to-go bag ready in the scenario where they may be asked to evacuate on short notice. Sandbags, sand, and the tools used to fill sandbags are available at the City Service Centre at 2074 South Service Road West and the Lt. Colonel Clifton Centre at 350 6th Avenue Northeast. Each resident should take the necessary steps to protect their home and property.
Please listen and watch for local updates as officials monitor the changing conditions of the Swift Current Creek.