New community foundation to raise funds for recreation facilities in Swift Current
Posted on 13 April 2023 by Matthew Liebenberg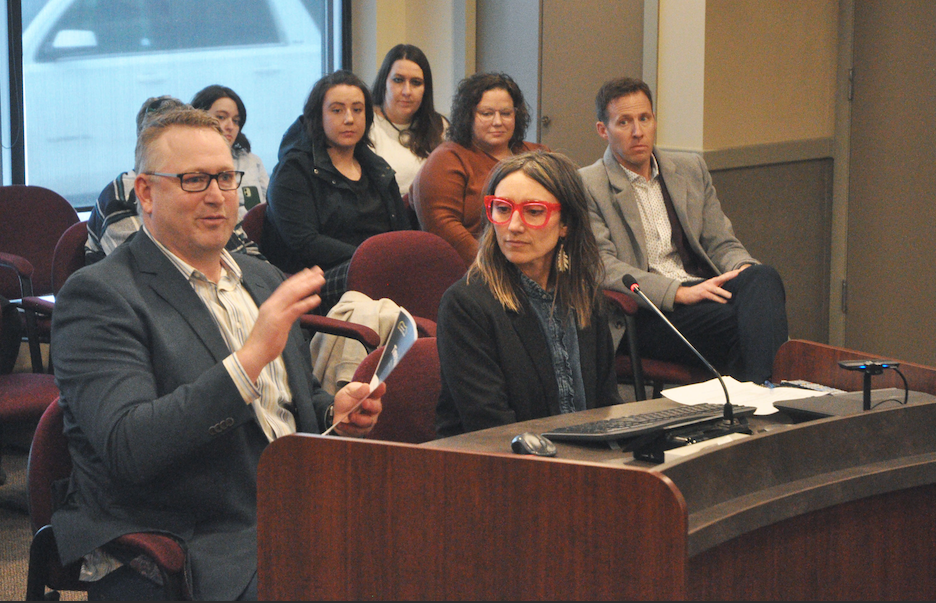 Southwest Facility Foundation Inc. board members Brad Woods and Dr. Sasha Godenir make a presentation during a regular City of Swift Current council meeting, April 3.
By Matthew Liebenberg
A new community group aims to raise a large amount of funds in support of the construction of recreation facilities in Swift Current.
The public launch of the Southwest Facility Foundation Inc. will take place at the InnovationPlex auditorium, April 18.
Foundation representatives Dr. Sasha Godenir and Brad Woods already shared details of the initiative during a presentation at a regular City of Swift Current council meeting, April 3.
"Our mandate is it's time to build," Godenir said. "So our intent is to raise money in support of these facilities and then to donate the raised money to the City of Swift Current to aid in the projects."
She noted the group consists of passionate volunteers who came together to raise money for sport, leisure and recreational facilities in Swift Current. They have created a non-profit corporation and will receive charitable status. Other members of the board are Travis Cuthbert, Jim Jones, Tara Lee, Betty McDougall, Dallas Mohagen, Darrel Monette and Vim Parmar.
"As a board we've gathered as members from different sectors to rally support from every angle we could," Godenir said. "So ag, oil, retail, professional, on and on. That was sort of the thought behind who can we talk to and we thought that we would have the most success in trying to capitalize on those people who stood out in those industries."
Their current goal is to raise $8 million as capital from the community towards future facilities. Their fundraising focus will be on supporting the construction of an aquatic leisure centre as an initial phase and an integrated field house as a second phase.
"We realize that there isn't a current go-ahead on any project and this is open to future projects that should be accepted," she said. "So our intent is to try to help to support your grant application obviously by rallying the community behind and creating a substantial amount of cash that could be used to get the shovel going."
Woods spoke about the importance of a community-driven initiative to raise funds in support of capital projects by the City to construct new recreation facilities.
"We've seen that communities or cities that have community groups have had more success in the grant applications, because it shows a community buy-in," he said. "So that when the times comes to break ground that you have your government money at your provincial and federal levels, you have your municipal commitment, and then our support in assisting that municipal commitment. It's just shown with recent announcements in Martensville, what they've done in Assiniboia, that having groups in the community that are dedicated to supporting the cities in these types of projects have been more successful in grant applications."
There were frequent references during their presentation to modern recreation facilities in other Saskatchewan communities that attract many visitors and sport events. Godenir talked about going to the facility in Warman for volleyball tournaments.
"It's unbelievable the attraction that there is in these kind of things," she said. "I'm now seeing the soccer facilities and the volleyball facilities and I'm absolutely amazed at how invested people are in this stuff. Grandmas and grandpas are coming to visit, obviously parents are coming to watch and visit. And that parking lot in Warman, every time I've been there, I can barely find a spot. I cannot believe the amount of people that are coming to these things. There's so many teams, there's so much activity and I can't help but think to myself, what if Swift Current had this? What if we had this? How could we not benefit from having something like this?"
She highlighted potential benefits of a modern recreational facility to a community. It will support physical activity and wellness. There will be tourism benefits as well as economic benefits to the local economy when visitors to a facility spend time in the city.
"I also think from a business perspective as a city that we're losing out to some extent not having newer facilities like this to lean on," she said. "If I talked to families that have moved away or people that are thinking of Swift Current on the radar, facilities is a real, real big one and I just wanted to point that out, because I think that it puts us at the bottom of the list to some degree when we don't have that leisure centre."
There was an enthusiastic response from City council members in support of the Southwest Facility Foundation.
"I'm excited," Mayor Al Bridal said. "I think all of council is excited about this Foundation, because it is very difficult in a city this size of the amount things cost now. … The communities that have put together foundations or community groups have definitely been looked more favourably for grants and right across Canada. We just have a couple in our province, but right across Canada. The feds and the provinces are more apt to give a grant to a community that has a group such as this."
Councillor Ryan Plewis felt it was appropriate that the new organization's name referred to southwest Saskatchewan, because it is an issue of wider relevance than only to residents of Swift Current.
"The way that these things get funded are not necessarily simple and the benefits that these sorts of facilities have are not restricted to particular geographical areas," he said. "They don't fit nicely inside municipal boxes. So I'm really glad that just as a strategic or marketing decision that you guys focus on the southwest and not just on Swift Current, because there's a tremendous amount of very talented, successful, intelligent people out there who you can lean on, not just for obviously helping you in your efforts, but in the fundraising as well."
City Chief Administrative Officer Jim Jones spoke after the council meeting to media about the Foundation. The City recently submitted a funding application for a new aquatic centre to the second stage of the federal government's Green and Inclusive Community Buildings (GICB) program. He felt this application will benefit from the creation of the Foundation.
"We got a letter that was signed by the Foundation that said that they were committed to raise $8 million over the next 10 years," he said. "So basically, we have that in place. That's probably a check mark for our application."
The estimated cost of an aquatic facility will be between $43 million to $48 million and the GICB federal grant will offer up to 73.33 per cent of support for construction costs.
"If we're lucky enough to get the dollars to help support us on it, then we'll carry on and see what we can do," he said. "That's why it's important that we have a community fundraising group that can support some of this cost."
The Southwest Facility Foundation launch and public presentation will take place during an event hosted by the Swift Current & District Chamber of Commerce from 5-7 p.m. on April 18 at the InnovationPlex auditorium.