International Women's Day speaker inspires Swift Current audience
Posted on 11 April 2023 by Matthew Liebenberg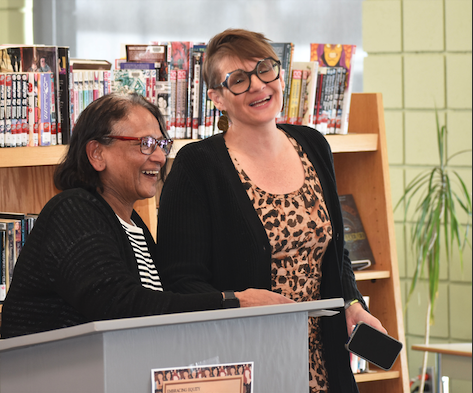 Emcee Bula Ghosh (at left) from the Southwest Multicultural Association with guest speaker Christine Ciona during the International Women's Day event in Swift Current, March 8.
By Matthew Liebenberg
International Women's Day participants in Swift Current were challenged to be agents for change in support of gender equality.
The event was hosted by the Southwest Multicultural Association and partner organizations at the Swift Current Branch Library, March 8.
The guest speaker at the event was Swift Current resident Christine Ciona, an abundant living guide dedicated to helping people find their joy. She is a certified counsellor, an entrepreneur and founder of a counselling and healing arts business.
She delivered an inspiring message incorporating the 2023 International Women's Day theme Embrace Equity.
"There's more work to be done," she said. "I could go into all the stats and I could tell you a bunch of incredible things about women and incredible changes still not yet finished, but it's never going to be finished, because we're an evolving species. We are always going to be desiring more equality, more equity, more room at the table – a table that we make."
She spoke about the need to be uncomfortable for freedom and to be a change agent, which she believes everyone is.
"If we want to change the world, if we want to have more women in technology, more women in engineering, more women on the moon, more women at all tables and in all spaces and all places of the world, then we all need to be different," she said. "More of what you know. Each of you know something that I don't. Each of you know something that the other beside you do not know, because you are unique."
She noted that International Women's Day events have been taking place for 112 years, but problems and challenges change. She spoke about the meaning of equity and referred to an example of picking apples in a garden. A little child is unable to reach an apple without something to stand on, but a tall person can easily grab one.
"I can do the task, but the environment doesn't give me the opportunity to do the task," she said. "Everyone deserves that, no matter your gender, no matter your race, no matter your religion. We all deserve to be heard and listened to and respected and have space at the table."
She spoke about the importance of connections, bold choices and listening to find common ground.
"We have to be willing to learn," she said. "We listen and then we learn. We learn what's going on for me, we learn what's going on in our community, we learn about how many women are still being targeted for violence on the internet, we learn and then we lead and everyone of you leads in your own way. I can hear your voices going, I'm not a leader. … Every one of you have your own unique way of leading. Maybe it's one small conversation at a time. How you are in the world changes the world. Who you are in the world changes the world."
She spoke about two women who inspired her. One was an Irish nun at a centre in the Philippines, where Ciona worked for three years.
"She was passionate about the rights of women and children and she wanted to make a difference ending violence against women and children and girls," she recalled.
The other woman was Ciona's oncology nurse throughout her cancer treatment. She overcame many obstacles to realize her dream to establish a summer camp in Saskatchewan for children whose lives have been affected by cancer.
"She was fun, kind, caring, powerful and saw potential in me, and lit it up just by being in the room, by being her," she said. "I lit up. That's what we do. So please, light yourself up, because it changes people."