Rising creek levels in Swift Current
Posted on 10 April 2023 by Prairie Post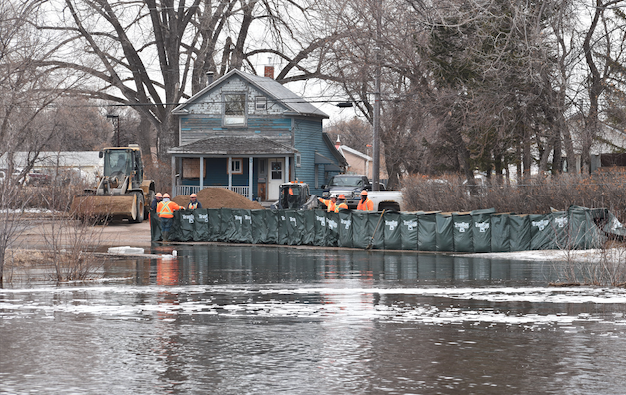 City of Swift Current workers install a barrier bag system as a preventative flood protection measure along a section of the rising creek.
The City of Swift Current urges caution and encouraging the public to stay away from areas where creek levels are rising due to sudden warming temperatures causing fast spring run-off.
"Water levels are rising and are swift-moving, so people need to take extra caution right now and be prepared for changing conditions," said Ryan Hunter, Fire Chief of the City of Swift Current. "We want to ensure that the public is not taking unnecessary risks."
Throughout the next couple of days, City of Swift Current crews will be about the city putting up temporary barricades in low-lying areas around the creek. One of the most helpful activities the public can do immediately is avoid these areas.
Below are some tips to help the residents of Swift Current prepare for potential flooding:
• Never walk or drive through flooded streets and parkways. Water can be deeper than it appears, and water levels can rise very quickly.
• Stay alert for changing conditions, mainly if you live in low-lying areas near the Swift Current Creek and other waterways.
• Keep clear of the creek banks as the soil is softening, resulting in unstable ground. Most importantly, keep children and pets away from the creek banks.
Please listen and watch for local updates as officials monitor the changing conditions of the creek.