Busy year for Swift Current Branch Library in 2022
Posted on 10 April 2023 by Ryan Dahlman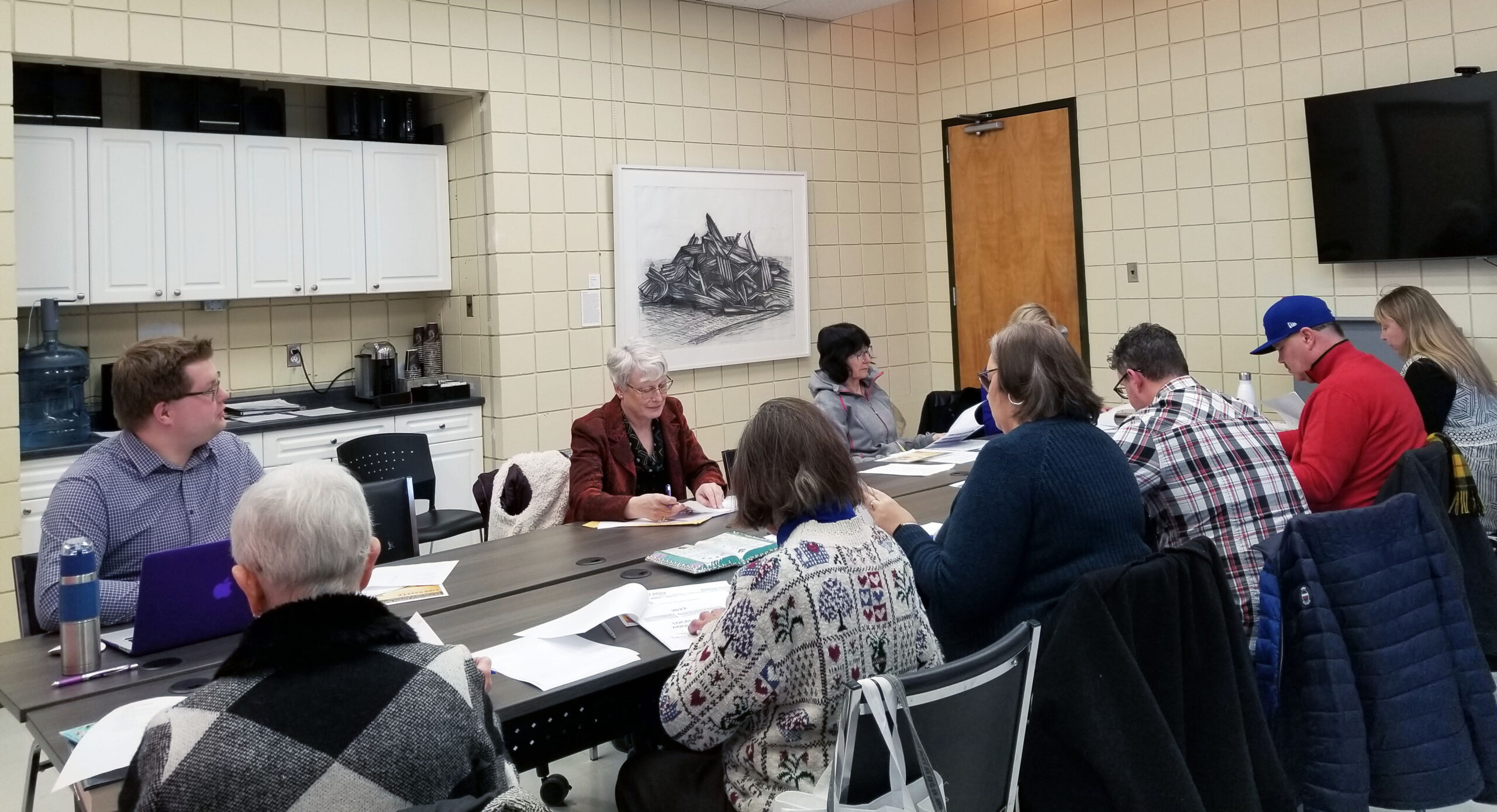 The presentation of the annual report takes place during the Swift Current Branch Library annual general meeting, March 8.
By Matthew Liebenberg
The Swift Current Branch Library had a busy year in 2022 as staff welcomed back patrons after the pandemic period.
Details about the library's activities during the past year were presented during the annual general meeting of the Swift Current Branch Library board, March 8.
Branch Manager Connor Kurtz presented the annual report at the meeting and also spoke to the Prairie Post the following day.
"Our last year was really busy and definitely full of change, since we've been finding our standing as a branch again doing and restarting a lot of our in-person programming," he said. "I definitely think it showed the resiliency of the branch staff and their dedication to provide strong and consistent library services and programs to our patrons. We're bouncing back, coming out of the pandemic, and we're really looking forward to reaching new heights this year."
There were several new staff members during the past year, including Kurtz as the new branch manager since May.
"It has been a real pleasure for myself the last year, getting to know how dedicated and committed our staff is to their job and getting to know the community as well," he said.
The pandemic presented a serious challenge to the library to fulfill its role in the community as a hub for various services.
"I think the branch has done the best it could under circumstances that presented itself with restrictions and lockdowns to fulfill that role," he said. "However, as we are entering the new normal, we definitely will look to be and to maintain ourselves as that community hub for learning and literacy."
The return of library patrons and their participation in activities at the library did not simply happen overnight due to different comfort levels of individuals.
"I think people are still getting used to coming back out and we're in the same situation as many others in that we're not just looking at a quick on and off process where people will suddenly start flooding back in the doors," he said. "It's going to be gradual, but we have seen that increase in people coming in and especially in our programs as well."
Library hours were expanded by five hours per week in July. The restart of in-person library programming during the year included regular and special programs.
"We've had some reorganization in our region and branch in terms of what duties which staff have," he noted. "Part of that has come with re-imagining programs. We still do a weekly story time, for instance, but it's done differently than it was before the pandemic to meet the needs of our young patrons especially. For many of them it's their first time coming to that sort of a thing. For other programs we looked to re-introduce old ideas or see how we can re-imagine our space to meet our community's need."
Regular children's programming consisted of two to three weekly sessions run by branch staff, for example a story time, a playtime and a technology focused program. There were also seasonal programs such as kindergarten school tours in the spring. A new program, Preschool Storytime Adventures, began in the fall to inspire a love of reading in young children while they have fun.
Special children's programs were held to mark special occasions, holidays or times of remembrance. Former programs such as Garden in a Box in May, Halloween Party and Gingerbread Festival returned. There were new special programs such as Orange Shirt Day Indigenous story time and an author reading to kick off fall programming.
A successful Summer Reading program took place in 2022. It was promoted in May and June with the distribution of 1,500 reading packages to the four elementary schools in Swift Current. The theme of the TD Summer Reading Club was Once Upon a Time and it kicked off with a visit by the Saskatchewan Science Centre outreach team.
"One thing that really excited me when I came onboard here at the library was our Summer Reading program," Kurtz said. "I feel it's definitely a great highlight for our community's young readers and patrons to have the ability to participate in and engage in a lot of the wonderful programs that we run throughout the summer."
Senior's programming reopened at the library in late 2021. The activities of various groups such as senior Bridge and Whist, Mahjong, Scrabble and Cribbage returned during 2022 as weekly community programs.
Adult programming during 2022 included a series of crafting programs, a beading workshop, learning to crochet programs and an author reading.
The outreach program continued to be an important service offered by the library in 2022. Library materials from the branch, region and province were delivered to patrons at The Meadows, Pioneer Manor, Cypress House, The Bentley, Prairie View and Golden West senior residences.
A total of 580 programs with 5,524 attendants took place during 2022. There were 112 children's programs with 1,631 participants, 220 adult programs with 2,618 participants, 146 one-on-one technology help sessions, and 102 outreach visits with 1,129 patrons.
"For operations, one comparison I can make is that between 2021 and 2022 we had almost one-and-a-half times the number of programs run in the branch, which is quite good," he said. "It's showing a bounce back that we've had in the community since we reopened."
The 2022 annual report for the Swift Current Branch Library includes a variety of statistics to highlight the services provided to the community during the past year. It was open for 2,860 hours to the public and there were 65,793 in-person visits and 3,178 public computer uses.
There were 93,787 in-branch circulations and 42,220 eBook and eAudiobook circulations. A total of 26,249 incoming and 22,298 outgoing holds on material were processed during the year.
There were 538 new patrons and a total of 3,760 patrons. These are library users who used the Swift Current Branch Library as their home branch. The library's physical collection consisted of 60,300 items with an estimated value of $1.4 million.