Ability Bowl to raise funds for SaskAbilities Swift Current in support of youth programs
Posted on 10 April 2023 by Matthew Liebenberg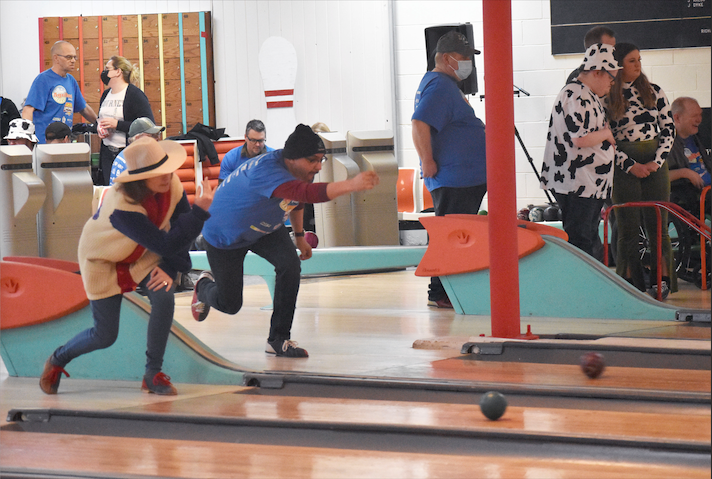 Bowlers make their throws during the 2022 Ability Bowl in Swift Current.
By Matthew Liebenberg
Teams and supporters of Ability Bowl in Swift Current will help to build an inclusive community and raise funds to provide recreation opportunities for youth experiencing disability.
Registration is now open for the 34th Ability Bowl at The Social Bowl bowling alley in Swift Current, April 29.
SaskAbilities Swift Current Community Relations Coordinator Jenny Dyck said the event is a long-standing tradition in the community.
"We have lots of excitement," she mentioned. "People are excited to once again participate and sponsor our Ability Bowl event."
Participating teams can look forward to a fun time at the bowling alley with other bowlers of all abilities and there will be a variety of prizes, including for top fundraisers and best theme costumes.
"Last year we brought Ability Bowl back after a bit of a pause with COVID and we were able to bring it back in a COVID-safe way," she said. "This year with protocols not being as stringent, we're able to bring it back in a more traditional way. We are continuing the same theme that we did last year, which is AgriBowl."
It is a tradition for each Ability Bowl to have a theme that adds to the fun and excitement of the event. AgriBowl is a salute to the area's agricultural industry and a recognition of the hard work of farmers and ranchers in the region.
"It's basically a thank you to the ag industry for supporting SaskAbilities and everything that they do within southwest of Saskatchewan," she said. "Last year it was so successful. It's a great theme. The ag industry is very much a backbone of our community. So bringing it back this year was just a really good decision."
This year will also see the return of a banquet to conclude the Ability Bowl and to celebrate the event's success.
"We're actually really excited," Dyck said. "We're bringing the banquet back. We have been unable to do that because of COVID restrictions. So this year we'll be able to celebrate with our participants and our sponsors."
The banquet will take place at the Living Sky Casino Event Centre and there will be tickets available for members of the public who want to attend.
"The participants and sponsors will get tickets automatically, but we will definitely be selling banquet tickets," she noted. "We'll be doing prizes and awards, eating some good food, good music and just celebrating all the work that our participants and sponsors have put in."
All funds raised through Ability Bowl will support recreational programming for young people experiencing disability in the Swift Current area. It includes the Summer Fun program during July and August and the year-round Social Leisure Youth Program (SLYP-Out).
"Both of these programs are recreational programs that allow opportunities for the participants to interact, have fun, gain independence, participate socially and they're out within the community," she said. "And then of course we have our Camp Easter Seal. We have several people who attend from the southwest every year. That is the only wheelchair accessible camp facility in Saskatchewan. It's dedicated to providing a fun and barrier free camp experience for all of the campers."
The combined fundraising goal for the Ability Bowl in April and the Superhero Walk Wheel Run event in the fall is $130,000.
"It is a big goal, but with Ability Bowl and the related event Walk Wheel Run, which will happen in September, we're hoping to achieve that goal," she said.
For more information, to register a team or to donate, go to the Ability Bowl website at http://www.abilitybowl.ca