Property Assessment notices issued in Swift Current
Posted on 6 April 2023 by Prairie Post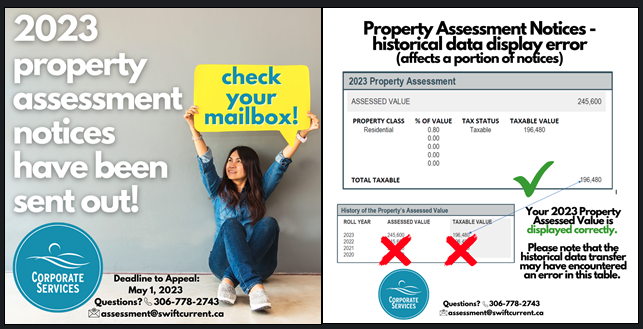 As of March 31, 2023, the City of Swift Current Assessment Department mailed the 2023 Property Assessment notices for delivery to Swift Current property owners, and most properties will have received them in their mailboxes this week.
Property owners are encouraged to read their Assessment Notices carefully upon receipt, ensuring that information such as the correct spelling of their names, their mailing and/or civic addresses, and their chosen school support are accurately reflected. On the flip side of the document, property owners can find corresponding explanations about each section of their notice to aid in fully understanding the information. More tools can also be found at http://www.swiftcurrent.ca/assessment.
In some notices, the historical data transfer encountered an error and is found to have pulled incorrect information into the "History of the Property's Assessed Value" table. The error affected only a portion of the property notices and was discovered after the notices had already been issued and mailed. This historical data display does not affect the assessed value for 2023.