Survey for Southwest Sask. pretaining to services for those disabilities just released
Posted on 21 March 2023 by Prairie Post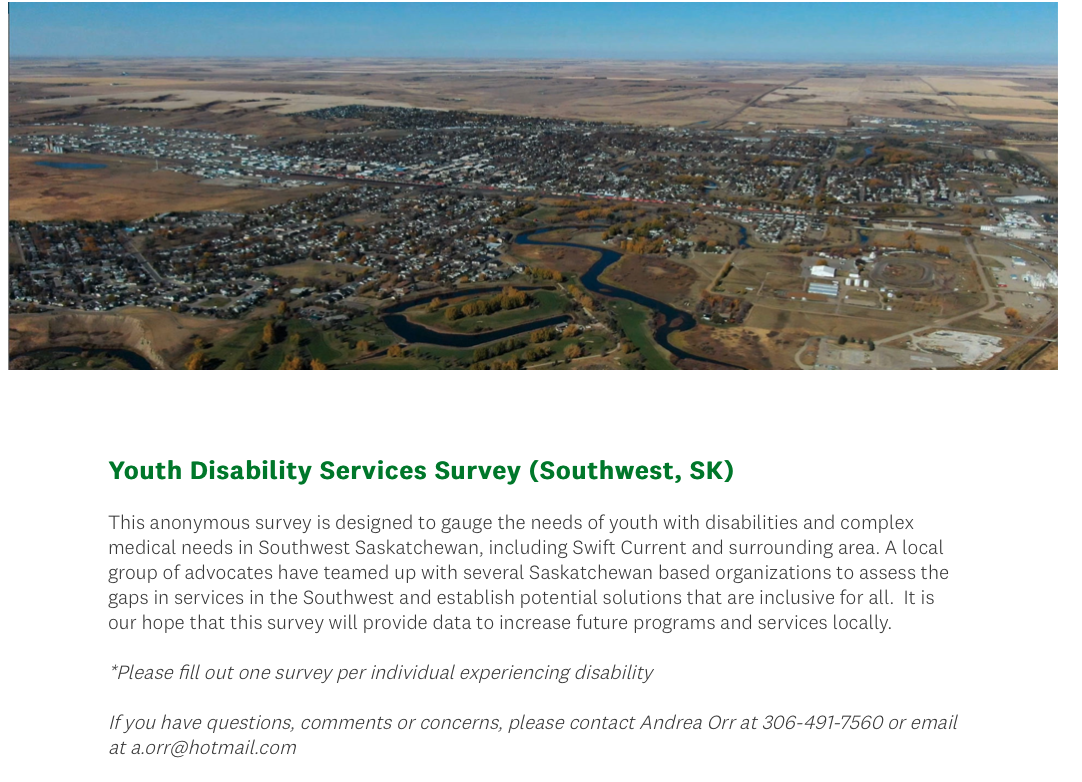 By Andrea Orr
Launched March 20 is a survey targeted to assess the current supports for youth with disabilities in Southwest Saskatchewan, including Swift Current and surrounding communities.
A group of local advocates have teamed up with several Saskatchewan based organizations to gauge the gaps and opportunities in services for anyone 22-years and under experiencing disability &/or complex medical needs. The survey will be used to provide information on respite services, social programs, medical therapies, daycare settings, among other services. It has been prepared in hopes that the results can serve as a tool for several organizations, advocates and ministries and utilized to help assign future funding opportunities to the area. The survey evolved from witnessing gaps in services in daycare needs for youth with disabilities but also the need for additional therapies like occupational, physical, speech language and nursing needs.
The survey branches out to assess respite services, funding opportunities and current social programs and will help gauge the need for future resources in these areas. If adequate representation is achieved, this survey could support the increase of social and recreation programs for youth, opportunities for families and may lead to the creation and/or expansion of facilities in the area that better serve all youth experiencing disability.
Anyone experiencing disability 22-years and under, their families and/or caregivers are encouraged to complete the survey and share within their social, academic and employment networks to help gather an accurate picture of service gaps and needs. The survey will help establish potential solutions, services, activities, and therapies for individuals and their families to help make Southwest Saskatchewan more inclusive for all.
To complete the survey please visit http://www.surveymonkey.com/r/YouthDisabilitySurvey or contact Andrea at a.orr@hotmail.com for more information. The survey will be available until April 21, 2023. If you have any questions, please let me know. I would be happy to provide more information and/or to discuss further.
Andrea Orr is an Advocate & Direct Support Worker in Swift Current