High school hosts regional drama festival in Swift Current
Posted on 21 March 2023 by Ryan Dahlman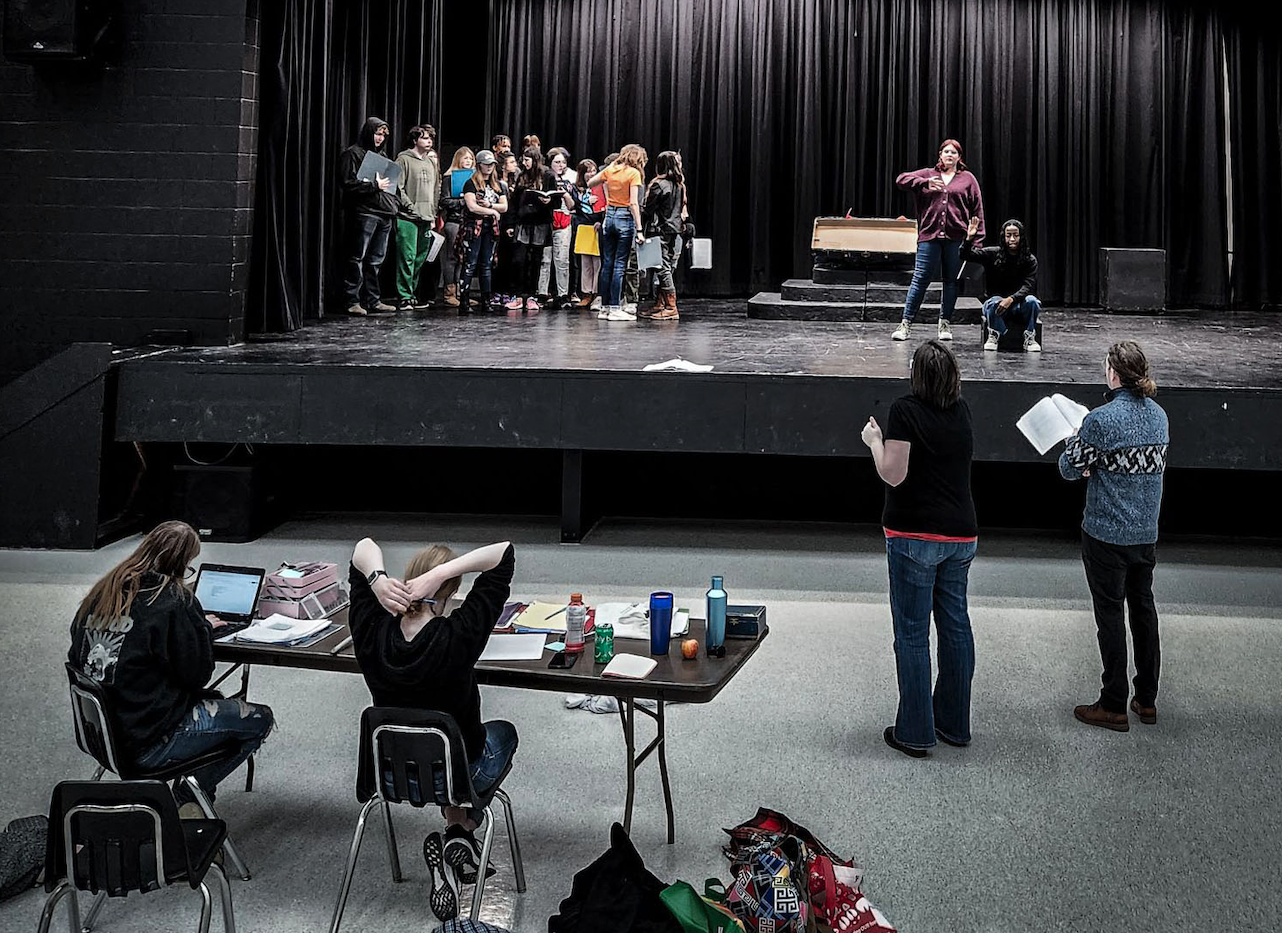 SCCHS students rehearse a scene from the play The Inexplicable Chaos Factor of Mia Gregory, which will be performed at the regional drama festival in Swift Current. Photo by Riley Sharp
By Matthew Liebenberg
The Swift Current Comprehensive High School (SCCHS) is hosting a regional drama festival and local students will also be performing in two plays at the event.
Drama teacher Nancy Bridal said the school previously hosted the Saskatchewan Drama Association Region 3 Drama Festival in 2019. SCCHS students travelled to Moose Jaw in 2022 to participate in the Region 2 Drama Festival.
"This year we were able to get enough plays and people around to be able to run Region 3 again," she noted. "So we are very excited to have it going again."
Four schools will participate in the Region 3 Drama Festival in Swift Current on March 31 and April 1. The other schools at the festival are Leader Composite School, Warman High School and Westcliffe Composite School from Marengo. Five plays will be performed and these performances are open to the public to attend.
The event provides an opportunity for student to learn and gain experience through their participation, and to compete against other schools to win several awards.
"They are immersed in theatre," she said. "They get to watch theatre, the production workshops with the adjudicators are great, because they try different ways to do it and they talk about different techniques. …Different awards are given out for individual acting and individual technical awards as well as the whole group, and then whoever wins regionals will be going on to provincials in Regina."
There will be front-of-house and back-of-house adjudicators to evaluate and critique all aspects of each performance at the regional drama festival.
"The back stage adjudicator actually looks at everything that's happening back stage, which is really exciting, because often times what the audience sees is only what's happening in front of them," she said. "So to have somebody that's giving us feedback and telling us different things that we can improve, that helps everybody."
Individuals with experience in different aspects of theatre production will attend the regional festival to provide workshops to students on the Saturday morning of the event. Bridal felt the festival will provide students with a wider perspective on the world of theatre.
"They get the experience of being able to work with other people that are working in theatre outside of their teachers," she said. "They're able to see that people do theatre outside of high school and what does that look like, and what are the different things that you can do."
The size of the SCCHS drama program makes it possible for the school to present two drama performances at the festival. The festival requirements mean it must be a one-act play and the duration of a play must be under 60 minutes.
"It's quite a process to try to figure out what's going to work with the group that you have," she said. "Something that's going to be interesting. The pieces that we've picked this year are very different from each other."
My Brother's Gift (adapted by Claudia Haas) is based on a true story of a Jewish family in hiding in Amsterdam during the Second World War, when the Netherlands were under Nazi occupation. The play was created from the writings and memories of Eva Geiringer Schloss, who survived the war with her mother after spending time in the notorious Auschwitz concentration camp. Her father and brother Heinz Geiringer, who was a gifted young artist, did not survive the ordeal.
"Heinz Geiringer's paintings and poetry are quite famous," Bridal said. "I've never heard of them before. I've heard of Anne Frank and of her family story, but this is another story that I think is important as well to tell."
The other play is titled The Inexplicable Chaos Factor of Mia Gregory, written by Emily Hageman, is about a brilliant teenage mathematician's efforts to understand her best friend.
"It's the story of two friends and just how different they are, and how you can help to support each other and how sometimes you don't support each other and what happens at that point as well," Bridal said.
Both plays feature a large cast of characters, with around 15 students on stage in My Brother's Gift and 28 actors in the other play. There is also a technical crew of about 40 students.
Bridal is coordinating the regional drama festival at the SCCHS while also producing these two plays with fellow teachers Riley Sharp and Shaun Spence.
"I feel incredibly lucky to work with two other people who have experience in theatre and have done this for a long time," Bridal said. "I have never experienced running a festival. I've been part of festivals before. So this will be the first one, but I have coordinated as well with Saskatchewan Drama Association, but I'm very lucky to have Riley Sharp and Shaun Spence, who have lots of experience in this building as well in running that."
The festival rules include very specific time allocations for setting up and taking down a set for a production. Students were able to do a dress rehearsal for the festival when they performed both plays at the SCCHS in front of a home audience on March 29. These performances were also an opportunity for anyone unable to attend the festival to see the local productions on stage.
The festival performances take place in two sessions at the SCCHS cafeteria. Admission is $10 for each session with rush seating only.
Three plays will be performed on Friday night, March 31. Doors open at 6:45 p.m. and performances start at 7 p.m. There will be two performances during the Saturday afternoon session on April 1. Doors open at 12:45 p.m. and performances start at 1 p.m.
The SCCHS play The Inexplicable Chaos Factor of Mia Gregory will be the first performance on Friday night and My Brother's Gift will be the second performance in Saturday afternoon.