Swift Current pharmacist receives national corporate award
Posted on 15 March 2023 by Matthew Liebenberg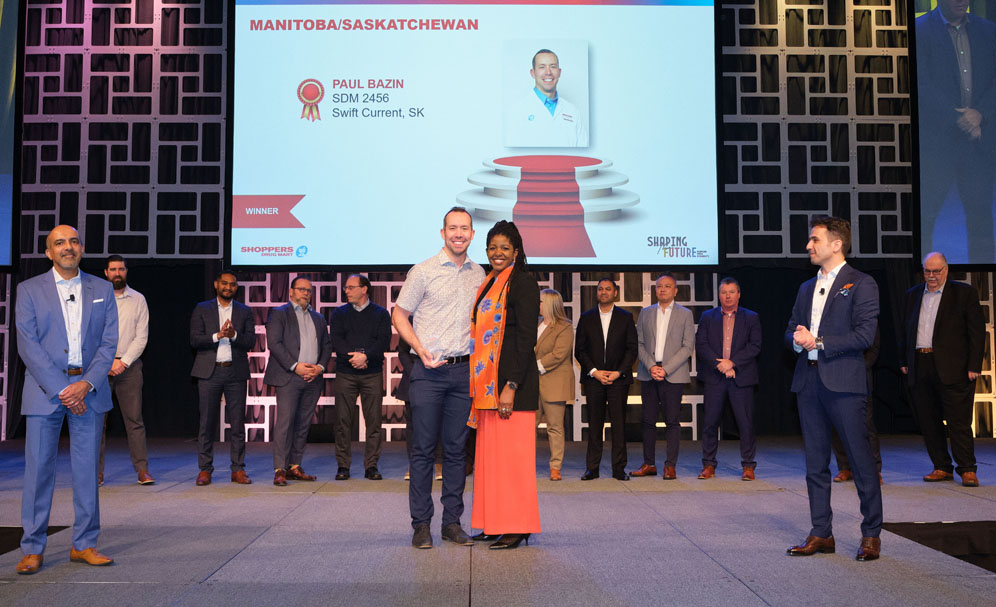 Swift Current pharmacist and Shoppers Drug Mart associate-owner Paul Bazin receives the 2022 Shoppers Drug Mart Associate-Owner of the Year Award at the pharmacy retailer's national conference in New Orleans. Photo courtesy of Paul Bazin
By Matthew Liebenberg
Swift Current pharmacist Paul Bazin received recognition on a national level for his leadership role as a Shoppers Drug Mart associate-owner.
He is the recipient of the Shoppers Drug Mart Associate-Owner of the Year Award for 2022. The award was presented to him during the pharmacy retailer's national conference in New Orleans, Jan. 18-19.
"It's always a big honour to be selected among your peers as a recipient for an award like this," he told the Prairie Post. "So it's honouring and humbling, for sure."
He emphasized the dedication and support of staff at the Shoppers Drug Mart store in Swift Current.
"To win an award like this is not possible without the amazing staff that work for me," he said. "Although I'm recognized personally, it's really a full team effort to win an award like this."
Various criteria are considered in determining the winner of this corporate award. It therefore recognizes the success of an associate-owner to achieve key goals in the operation of a store. These criteria include community involvement, customer focus, staff experience and store growth.
"Customer focus is what my staff do to provide a better experience for customers as they come through and staff experience is what I'm doing in the store to ensure that my staff have a good experience at work and that it is a good place to work," he explained. "And then overall store growth is also a part of it. So just how well the store is doing on its own."
He noted that from a managerial perspective a focus on a positive customer experience and a great work environment for staff go hand in hand.
"My biggest priority always has been to have an amazing work environment for my staff and that will always translate into great service for our customers when they come into the door," he said.
He considers community involvement to be another key component of the success of the Swift Current store, for example support and donations provided to Southwest Crisis Services through the annual Love You by Shoppers Drug Mart Giving Shelter campaign.
"It's really important as a business owner in the community the size of ours that we're giving back wherever we can," he said. "Initiatives, programs or small groups really need our support to ensure that they can remain successful and continue to offer services in our community, and for me that's always been critically important. Southwest Crisis Services is a group that we work with quite often. We're trying to ensure that we're bringing funds in for them on a regular basis, because the service that they provide is so important to our community."
Bazin has lived in various places around the province, but mostly in Regina and also a few years in Swift Current as a child. He studied pharmacy at the University of Toronto and began practising in Swift Current in 2011.
"There was a good opportunity here when I came out of school," he recalled. " So we came here, not thinking that we would necessarily stay as long as we have, but when you get here, the community is an amazing place to be and it's an amazing place to live. My wife and I decided to make roots here and we've been here now since 2011."
He worked as a pharmacist at Shoppers Drug Mart as well as the Wholesale Club Pharmacy in Swift Current. He became the Shoppers Drug Mart associate-owner in 2018.
"I still practice pharmacy in the store and in addition to that I also own and operate the business itself," he explained. "I'm overseeing everything from the front store all the way back to the pharmacy."
He still enjoys the opportunity to apply his knowledge and skills as a pharmacist in his role as associate-owner.
"Pharmacy is a great career," he said. "It's something that I really enjoy, being a first-line healthcare professional for patients as they're transitioning through the healthcare system. We're really there to help guide them in terms of where they need to go and to provide great advice for them as they're working through their challenges. We're able to have amazing one-on-one contact with patients, but also provide greater community health benefits through different programs that we're able to offer."
His role as an associate-owner has provided him with an opportunity to develop business skills while continuing to practice pharmacy.
"I'm able to hone my skills in terms of running a business, but I'm also able to still practice pharmacy, which is important to me as well," he said. "So for me it was really around being able to give back to the community and build a business that I know that we could be proud of."
His days as an associate-owner and pharmacist are busy, but it is also a very satisfying experience that continues to motivate him.
"For me it's working with amazing staff and being able to help my team provide the best care possible," he said. "So whether it's our pharmacy team, providing exceptional care to our patients, or my front store team, we're really there to help guide people through and let them have a pleasant shopping experience. What drives me is being able to work with such awesome people and provide an amazing service for our community."