Frontier Days 2023 looks like a can't-miss time
Posted on 1 March 2023 by Prairie Post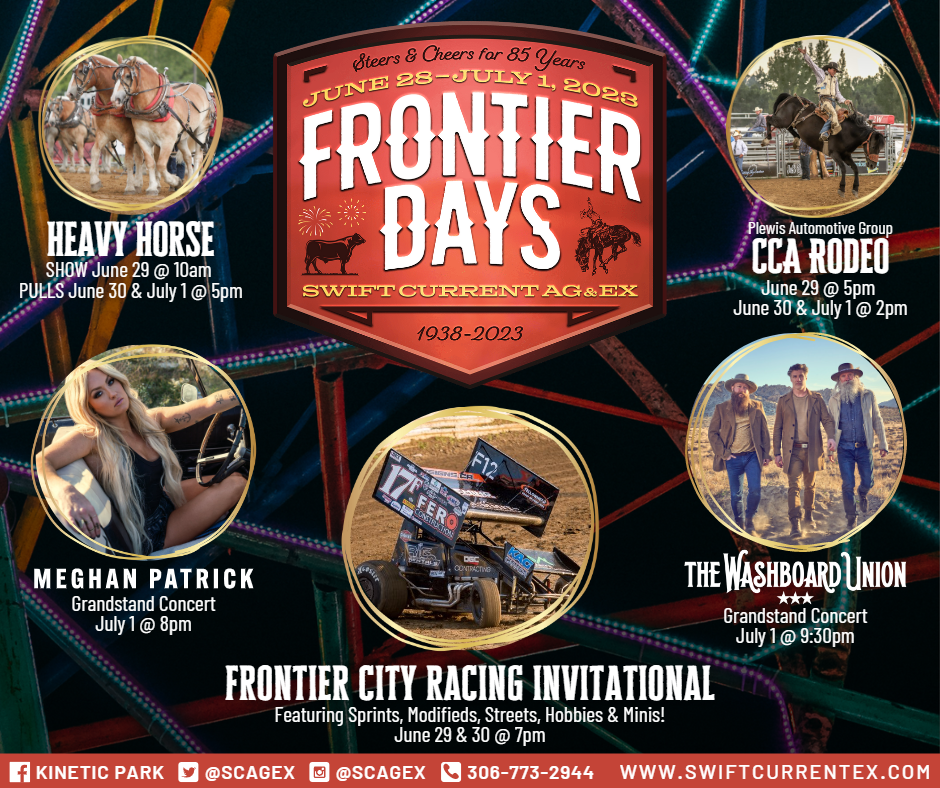 Contributed
The Swift Current Agricultural and Exhibition Association announces the 2023 Frontier Days Lineup Information using the theme Frontier Days Swift Current – Steers & Cheers for 85 Years!
The biggest outdoor rodeo and four-day fair in Saskatchewan is slated for June 28 to July 1, 2023. Frontier Days has a tradition of celebrating our agricultural roots, and this year is no different with our theme Steers and Cheers for 85 Years! We're honouring the hard work and community spirit of our Frontier Days founders and all the fantastic livestock exhibitors over the past 85 years.
Kinetic Park will be full of things to see and do over the four days of entertainment at Frontier Days! Celebrate the start of summer with the West Coast Amusements Midway, returning with all of their thrilling rides and carnival games. The park will be packed with rides, fair food, and free family entertainment (to be announced).
The Magnus Newland Arena will be home to the CCA RODEO June 29th at 5 p.m., June 30th at 2 p.m., and July 1t at 2 p.m. (9 a.m. slack). Come out to cheer on the cowboys and cowgirls of the Canadian Cowboys Association as these western athletes (and animal athletes!) demonstrate their skills in bareback riding, steer wrestling, team roping, break-away roping, junior steer riding, saddle bronc, tie-down roping, barrel racing and bull riding.
New this year, we will be holding the FRONTIER CITY RACING INVITATIONAL in the Grandstand on Thursday and Friday evenings. Featuring Sprints, Modifieds, Streets, Hobbies, and Minis, the Speedy Creek Speedway will be a high-energy, prime attraction during Frontier Days. A cabaret will follow all the gear-grabbing action!
As always, Canada Day will be a busy day at Frontier Days, with exciting events happening all day, including the Parade at 10am and the Living Sky Casino Fireworks Show at 11pm! Rounding out the Canada Day schedule will be the ever-popular Grandstand Concert. This year's entertainment is a double headliner – MEGHAN PATRICK and THE WASHBOARD UNION with a cabaret to follow.
Meghan Patrick is a two-time CCMA Female Artist of the Year winner and took home the Juno for Canadian Country Album of the Year for her album, Wild As Me. The Bowmanville, Ontario, artist is also an acclaimed songwriter who has collaborated with the likes of Rodney Clawson, Gord Bamford, and Chad Kroeger. Her hits include "Bow Chicka Wow Wow", "The Bad Guy", and her #1 Canadian Country Hit, "Walls Come Down".
The Washboard Union last graced the stage at Frontier Days in 2017. Since then, they have gone on to become Juno Award Winners and 9-time CCMA award winners including 3-time consecutive Group of the Year and 5-time CCMA Roots Artist/Album of the Year. The Washboard Union are among Canada's most outstanding country bands, and one of the most talked about live bands today. With over 70 million streams and Certified 3X Gold in Canada, the band has had nine Top 10 hits, and was the first country band to win the Juno Award for Breakthrough Group of the Year; a multi-genre category. Their hits "Country Thunder", "Shut Er Down" and "Shot of Glory" are all staples on country music stations across the country.
Frontier Days was started to bring families and friends together, while preserving the pioneer days and celebrating the western way of life. We continue to host Heavy Horse competitions and the 4-H Livestock Show & Sale as a display of continuing agricultural traditions. Returning for it's second year, the 4-H Goat Show will be happening in the Grass Arena on July 1st.
A unique Frontier Days tradition is our historic Beard Contest. Starting in 1938, a beard growing contest has been often held at Frontier Days to boost community spirits. Swift Current became known as the "Bearded City" and contestants come from all over the great Southwest to attend and compete. Our Beard Contest will again be held this year, with categories added for Mullets and Mustaches. Contestants do NOT have to be clean shaven at the start of the competition, and all ages are welcome to compete!
Join us in Hansen Park for performances by cultural groups from Swift Current and around Southwest Saskatchewan on the Innovation Credit Union Culture Stage on June 30th and July 1st.
Join one of the most popular western fairs in Southwest Saskatchewan and take in any number of our daily attractions, such as the West Wing Gallery, Doc's Town Heritage Village, the pancake breakfast, beer gardens, Frontier Saloon, concession booths, Mennonite Heritage Village, the Stockade tradeshow and MORE!
SCHEDULE HIGHLIGHTS
June 28 7:30 AM W.W. Smith Burning of the Brand & Pancake Breakfast
June 28 4:00 PM Kiddies Day Parade
June 28 4:00 PM Midway Opens
June 29 TBD Heavy Horse Show
June 29 5:00 PM Plewis Automotive Group CCA Rodeo
June 29 7:00 PM Grandstand Entertainment – Frontier City Racing Invitational
June 30 2:00 PM CCA Rodeo
June 30 TBD Heavy Horse Pulls
June 30 7:00 PM Grandstand Entertainment – Frontier City Racing Invitational
June 30 10:00 PM Cabaret
July 1 9:00 AM CCA Rodeo SLACK
July 1 10:00 AM Frontier Days Parade
July 1 2:00 PM CCA Rodeo
July 1 4:00 PM 4-H Steer Sale
July 1 TBD Heavy Horse Pulls
July 1 8:00 PM Grandstand Entertainment – Meghan Patrick & The Washboard Union
July 1 11:00 PM Cabaret
July 1 11:00 PM Fireworks
Tickets go on sale March 10th & 11th at the Step Into Spring Tradeshow and March 8th at City Wide Connection. Stay tuned for ticket blitz information and pricing.
The Swift Current Ag & Ex, a non-profit organization dedicated to our mandate of providing service to and enhance the life of residents within the community and the region in the areas of agriculture, entertainment, sport and culture. Since 1938 Swift Current Frontier Days Fair and Rodeo is committed to benefiting youth, supporting education, and aiding better agricultural practices through exhibitions and presentation.