SWAC sports focus on curling and basketball
Posted on 6 February 2023 by Ryan Dahlman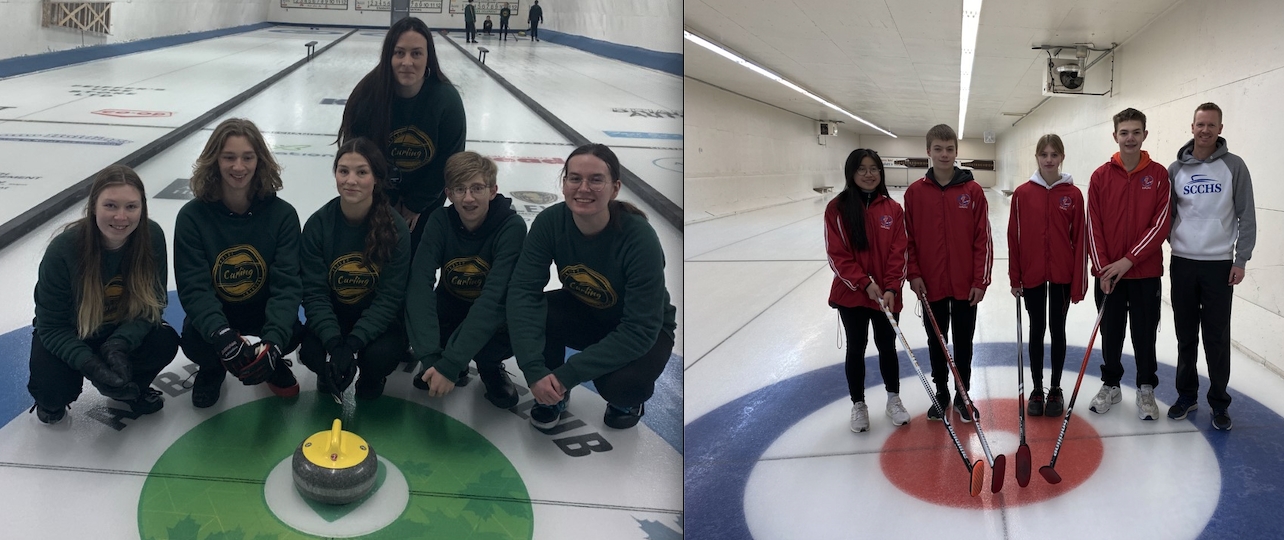 Hazlet Mixed and Swift Current Comp mixed teams winning their respective districts.
SWAC BASKETBALL LEAGUES
Senior league basketball action was set to resume after the exam break. On Tuesday, January 3, the senior girls basketball game between Gull Lake and Herbert was postponed. Senior boys game between Vanguard and Gull Lake did take place. The final result was Vanguard boys over Gull Lake (52-39). Vanguard scorers were Luigi Eui (16 pts), Jake Klassen (14 pts), and Jasper Gieck (12 pts). Gull Lake top scorers were Kevin To (15 pts), Zac Dysart and Andrei Doroteo (4 pts each).
The next senior set of games on February 7 have Maple Creek girls traveling to Herbert and Maple Creek boys are headed to Vanguard.
On February 2, Maple Creek coed hosted Frontier coed in our junior league. Maple Creek won this match up 84-25. The top scorer for Frontier was Porter Glen (13 pts). The top scorer for Maple Creek was Rylie Huck (16 pts). On February 9, Frontier coed will host the Shaunavon boys team.
SENIOR CURLING
Our senior girls, boys and mixed curling teams have started their journey to the SHSAA provincial playoffs. Sectional competitions are held and the top two teams advance to the SWAC district competition in Ponteix on February 10/11. Thanks to our host sites and commissioners: Abbey Rink (commissioner from Cabri Kendall Wicks/Abby Watson), Ponteix (Trish Carleton) and Eastend (Randy Johnson).
Whitemud will host their sectional mixed seeding game on Monday, Feb 6. Advancing to the SWAC mixed playoffs will be Eastend and Val Marie. Results of this match will be in next week's report.
Rolling HIlls teams advancing:
Girls:
SCCHS (coach Mark Kroeker, Abby Kroeker, Katie Carleton, Lily Ferguson)
Boys:
1st Gull Lake (coach Amy Dysart, Tyler Lamarre, Zach Dysart, Lucas McMillan, Trusten Kirwan, Cohen Haithwaite),
2nd SCCHS (Ethan Robinson, Riley Starkey, Troy Oakman, Sean Friesen, Sean Friesen, Shane Cornelson, coach Ron Bailey)
Mixed:
1st Ponteix (Coach Trish Carleton, Blake Cloutier, Alyssa Thingvold, Mitchell Kendall, Annika Roberge, Hannah Ulm, Coach Jocelyn Scully-missing),
2nd SCCHS (Emily Phan, Jacob Parkinson, Kate Erickson, Ethan Peters, coach Ron Bailey)
Cypress Hills teams advancing:
Girls:
1st Fox Valley (Brooklyn Schell, Kierra Herter, Grace Bosch, Gracie Ross, coach Kalin Deis, Donda Lee Deis-missing), 2nd Hazlet (Vanessa Barr, Katharina Leonhardt, Teagan Emms, Berenice Detrieille, Gina Misarutwanit, coach Tarryl Todd)
Mixed:
1st Hazlet (Andra Todd, Ian Baumann, Tessa Todd, Braden Baumann, Nike Hoepfner, coach Tarryl Todd), 2nd Maple Creek (Louise Parsonage, Jayden Sawby, Kellae Parsonage, Morgan Udal, coach Holley Jamieson)
JUNIOR CURLING
Junior sectional curling takes place on Saturday, February 11. Top two teams in each sectional advance to Districts (in some cases, three teams will advance). Hosting sectional playoffs are Fox Valley (Cypress Hills), Gull Lake (Rolling Hills) and Frontier (Whitemud)
Junior SWAC district curling championship takes place on March 3 /4. There will be 6 teams in each of the girls/boys/open classifications. The host site will be Swift Current.SWAC Report for ChinookSD
Badminton practices have started for junior and senior teams. Please take note of the following dates for badminton playoffs: Junior Sectionals (April 29), Junior Districts (May 6), Senior Sectionals (April 22), Senior Districts (April 29), Senior Regionals (May 6), Senior SHSAA Provincials (May 13)