Anticipating an enjoyable Family Fun Week 2023 in Swift Current 
Posted on 6 February 2023 by Ryan Dahlman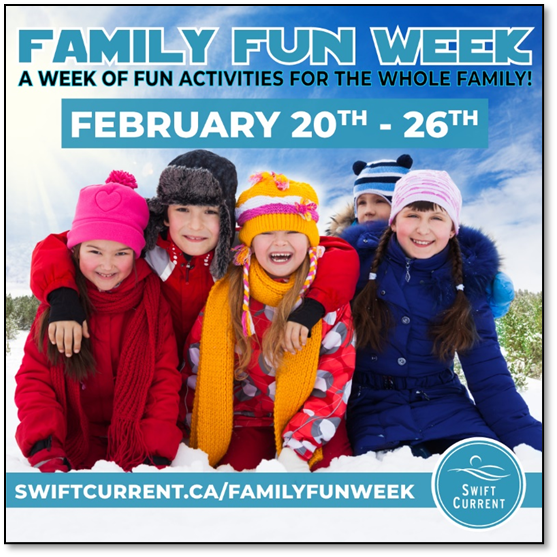 A week full of fun activities for the whole family to enjoy is on the horizon as Family Fun Week returns during the school break, February 20th to 26th!
Monday, February 20: The Pioneer Co-op, in partnership with Innovation Credit Union and the City of Swift Current, will host a Family Skate at the InnovationPlex from 11:00 AM to 12:30 PM. In addition to free public skating, there will be hot dog combos for $2 and a chance to win some great prizes!
Tuesday, February 21: Families are invited out to the Stockade, located at Kinetic Park for a Family Festival from 9:00 AM – 12:00 PM. Admission is $3 per family. The morning will feature bouncy houses, face painting, games, snacks, and lots more to enjoy! This event is hosted by the City of Swift Current.
Wednesday, February 22: The Swift Current Curling Club will host a free curling clinic from 1:00 – 3:00 PM. Participants are asked to bring an extra pair of clean footwear for on-ice activity. Helmets are recommended for kids and new curlers; other equipment will be provided as well as hot chocolate and snacks.
Thursday, February 23: Try out "Spy School" at the Swift Current Museum, then explore the new Cipher Decipher Exhibit. Drop-in anytime between 10:00 AM and 4:00 PM to enjoy these free activities.
Friday, February 24: School is back in session at 2:00 PM with "Scientists in School" at the Library! "Scientists in School" activities will be held Tuesday to Friday at 2:00 PM. Due to limited space in each session, registration is required. Please register by calling (306) 778-2752.
Saturday February 25: The Center is organizing the "Coldest Night of the Year" event, raising funds to support their much-needed programming for youth in our community. To sign up and support this local cause, visit http://www.cnoy.org.
Sunday, February 26: Join the Swift Current Nordic Ski Club and have fun cross-country skiing or snowshoeing at the Chinook Golf Course trails. Stop in anytime between 12:00 and 4:00 PM. Some snowshoes will be provided. This event is dependent on favourable snow conditions.
In addition, throughout Family Fun Week and the entire month of February, youth ages 14 and under swim FREE during all Family and Public Swim times at the Aquatic Centre, sponsored by the Kiwanis Club of Swift Current.
"Activities offered throughout Family Fun Week provide a great opportunity for families to participate in some fun activities that encourage physical activity and quality family time," explained Val Choo-Foo, In Motion Coordinator for the City of Swift Current. "This week wouldn't be possible without the support of our community partners and sponsors. We want to extend our thanks to each one of these organizations."
For more information about Family Fun Week, please contact Community Services at (306) 778-2787 or visit http://www.swiftcurrent.ca/familyfunweek.