Swift Current RCMP quarterly update highlights more offences in several areas
Posted on 25 January 2023 by Prairie Post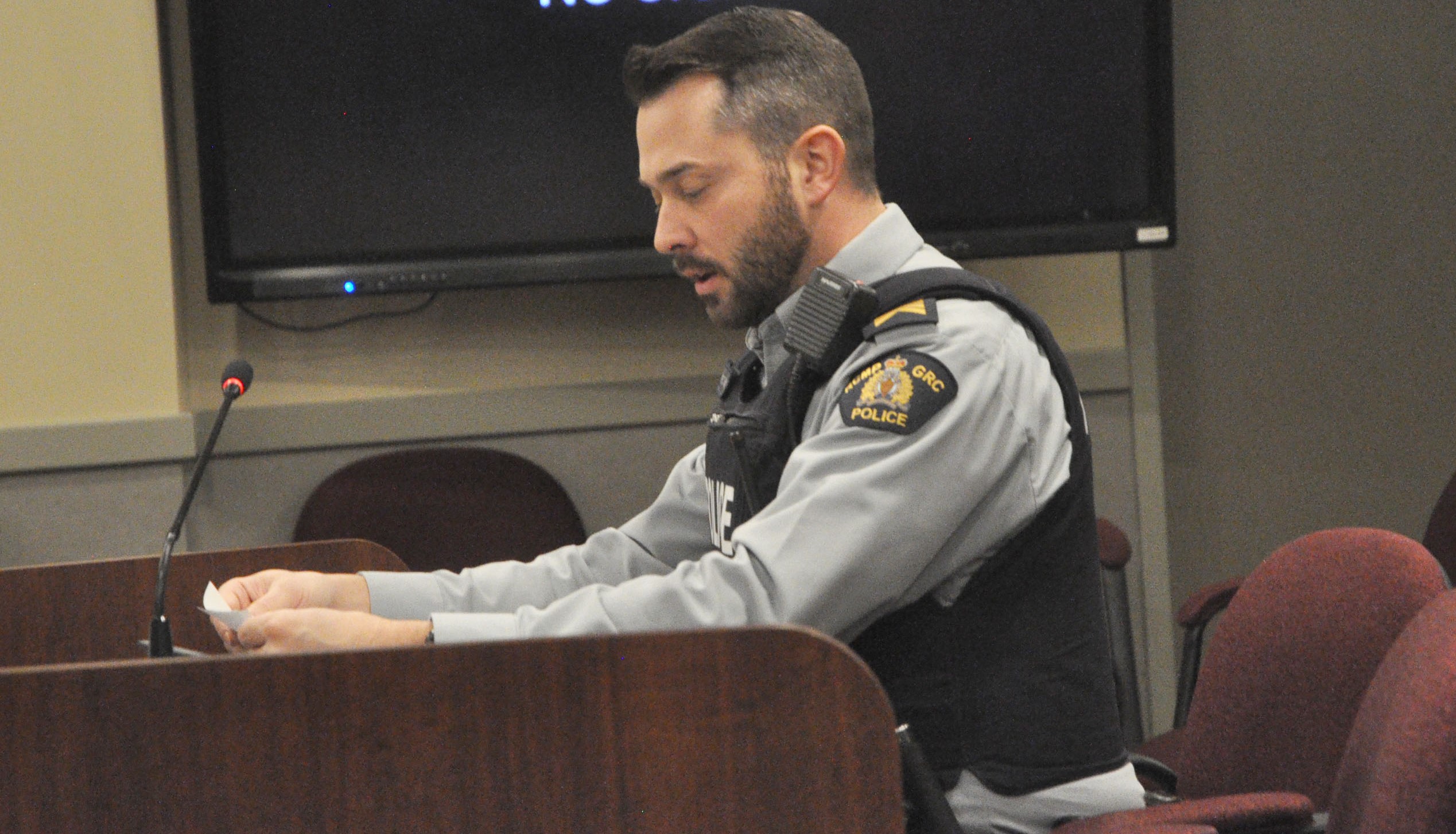 Staff Sgt. Evan Gordon presents the quarterly community policing report during a regular City council meeting, Jan. 9. Matthew Liebenberg/Prairie Post
By Matthew Liebenberg
The Swift Current RCMP dealt with more offences in several areas during the final three months of 2022.
Staff Sgt. Evan Gordon, the commanding officer of the Swift Current municipal RCMP detachment, presented the quarterly community policing report during a regular City council meeting, Jan. 9.
The report covers the period October to December 2022, which is the third quarter of the RCMP fiscal year.
Impaired driving offences were noticeably higher than for the same three-month period in the previous two years. There were 21 offences for October to December 2022 compared to 10 during this period in 2021 and 12 in 2020.
He was expecting more offences during the holiday season in 2021 due to the loosening of COVID-19 restrictions, but the increase in impaired driving offences in 2022 certainly indicated more people were out and about.
"We saw an increase in traffic surrounding work Christmas parties and things right from the beginning of December and even late November on," he said. "So I think that accounts for the increase in those offences."
The number of thefts increased for both the third quarter and for the reporting year to date from April to December. For theft under $5,000 there were 75 offences for October to December 2022 compared to 66 in the same period in 2021 and 36 in 2020. This offence category recorded 270 thefts for the reporting year to date (April to December 2022), which is higher than the 166 offences for the same period in 2021 and 171 offences in 2020.
"A lot of those thefts are shoplifting," he said. "We did see some more shoplifting leading up to the Christmas season as well as thefts from vehicles and things like that. Tools continue to be a big target of opportunity for these thieves. And so I just want to remind people, keep you valuables locked up, keep your vehicle locked up, keep you valuables out of your vehicle, just make yourself less of a target for these thieves."
He noted there was a bit of an increase in break and enter offences at business premises. There were 10 such offences from October to December 2022 compared to two in the same period in 2021 and three in 2020. There was a similar trend in the year to date (April to December) statistics, with 25 offences in 2022 compared to nine in 2021 and 14 in 2020.
"That does include breaking into a business and it does include things like compounds," he said. "We don't always refer to structures or buildings as the business themselves. It could be entering a compound, stealing property in an outside compound. That still counts as breaking and entering into a business."
Gordon mentioned that thefts numbers have been increasing in 2022 compared to the previous two years, but the latest information is actually comparable to theft statistics from 2016 to 2019.
"I think what we saw is through COVID we saw a bit of a dip, maybe where unbelievably so even the thieves were not quite out as prolific," he explained. "That could be because the regular people weren't out, they were home more. There weren't as many opportunities for those thefts to occur. … The last two years I think were a bit of a valley and we've kind of come back up, not that that's a good thing, but come back up to an area where we were at before."
He reported that the number of sexual offences were significantly lower. There were seven sexual offences for the period October to December 2022 compared to 27 in the same quarter of 2021 and 14 in 2020. A similar trend was evident in the data for the year to date (April to December), with 22 offences in 2022 compared to 48 in 2021 and 47 in 2020. However, he also had a word of caution with regard to these numbers.
"I think it's one of those areas that's difficult to point at and say that there's a solid decrease, because I think it's still an area that is likely underreported in," he said. "But I think any time that number dips it's a good thing and I hope it's a good indicator of what's actually happening in the community."
Gordon spoke about crime trends in the community during his presentation. Fatal drug overdoses continue to be a concern. The Swift Current RCMP responded to six calls of drug overdoses during the October to December 2022 period, of which four were fatal. This was quite high and part of a recent trend of increasing overdose deaths. There were no fatal drug overdoses in 2020, four in 2021 and six in 2022.
"It's on the rise and I wish I could sit here before you and tell you that I have a plan for it, but I think none of us are naive to believe that one person or one group is enough to make a change there just yet," he said. "Of note, in all four of those fatal overdoses this quarter, fentanyl was involved or believed to have been involved, and I think that's why we've seen that increase in the number of fatalities, because fentanyl has arrived on the scene. It's gained popularity and it's so much more potent and dangerous than anything that people are used to using leading up to that."
The RCMP is using a variety of resources to respond to the situation and to get drugs off the streets, including street level investigations, the efforts of the detachment's general investigation section, as well as the Saskatchewan Enforcement Response Team.
These efforts recently resulted in the arrest of two individuals on Jan. 4. They had a significant amount of fentanyl and cocaine, which resulted in charges of possession for the purpose of trafficking.
"These are drugs that hadn't yet made it into the community," he emphasized. "They were able to intercept it before it got here and more importantly, other than getting those drugs off the street, get those dealers off the street as well."
There is a shift in focus by the police, for example though the work of the Saskatchewan Enforcement Response Team, to concentrate drug investigations on traffickers and larger amounts of drugs coming into the community. This is partly due to a change in approach by the justice system towards drug possession for personal use.
"What we're seeing is there's less of a desire in the court system to prosecute people in simple possession, the users of these drugs that are not profiting off of them, not bringing them into the city, but they're using them to their own detriment," he explained. "So we're seeing some of our charge numbers drop off, but that doesn't mean that the work isn't being done or that the drug problem is going away. It just means that there's a little bit of a shift in focus and attention."
The detachment's focus on drug enforcement resulted in the execution of four search warrants during the past quarter and seven individuals were charged with various offences, including possession for the purpose of trafficking, both fentanyl and methamphetamine.
"As well, we see a lot of spillover between drug abuse and property crime," he said. "So those search warrants can often serve a dual purpose and quantities of stolen property were located and have been able to be returned to some of the victims of some of those thefts."