Initiative aims to reach out to homeless individuals in Swift Current
Posted on 25 January 2023 by Matthew Liebenberg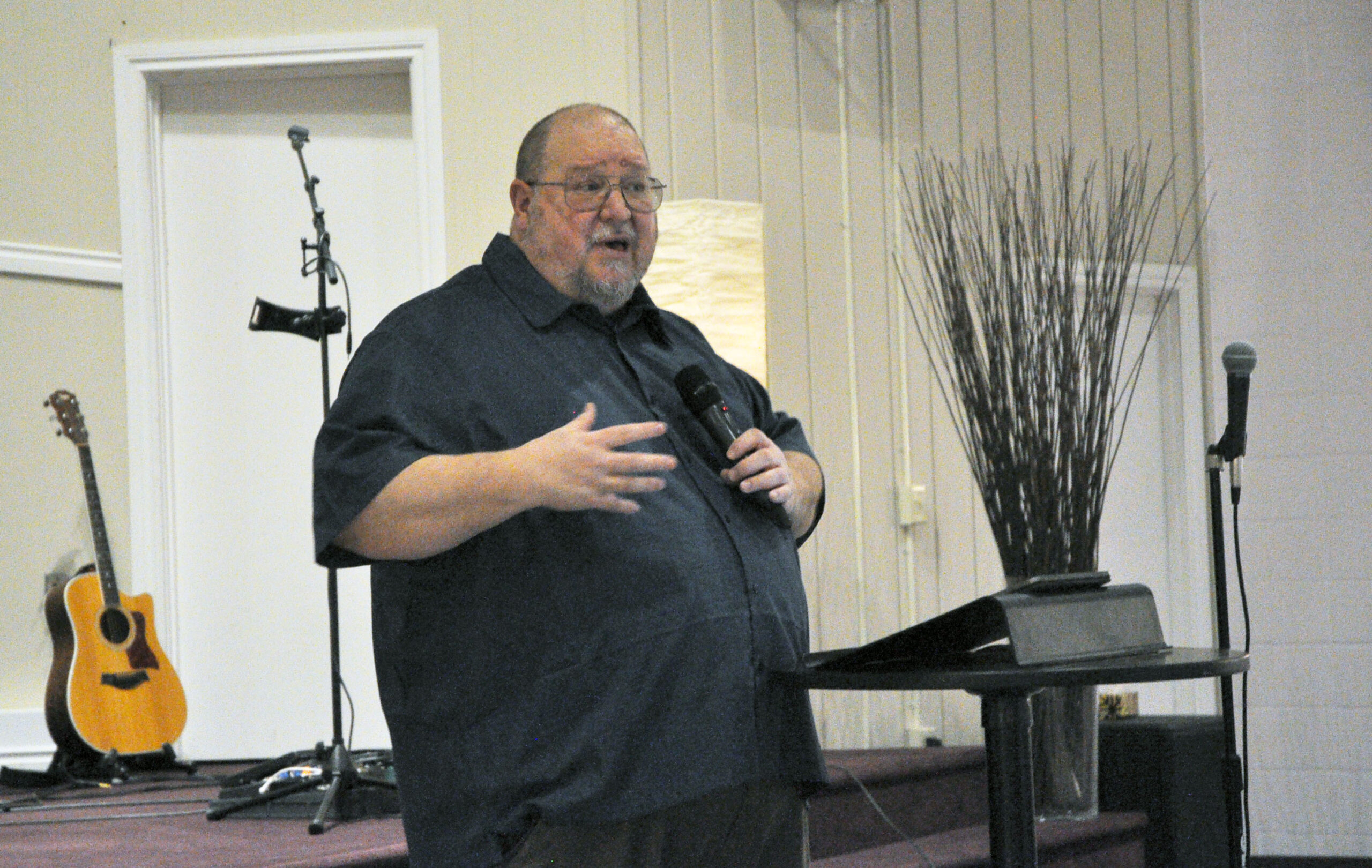 Pastor David Clarke of the Swift Current and Area Ministerial Homelessness Committee speaks during the public information night, Jan. 12.
By Matthew Liebenberg
A new initiative has been launched in Swift Current to reach out to and support individuals in the community who are homeless and at risk due to a lack of shelter at night.
The public information night about the homeless situation in the city took place at the Full Gospel Church, Jan. 12.
This was the first time a public event was held to talk about ways to provide support to individuals at risk due to a lack of shelter, but discussions involving various community members and organizations have already been taking place for over a year.
The goal of the information night was to share details about discussions held until now and to hear from attendees. The event was hosted by the Swift Current and Area Ministerial Homelessness Committee, which has been spearheading the initiative.
Pastor David Clarke of the Full Gospel Church began the meeting by providing background about the initiative and thereafter Pastor Greg Kiel of the St Olaf Lutheran Church spoke about the committee's work and some future goals. City Councillor Leanne Tuntland-Wiebe, who has been involved with the initiative, shared details about efforts in other communities to support homeless people. The floor was thereafter opened for discussion.
Clarke told the Prairie Post afterwards the positive response to the information night and the discussion at the event was a good start.
"I was a little nervous, coming into this meeting, because I didn't know what the response would be, but I'm excited to see there are people who recognize there is a need and there was a lot of good ideas," he said. "We have nearly three sheets of names of people who want to stay connected to what we are trying to do. So I'm excited that there's traction here now that we can build upon and move forward with it."
He felt the meeting achieved the goal of bringing people together to share ideas and to make connections, which will make it possible to work on ways to address this need in the community. This initiative will require dedication and support from volunteers and various roleplayers.
"I think it's just a lot of little challenges, like being able to form the right committee that will keep it moving, people who can help with funding, people who can help with marketing, keeping the need out in front of people in our community," he said. "Another challenge is developing an atmosphere where when we reach out to these people in our community who are part of our community that they don't feel like this is a project. We want them to feel like this is their home and we want them to know that we see them as part of our community."
This initiative started in October 2021 after Clarke heard concerns about homeless individuals in the community who had no shelter and were sleeping at various locations such as the post office building, banks and other places where they were able to find a sheltered spot for the night.
"There's been lots who have had interaction with people in our community that are in need and they've tried to help those needs the best they can, but for me it started there," he said. "I started to keep an eye open for others who might be in the same position and I noticed more people."
It is difficult to determine how many individuals in the city are without shelter, but the estimated number is anywhere between six and 12 people.
"There's probably more people that are in need than we realize," he noted. "So it started with the community here reaching out to us and then us seeing what we could do. We weren't able to do a lot, but I came out of those contacts thinking there has to be a solution for someone sleeping in minus 40 weather."
He contacted Tuntland-Wiebe and she provided assistance to facilitate meetings involving different roleplayers, which resulted in the creation of this initiative.
Tuntland-Wiebe told the Prairie Post after the information meeting that she felt it was important as a Swift Current resident to become involved with this effort. She was pleased with the good discussion that took place during the meeting.
"Everybody from an agency had input tonight that the public need to hear or the other agencies need to hear how they can help each other," she said. "So it was quite a success and going forward I expect more help from the community."
She emphasized this is not an initiative by the City of Swift Current and social issues are overseen by the provincial government. Her personal view is the City needs to support the initiative once the group has a protocol in place.
"I do, but I'm only one councillor," she said. "It would have to come up at a meeting and be presented perhaps by the Ministerial Association to say this is what we would like the City to do."
She has already learned a lot through the information she gathered about initiatives in support of homeless individuals in other communities around the province.
"It's important for us to talk to the other cities and find out what is working and maybe not go down that rabbit hole with things that don't work," she said. "It may be an ever changing, flowing kind of model that we have here and it's not going to happen overnight. We would liked to have started this a year ago, but it takes time to get people together and to get things moving. And now we'll be at the point where we're going to need donations from the public."
The initiative has several short and long-term goals, but it will require community support to make progress.
The intention is to develop an information card that can be distributed to businesses. It will provide them with useful information about available resources when they become aware of a homeless individual who needs assistance.
Another goal is to establish outreach teams to connect with homeless individuals in the community. The information gathered by these teams will be useful to determine the extent of the need for the development of future strategies. Volunteers are needed for these teams and most of their work will take place late at night.
Another suggestion discussed at the meeting is to acquire a bus that can be used as a convenient place for people to warm up during cold nights and where they can receive a care pack.
The initiative has a significant focus in providing support to individuals without shelter during winter, but another aspect will also be to address needs of homeless people on very hot summer days. Clarke felt it is important to develop a long-term strategy for Swift Current to ensure support will be in place that people can count on when they need it.
"Every person matters," he said. "It's a need that is important to all of us in our community, because even if it's one person that's living on the street and trying to survive, it should affect all of us. It should break our heart to know that there's somebody in our community in that situation."