Swift Current golf coach receives provincial recognition
Posted on 21 December 2022 by Matthew Liebenberg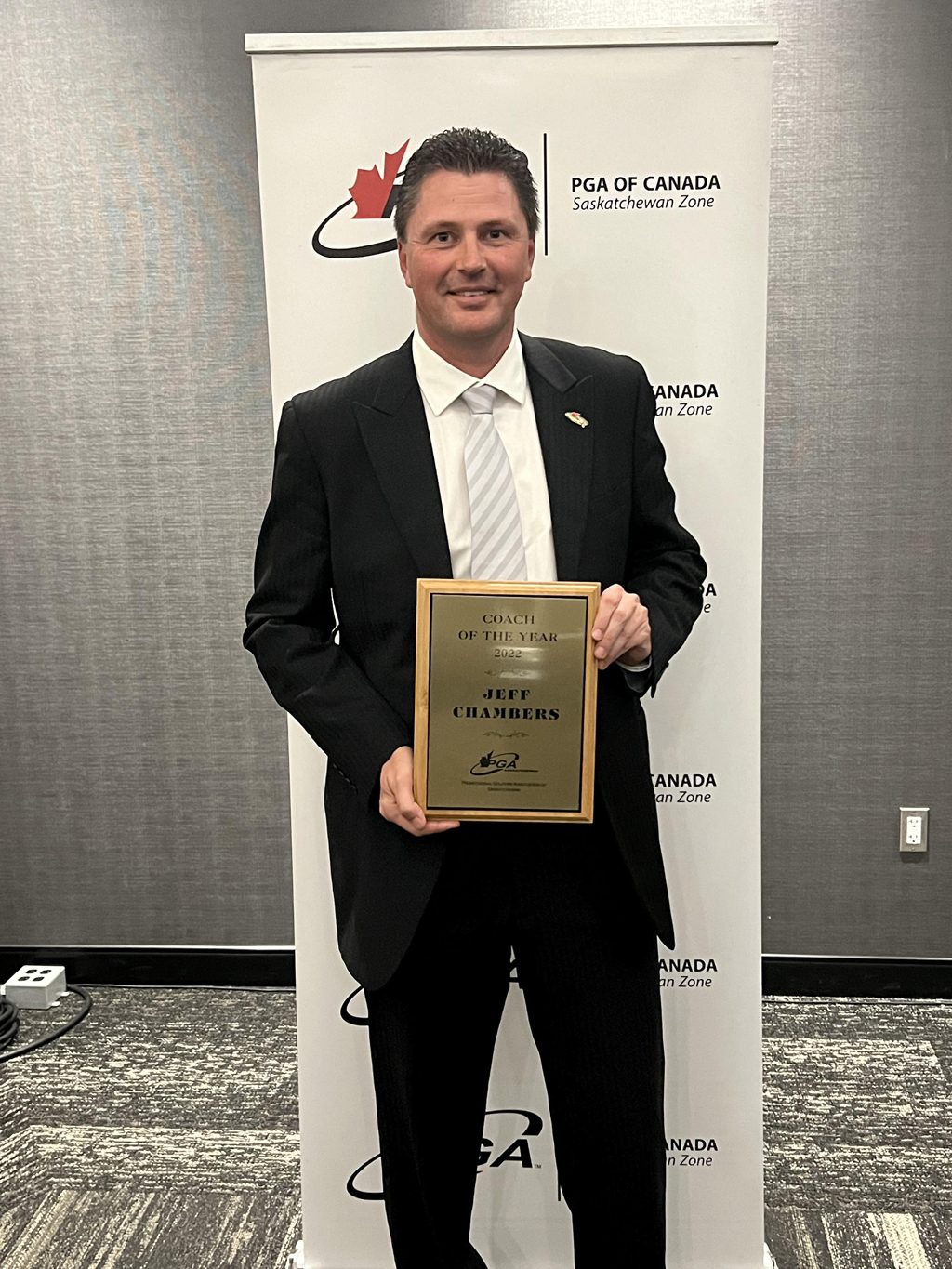 By Matthew Liebenberg
Swift Current golf coach Jeff Chambers is passionate about helping players to improve their game and reach personal goals.
His commitment was recognized on a provincial level when he received the 2022 Coach of the Year award from the Professional Golfers' Association (PGA) of Saskatchewan.
"It's fantastic," he told the Prairie Post. "It's the one award that is really true to the heart. I took the decision a few years ago to go remotely, coaching here at the Elmwood Golf Club. That's a pretty big step to take, because living in Saskatchewan our season is so short. It was a tough decision to make and it's nice to be recognized by my peers."
He received several provincial and two national PGA awards in the past, mostly for his coaching and involvement with junior golf, but it still feels special every time.
"I'm still putting my heart and soul into my job and getting recognized for it always feels great," he said. "And at the end of the day I always feel it's anyways not for me. When I get messages from my players to congratulate me, I tell them it's because of them that I get it. They're kicking butt out there year after year and they're the reason I'm getting the award."
He felt the extent of his coaching activities probably played a role in the decision to award the 2022 Coach of the Year title to him.
"I have well over 40 kids alone that travel to see me and probably over 30 of them have to travel over two hours to come see me," he said. "So I'm pretty known for figuring out how to work with these kids and the parents are investing into the travel time."
In addition, his coaching is delivering results for players who want to maximize their game and who aim to be competitive on the greens.
"My players represent over 50 per cent of the provincial winners each year for the last five years," he said. "So that definitely helps, and the same with the Canada Games. Three of the four kids that represented Saskatchewan were all my players. So I think that was a big reason. Those results from the kids go a long way, knowing that I've put together programs for them."
He is the head teaching professional at Elmwood Golf Club, where he can teach and coach through the Jeff Chambers Golf Academy. He was previously the club's head professional, but he decided about six years ago to focus full-time on teaching and coaching. He feels fortunate that it was possible to realize this goal while remaining in Swift Current.
"Elmwood had the vision of the academy building and then I started filling it full of technology," he recalled. "Looking back, they had this vision to go along with my vision and it's just been a home run ever since. Elmwood has been a great home to me. I've got amazing offers all over the world to take my coaching to different places, but my wife and I decided we love Swift Current. We love being part of such a great community and we're just glad that I'm able to make a living coaching, because it's not common in Saskatchewan to be able to do that with our weather."
His investment into technology has paid off. It allows him to coach and stay in touch with players throughout the year. Simulators at the academy make it possible for players to continue in-door training during any season. When in-person meetings are not possible, the training can still take place through virtual meetings and online coaching platforms.
He works with a wide range of players, from juniors to adults, but most of his coaching is done with players in the 13–17-year-old age group. Coaching is more than just golf lessons, which is the reason he enjoys doing it. It requires a different commitment level from players with work-out programs, nutrition and mental strategies as part of the instruction.
"I can't just take a beginner golfer and make them a champion in one or two or even three years, but if I have some pretty decent players and they come to me and they commit to yearly programs, those are the ones that perform," he said. "Most of them would probably get there regardless, but I can see those things that will speed up the process and I know what it takes to win."
His role as a coach for junior players also involves building relationships with their families as part of the goal to improve a player's performance. Chambers was in Florida during November to attend the Maple Leaf Junior Golf Tour national championship, where four of his players were competing, and afterwards he spent some time at Disney World with one player and his family.
It's just getting to know these families and being part of the journey," he said. "I use those words a lot with my kids and when I've done thank you speeches, just being part of their journey, and to me that's what it is all about. I'm not the reason why a player wins the province or why they're better than everybody else. I'm just part of that equation and I'm grateful to be part of that equation."
He emphasized that it is not only about winning and one of the most satisfying aspects of being a coach is to see players succeed at different levels.
"It's not just about the trophies," he said. "Obviously, I love seeing kids win. There's a lot of pride when they're standing up there and they've won the province or they're the best in their age group and their hard work paid off, but I get the same excitement when a kid does his personal best in an event or bring his handicap down."
Chambers has been nominated for a national PGA Canada award. He is one of seven finalists for the 2022 Ben Kern Coach of the Year award. He is a past winner of this award in 2018 and therefore appreciates being nominated again. He felt it would be quite surprising to receive the same national award so soon after his previous win.
"There's so many great coaches doing great things out there in other provinces," he said. "Obviously, there's always that hope, but I guess the biggest award is right here in our province, just knowing our pros and our players appreciate what I'm doing. That's pretty awesome."