Outdoor Rinks and buildings open today (Dec. 16)
Posted on 16 December 2022 by Ryan Dahlman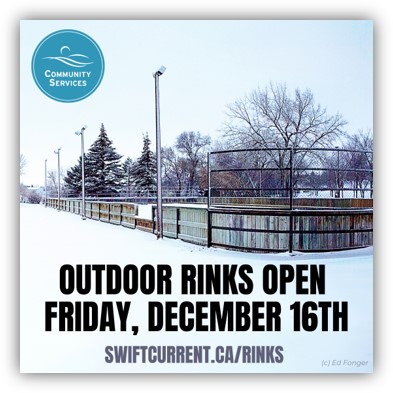 The City of Swift Current Community Services Division is excited to announce that starting Friday, December 16, Swift Current's five outdoor rinks will officially open for the season
Friday's opening will include the large ice surfaces and buildings at Highland Rink, North Hill Rink, Sheldon Kennedy Rink, Southside Rink and Westside Rink. Opening of the smaller ice surfaces at each location will soon follow, as preparations are still underway.
"The recent cold weather has provided us an earlier than normal start on building the outdoor rinks and we are excited to see them open for families to enjoy in advance of the holiday break," said Michael Newell, Parks Manager.
The Crokicurl Rink at Riverdene Park will also make a return this winter, opening in early January. Crokicurl will be open for play during regular outdoor rink hours with free online bookings available at http://www.swiftcurrent.ca/rinks. 
The outdoor rinks will operate on the holiday schedule from December 22nd until January 3rd, providing some extended weekday hours during the school break. Weather dependent, the outdoor rinks will be open until approximately the end of February.
Skating at the outdoor rinks is free of charge to all users during regular scheduled times and is a great opportunity for families to be active together outdoors this winter. Private bookings are available outside of regular hours at a cost of $46.00/hour.
For more information on the outdoor rinks and to view schedules, visit http://www.swiftcurrent.ca/rinks or contact Community Services at 306-778-2787.