Swift Current youth volunteer at Operation Christmas Child processing centre
Posted on 8 December 2022 by Matthew Liebenberg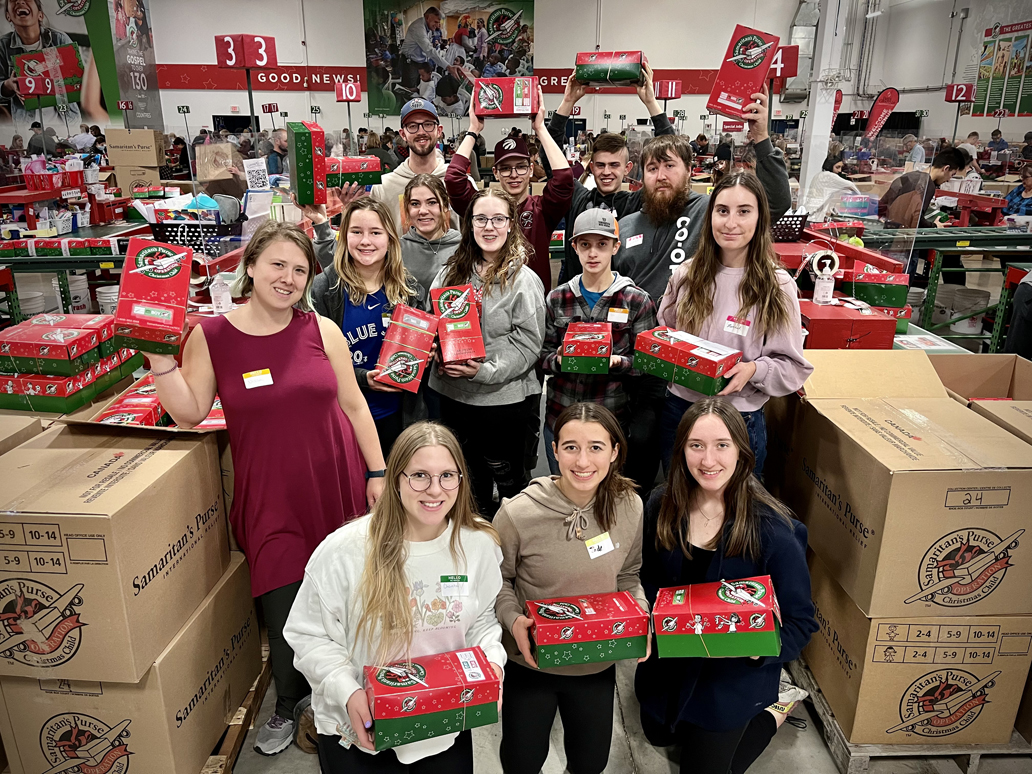 Church of the Open Bible youth pastor Joe Sorgen (back row, at left) stands with members of the senior high youth group in the Operation Christmas Child processing centre in Calgary, Nov. 25. Photo by Frank King, Samaritan's Purse Canada
By Matthew Liebenberg
A Swift Current youth group got a personal glimpse of the process to prepare shoebox gifts for children around the world when they volunteered at the Samaritan's Purse Operation Christmas Child processing centre in Calgary.
Twelve members of the senior high youth group (Grade 9-12) at the Church of the Open Bible and youth pastor Joe Sorgen completed an afternoon shift at the processing centre, Nov. 25.
Gift-filled shoeboxes from across Canada are inspected and prepared for international shipment at this Calgary facility, where thousands of volunteers provide a helping hand each year.
Sorgen arranged the trip and booked their shift online through the Samaritan's Purse Canada website. He felt it provided a great opportunity for youth to serve on a wider scale than their local community.
"It's great to serve in our community and we do things with youth to do that, but also to serve on a more global scale, which is what that is doing," he said. "That's a really big reason as to why we wanted to encourage the youth to volunteer, and then another reason is we just really appreciate the ministry that Operation Christmas Child and Samaritan's Purse do in filling the needs of people across the world. That was just something that we really wanted to be a part of."
Many shoeboxes arrive every year at the Calgary processing after the national collection week in November. There were 413,875 shoeboxes collected in Canada in 2021, according to Samaritan's Purse Canada.
The processing centre was a hive of activity when the group from Swift Current carried out their shift of about three hours.
"There would have been I would guess probably 350 people there that afternoon," Sorgen said. "I think they have shifts going five days a week starting at the end of November going into the first two weeks of December and it's busy."
Volunteers inspect each shoebox. Any inappropriate items are removed and filler items are added, for example if a shoebox misses a toothbrush or other necessities. The boxes are then separated by age and gender, and they are packed in cartons.
"It's a pretty neat setup," he said. "They've got like an assembly line. So you just look and you send it down the line, the next person looks, they send it down the line, it's taped up and packaged away."
His task was to look for any inappropriate items such as toothpaste, lotions or financial contributions in shoeboxes. Sorgen was struck by the many different locations they were coming from.
"To me that was probably the neatest thing, because boxes were coming from out east, from Winnipeg, Saskatchewan, Alberta, and just from all over Canada," he recalled. "People that are taking part in this opportunity to serve people and to give gifts to people across the world that are in much more need than we are. And so to me that was the most encouraging thing, just to see people from all over be involved in this one ministry."
He received positive feedback from members of the youth group about their experience at the processing centre.
"We did a few other things on the trip out to Calgary as well, but several of them mentioned that their favourite part of it was being at the processing centre and serving," he said. "So to me that's really encouraging that they have a heart to serve and learning to serve."
Volunteers from the Church of the Open Bible in Swift Current have helped at the Calgary processing centre in previous year, going back for about 10 years. However, they were not able to do it for the past two years due to the COVID-19 pandemic.
"I've only been a pastor here coming on to three years," he said. "So the church has done it before, but it was my first time and for most of those youth that was their first time there as well. … We'd love to do it again next year and continue to do it moving forward."
He noted that another youth group from the Swift Current area also completed the same afternoon shift at the processing centre on Nov. 25.
They came from the Christian Fellowship Church in Rhineland, but it was coincidence that they signed up for the same shift.
The Church of the Open Bible congregation in Swift Current participate annually in Operation Christmas Child. They held a shoebox packing party on Nov. 19 and packed 840 shoeboxes that went to the Calgary processing centre. He felt there was a real sense of community.
"I think it's always a benefit to serve with other people and if you're packing a shoebox with others, that's just really huge in building relationships," he said. "And then also just knowing that you're making a difference. That's always just a good feeling to know that you can be used to make a difference in different ways."
Shoeboxes from Canada will be going to children in Central America, West Africa, Philippines, and Ukraine. There is still time until Dec. 31 to support the 2022 Operation Christmas Child campaign by packing shoeboxes online.
These online donor requests for shoeboxes will also be packed by volunteers at the Calgary processing centre. The online shoebox submission can be done by going to the Samaritan's Purse Canada website at http://www.PackaBox.ca