Community groups benefit from success of haunted town fundraiser
Posted on 6 December 2022 by Matthew Liebenberg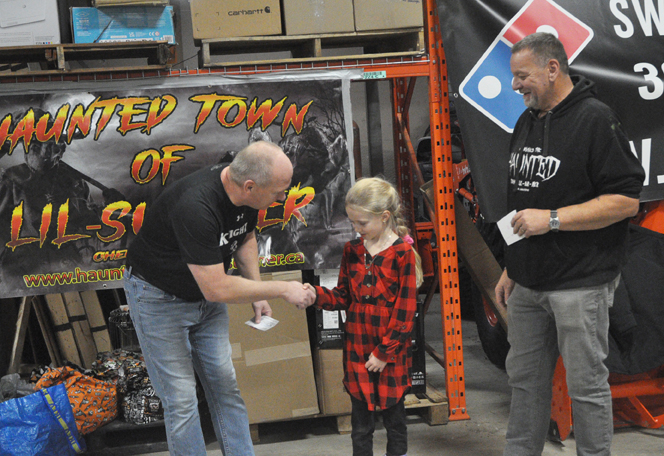 Fairview School Principal Stephen Boss receives a cheque of $2,500 from eight-year-old Kaylee Harlos, the youngest haunted town volunteer. Andy Keys is standing next to her.
By Matthew Liebenberg
Several community groups and programs are benefitting from the success of a popular Halloween event near Swift Current.
The Haunted Town of Lil-Sur-Mer is a non-profit fundraiser that provides visitors with a fun and scary experience during a combined walking/ride tour.
It takes place over three weekends in the run-up to Halloween and funds raised are donated to different organizations.
The cheque presentations for funds from the 2022 event took place at a pizza party held for haunted town volunteers, Nov. 19.
A total amount of $14,500 was distributed to beneficiaries. The Swift Current Salvation Army received $7,000 for the local food bank. Central School received $2,500 for the breakfast program offered to students. Fairview School also received $2,500 to support the breakfast program as well as the CAMPS lunch program at the school.
The Penner-Petterson Cat Colony, which cares for community cats through a trap-neuter-return program in the town of Morse, received $1,500.
The Swift Current Kinsmen Club received a cheque of $1,000. This donation was an acknowledgement of the club's recent decision to donate their Kin train to the haunted town, where it will get a new use as one of the rides to transport visitors.
The funds raised in 2022 brought the total donations since 2017 to over $70,000. Andy Keys, the non-profit fundraiser's board president, said the success of the haunted town exceeded their expectations.
"We just like to scare people and have people give us money for it," he mentioned. "And we found some other people in the community that wanted to do the same thing. I never thought it would be anything as big as what it is."
The haunted town is located south of Swift Current at Springfeld. At other times the site is used as a paintball field with a variety of buildings and structures in a fictional town called Lil-Sur-Mer.
It is transformed into a haunted town for Halloween, when the buildings are used to set up various scary scenarios. A new ride, the Slimer, joined the Ghoul Bus and Last Ride wagon this year to transport visitors to the different attractions, where they encounter a variety of surprises.
"People just don't know what's going to happen, because it is changing every year," he said. "We try to change each attraction every year. Even though people might know a certain house is going to be clown hall, they don't know what's going to happen inside it. … We're already planning stuff for next year, route changes, different houses, and maybe the clowns in a different place, because we don't want people to start knowing where they're going to be and just add to that surprise a little more."
In previous years they were able to host each night in a variety of weather conditions, but this year a large amount of snow caused very muddy conditions and activities could not take place on Oct. 28 and 29. These two nights were rescheduled and combined on a single night a week later on Nov. 4.
"We made one full night out of two half nights, which was just as well, because Nov. 5 was a terrible night as well," he recalled. "It stormed again and we would have had to stop that night. So we're glad we did that in a way. … It's a disappointment when you've got to pack up early. Everybody puts so much work into it. They're out there for two weeks before the event building their attractions."
Volunteers are a crucial part of the success of the haunted town. Thirty or more volunteers participated in previous years and even more joined this year, with over 40 volunteers pictured in their final group photo.
Haunted Town of Lil-Sur-Mer became a registered not-for-profit organization in 2022, known as Haunted Town Tours SK Inc. It opened new possibilities to apply for grants to cover expenses and issue tax receipts to sponsors, while ensuring that funds raised can be donated to different organizations in the community.
"I got to give a big shout out to our sponsors," he said. "We do have some very generous sponsors. As we've grown, our expenses got more and we used to foot the bill ourselves. Now we can issue tax receipts back for our sponsors and we have sponsors that will give us money to help us scare people."
Keys emphasized their goal is to use funds raised each year by Haunted Town of Lil-Sur-Mer to support different not-for-profits, volunteer services, community groups or programs in Swift Current and surrounding areas. Requests for donations can be submitted online through their website at: http://www.hauntedtownoflilsurmer.ca