Students do hands-on learning during day at Swift Current Fire Hall
Posted on 16 November 2022 by Matthew Liebenberg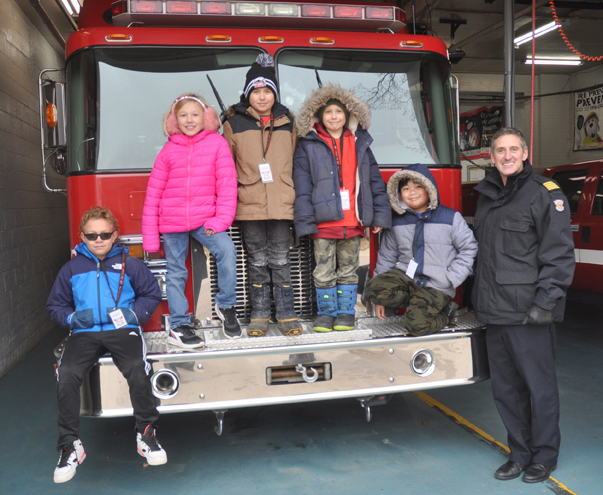 The Fire Chief for a Day contest winners at the Swift Current Fire Hall, Nov. 3. From left to right, Bennet Gramyk, Scarlet Unger, Hudson Johnston, Xander Lemire, Oneddie Marayayong, and Deputy Fire Chief Pete L'Heureux.
By Matthew Liebenberg
Five students had a fun-filled visit to the Swift Current Fire Department during the Fire Chief for a Day event, Nov. 3.
They were the winners of the 2022 Fire Prevention Week Fire Chief For A Day contest at participating schools in the city.
The contest winners were Grade 3 student Scarlet Unger (Fairview School) and Grade 5 students Bennet Gramyk (All Saints Catholic School), Hudson Johnston (O.M. Irwin School), Xander Lemire (École Centennial School), and Oneddie Marayayong (Central School).
The students participated in a variety of informative and enjoyable activities during the day. They received a tour of the fire station, visited the fire chief's office, played hide and seek with a thermal imaging camera, sprayed a fire hose, and took a closer look at the interior of an ambulance.
They also went to City Hall to meet Swift Current Mayor Al Bridal in his office and to visit council chambers.
The motto of this year's Fire Prevention Week was "Fire won't wait. Plan your escape." It emphasized the importance of planning and practising a fire escape plan, because every second counts in an emergency situation.
Deputy Fire Chief – Prevention Pete L'Heureux said the Swift Current Fire Department carried out a variety of activities during October to create awareness and to share the message of fire safety and preparedness, including school programming, Ride to School in a Fire Truck week, and the Fire Chief for a Day contest.
"We see just shy of 1,500 kids during that time," he noted. "In our school program we talk about home escape plans and smoke detectors, and we hope that messaging in some small way makes it back home."