SWAC Report for ChinookSD: volleyball titles captured
Posted on 14 November 2022 by Prairie Post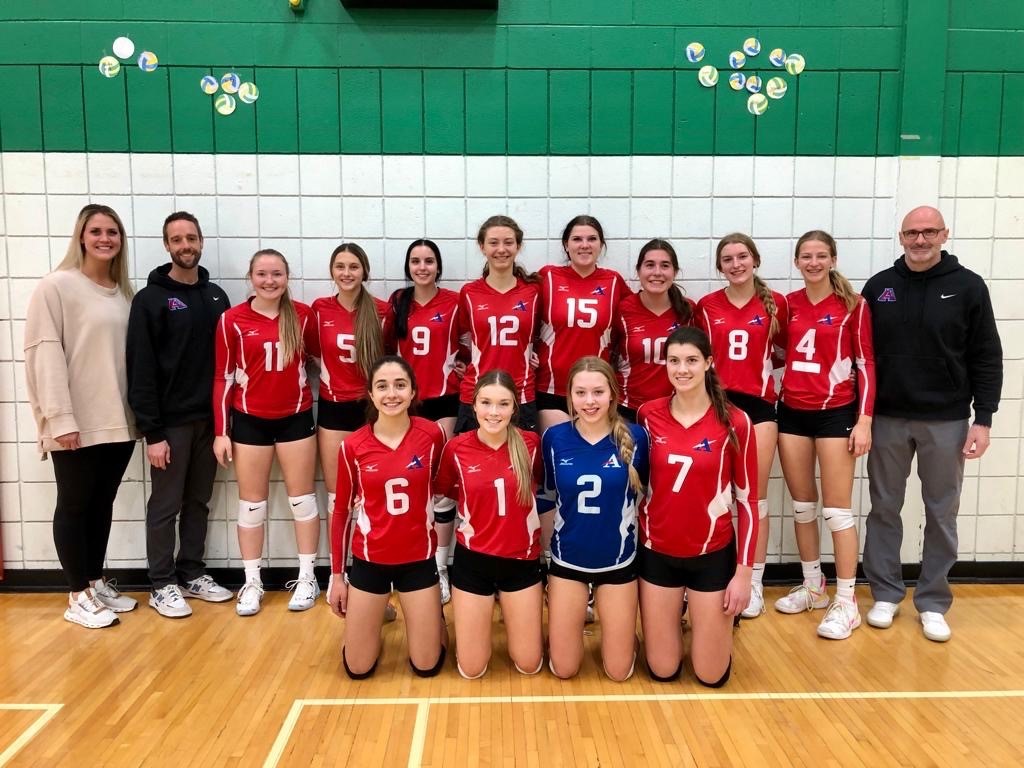 Swift Current Ardens
SWAC Report for ChinookSD
Follow SWACSports on Facebook, Twitter and Instagram for updated results.
It has been a week focussed on senior volleyball. We had 14 SWAC teams taking part in conference and regional playoffs on Saturday…so that hours following team results on every piece of technology available. Thanks so much to coaches and parents who submit pictures for use.
Huge thanks to our regionals and conference volleyball commissioners, their students/parents, and all the workers (minor officials, gate, booth, supervision,etc). Being a four day weekend for schools in ChinookSD made it an extra challenge to host events. It is greatly appreciated that so many people gave up their time to make the events such a success.
Shout out to our officials – SWAC cant thank you enough for giving up your time on a long weekend (or taking time off of work) to make it possible to host events.
SENIOR BOYS VOLLEYBALL LEAGUE:
The SR boys league playoff has been postponed twice due to horrible weather. It is now scheduled for Wednesday, November 23. Matches will start at 4:30. Frontier will host SCCHS Gr 9/10, Eastend and Hazlet The top four teams have advanced to the league finals.
SHSAA SENIOR VOLLEYBALL PLAYOFFS:
REGIONALS: These tournaments have six teams (using two pools of three). There are cross over pool semifinals and then a final. Top two teams advance to provincials, and in some cases a third team will advance.
The 5A SCCHS Colts were in Weyburn. They won their pool matches over Balgonie (2-0) and Weyburn (2-0). Interestingly, due to the cross over playoff structure, they ended up playing the same teams in the semi finals and the final. #1 SC beat Balgonie in the semi (25-12, 25-17) and Weyburn in the final (25-19, 25-19). Regional champion SCCHS Colts will host 5A provincials on Nov 18/19.
1A girls Vanguard and Frontier were in Kyle for the regional championship. Vanguard's pool with Kyle and Glentworth, ended in a three way tie (1-1 records). Using the tie break, Vanguard finished second in their pool and would play Frontier in the semi finals. Frontier had won their pool with wins over Rockglen and Beechy. The semifinal between these two SWAC rivals was a battle, with Vanguard winning (25-13, 26-24). Vanguard then went on to win the Regional final over Kyle (25-14, 28-26). Vanguard will attend 1A Provincials in Rose Valley.
The 3A girls volleyball regional (featuring Shaunavon and Maple Creek) was held in Maple Creek on Saturday. Maple Creek, Shaunavon and Macklin were in the same pool and it ended in a 1-1 three way tie. After the tie break, Maple Creek was placed in first and Shaunavon in second in their pool. Shaunavon played Briercrest Christian Academy in the semi final and lost 2-0, Maple Creek beat Unity (25-22, 25-21) to advance to the final.
Briercrest was too strong for Maple Creek in the final, winning 2-0. By placing second, Maple Creek advances to Provincials in Macklin. This regional advances 3 teams to provincials, so Shaunavon had one more chance to advance if they won the third place match. Shaunavon gave it all they had, but they were defeated by Unity and did not advance.
5A SCCHS Ardens were at Moose Jaw Peacock to vie for a spot at provincials. In their pool, there was a three way tie between Yorkgon Regional, Swift Current and Weyburn. SC placed second and was into the quarter final vs MJ Peacock. The Ardens won (2-0) and would then face #1 Balgonie in the semi final. A loss to Balgonie (2-0) put the SC team into the match for the last qualifying spot. Swift Current won the match over Weyburn (21-15, 21-19) and will advance to provincials in Balgonie on November 25/26.
The 2A girls Leader girls team was at Cornerstone Christian in Moose Jaw for their regional competition. The Saints had a tough go of it in their pool. Close losses to Saskatoon Christian (25-21, 25-20) and Davidson (25-20, 25-19) eliminated them from the tournament.
BOY CONFERENCES: These tournaments are usually one pool round robins with no playoffs.
The senior boys provincial conference playoffs also took place on Saturday. 1A Herbert boys were in Beechy. The team lost a very close match to Eyebrow (25-21, 25-22), beat Kyle (25-18, 25-23) and lost to Beech (2-0). That left the team in a three way tie for the second regional spot. After the tie break, Herbert placed third and did not advance.
Hazlet hosted one of the 1A boys conference tournaments with all SWAC teams attending (Fox Valley, Cabri, Frontier). Fox Valley won the conference championship with wins over Frontier, Cabri and Hazlet (all in two sets straight). Frontier placed second by beating Cabri (2-0) and Hazlet (2-0) in round robin play. Both Fox Valley and Frontier will advance to Regionals in Eyebrow.
Ponteix boys a 2A tournament against three SouthCentral teams. Ponteix went undefeated in the pool play tournament. They beat Gravelbourg (2-0) and Moose Jaw Riverview (2-0). Their toughest match was against Moose Jaw Cornerstone. The Ponteix team prevailed (25-10, 15-25, 15-8) and are conference champions.
2A Leader boys traveled to Davidson for their playoff against four WestCentral teams. It was very even competition at this championship. Losses to LCBI (25-22, 25-22), Dinsmore (25-22, 25-17) and Eston (25-19, 25-15) eliminated them from provincial consideration. The Saints one win came against Davidson (25-18, 25-15).
Shaunavon 3A boys did not have to play at the conference level. They will be in Outlook for Regionals.
On November 18/19, Gull Lake will host the SHSAA provincial girls 2A volleyball championship. Gull Lake will host at their school and Fairview school in SC will be used as their second court. SCCHS will host the 5A boys provincial championship on the same weekend (running two courts in their gym). If you love watching volleyball, you are in for a treat on this championship weekend.
Winter sports are just around the corner (basketball, wrestling, curling). Just a reminder to all our coaches, who are not teachers, there are online course requirements to take (cost reimbursed), plus a criminal record check.
Contact your school or SWACSports (306-295-7751) for more details.